Key Benefits
Swipe right to view more
Have the confidence to manage cash flow with the help of American Express.
Take advantage of no pre-set spending limit2A
Your Business Card gives you no pre-set spending limit and as you establish a history of transactions and payment, you will be able to charge more on the Card. This can then assist you in the future with making purchases and investments for your business. Because the Card is paid in full each month, you won't be charged interest on the balance.
Extend your cash flow by up to 51 days3A
Give your business financial flexibility with up to 51 days to pay for purchases.
Control cash flow with the help of Flexible Payment Option6A
Take advantage of American Express' Flexible Payment Option by choosing to pay off a portion of your monthly balance, up to your FPO limit, over time. This can help your business navigate fluctuations in revenue and seize time-sensitive opportunities. Interest charges apply.
Pay with American Express for all your business needs
Keep sight of employee expenditure at all times
Have greater visibility and control over your finances by consolidating key employee expenditure with Employee Cards – all while earning points on business spend at the same rate as the Primary Card.
Membership Rewards Program
Make your business expenses more rewarding.
Earn up to 1.5 points on every dollar4A
Earn points without limits or expiry at the following rates when you enrol in the Membership Rewards program:

1.5 points per $1 on every day business spend
1 point per $1 on government spend

Annual Membership Rewards fee applies (enrolment optional).


Use your points to help offset business expenses
Cover your travel with your points
Use your points to save on flights, accommodation, and car rental when you book with Webjet, helloworld,10A and the American Express Travel Online booking service.11A Or travel using points transferred directly to nine leading airline partners,12A including Virgin Australia and Air New Zealand. Once transferred to airline partners, points can also be transferred to two leading hotel partner programs.
Compare our Business Cards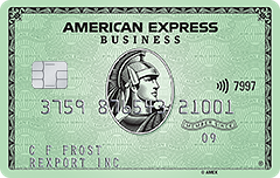 American Express® Business Card
Annual Fee
$109
$80 Membership Rewards fee (enrolment optional)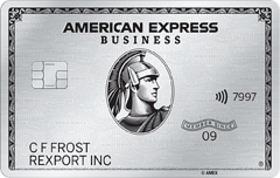 American Express® Platinum Business Card
Welcome Bonus
New American Express Card Members receive 300,000 Membership Rewards Bonus Points at half the annual Card fee for the first year. Apply by 6 April 2022 and spend $12,000 in the first 3 months of approval date. 1C
Annual Fee
$1,750
Complimentary Membership Rewards enrolment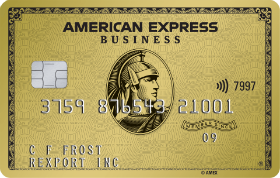 American Express® Gold Business Card
Welcome Bonus
New American Express Card Members receive 100,000 Membership Rewards Bonus Points. Apply by 6 April 2022 and spend $1,000 within 2 months of approval date.1B Membership Rewards enrolment required, fees apply.
Annual Fee
$169
$80 Membership Rewards fee (enrolment optional)
Swipe right to view more
Take the unexpected in your stride with inbuilt travel cover.
Transit cover for your travels
Your Business Card includes up to $150,000 of cover in case of any accident resulting in loss of limb, sight, or life while in transit on a business trip.13A
Business trip completion cover
Should another person need to take your place on a business trip due to serious illness or injury, or death of a close relative, American Express has you covered up to $10,000.13A
Card Member Perks
It's the little things that make your Business Card great.
ENJOY A 12-MONTH COMPLIMENTARY SUBSCRIPTION TO THE CENTR WELLNESS APP
With dietitian-approved meal plans, world-class training programs, meditation, and more, you can work out on the go with Centr – Chris Hemsworth's fitness and wellbeing app designed by health experts. Offer ends 14 February 2022.14A
ACCOUNT MANAGEMENT AT YOUR FINGERTIPS WITH THE AMEX APP15A
Monitor business spend, manage earned points, and access benefits and 24-hour support, wherever you are with the Amex App.
USE YOUR PHONE OR WEARABLE TO TAP AND PAY
With Apple Pay®, Samsung Pay®, and Google Pay® on your smart device,16A you can pay quickly and securely using your linked Card.
Swipe right to view more
Business Management and Support
Rest easy knowing you can rely on American Express' advanced business support features.
See your finances at a glance with automation tools
Make reconciliation hassle-free with automatic transaction feeds from your Card Accounts into existing Microsoft® Excel, MYOB®,5A and Quicken™ programs.
48-hour Card replacement17A
If you or an employee's Card is lost or stolen, American Express can usually replace it within 48 hours almost anywhere in the world.
Secure your business with fraud protection18A
Your Business Card is protected by global fraud detection to cover any unauthorised transactions made on your Card.
Check You're Eligible
To apply for an American Express Business Card, you'll need to meet the following criteria:
Be an Australian citizen or a permanent resident
Have a good credit history and no payment defaults
Have an annual business revenue of $75,000 or more
Your business must have a valid ABN registered for GST
Swipe right to view more