Key Benefits
EARN UP TO 2 POINTS PER $1 SPENT
Earn up to 2 Membership Rewards points per $1 spent until 14 April 2019, after which you will earn up to 2.25 points3C. Points can be used to reward yourself, clients, employees or to reinvest in your business.
ACCESS 1,200+ AIRPORT LOUNGES
Stay refreshed while travelling and enjoy access to free Wi-Fi (where available) while waiting for flights at over 1,200 lounges in 130 countries and counting4C.
DEDICATED ACCOUNT MANAGER
Your dedicated Account Manager is there for commercial enquiries relating to your business expenses – from questions about working capital to financing requirements and everything in between.
EARN REWARDS FASTER WITH SUPPLEMENTARY CARDS
Add up to 99 Supplementary Cards at no additional cost5C.
Swipe right to view more
Earn Membership Rewards points on your business spend
Earn up to 2 points per $1 spent
You'll earn 2 points per $1 spent when you use your Card for purchases on eligible restaurants, airlines, accommodation, advertising, couriers and computer equipment (up to 375,000 points per year, then 1 point per $1 spent after that)3C. Earn up to 1 point per $1 spent on everything else, except for utilities, insurance (with the exception of American Express) and government bodies where you'll earn 0.5 points per $1 spent3C.
Changes to the Membership Rewards program from 15 April 2019
From 15 April 2019 you will earn 2.25 points per $1 spent, except government where you will earn 1 point per $1 spent. The earn rate threshold will also be removed, this means you'll continue to earn points at the new rates regardless of how much you spend in a year.
Spend points on travel, shopping and Card credit
With no expiry7C, you can accumulate rewards points to redeem for a wide range of rewards including flights8C, shopping online with David Jones9C and Gift Cards10C – you can even use points to pay the balance on your Card11C.

Point redemption rates will change from 15 April 2019. Click here for full details.
Compare our Business Cards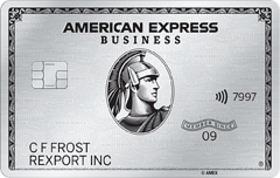 American Express® Platinum Business Card
Welcome Bonus
Receive 120,000 bonus Membership Rewards points. Apply by 29th April 2019 and spend $5,000 within 2 months of approval date6C
Annual Fee
$1,750
Complimentary Membership Rewards enrolment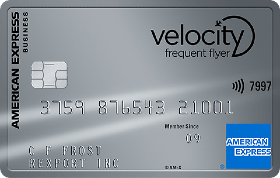 American Express® Velocity Business Card
Swipe right to view more
Wake up on top of the world wherever you go
Have access to 1,200+ Airport Lounges globally
The American Express Global Lounge Collection℠ includes The Centurion® Lounge, International American Express Lounges and Priority Pass Lounges. You can also access Virgin Australia domestic lounges when flying Virgin Australia4C.
Save on First and Business
Our International Airlines Program13C gives you access to savings of up to 20% on First and Business Class Fares when booking with Platinum Travel Service.
Complimentary Accor Plus membership
Receive a complimentary night's accommodation each year, up to 50% off your dining bill and much more with Accor Plus membership valued at $395 p.a.14C
Fine Hotels & Resorts privileges
When you book with Fine Hotels & Resorts15C you'll enjoy guaranteed 4pm late check-out, daily breakfast, and when available, room upgrades, noon check-in, plus other benefits with an average total value of AU$700* per stay at over 1,000 iconic 5-star properties worldwide.
Save on luxury accommodation
You'll be fast-tracked to the higher tiers of leading hotel loyalty programs around the world. Hotel Elite Status partners include Radisson Hotel Group, Starwood Hotels & Resorts, Shangri-La and Hilton16C.
Receive dedicated support, 24/7
Platinum Concierge can arrange incredible travel and dining experiences for you. Our team can recommend amazing restaurants – across the street or across the ocean – or help you plan an upcoming business trip17C.
Enjoy peace of mind when travelling for business
Cover for medical emergencies
You'll receive coverage for repatriation or evacuation, cost of treatment, and reasonable extra accommodation costs in the event of a medical emergency18C.
Travel Accident Insurance
If you ever have an accident while travelling, you'll be covered up to $400,000. Includes cover for loss of life while travelling on business trips (including travel by taxi)18C.
Business trip completion cover
If you're unable to complete a business trip due to serious injury or sickness, you will receive up to $20,000 for another person to take your place – coverage includes money towards flights, accommodation and meal expenses18C.
Travel cancellation and travel inconvenience insurance
Receive reimbursement of refreshments, accommodation and essential clothing due to a delayed or cancelled flight, missed connections, and delayed or lost luggage18C.
Complimentary baggage insurance
Your luggage and possessions will be covered up to $30,000. Cover includes lost, stolen or damaged baggage, money and documents18C.
Business Tools
Boost efficiency with a range of innovative tools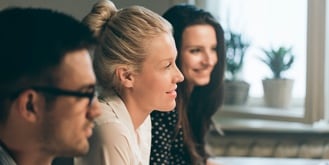 KEEP TRACK OF CARD EXPENDITURE
Download statements and transaction details, view balances and keep track of business expenditure using Quicken™, Microsoft® Excel or MYOB®.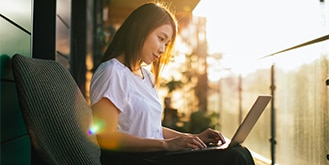 COMPLIMENTARY AUSTRALIAN FINANCIAL REVIEW SUBSCRIPTION
Valued at $628 p.a. you'll enjoy access to afr.com.au from any device, a digital version of today's paper, archive access, exclusive daily emails and more19C.
PAY WITH YOUR SMART DEVICES
You can also enjoy the convenience of fast and secure mobile payments with Apple Pay, Samsung Pay and Google Pay20C.
Swipe right to view more
Receive protection and support for your business and employees
Receive an emergency Card within 48 hours
If your Card is ever lost or stolen, you can usually get a replacement within 48 hours, virtually anywhere in the world21C.
Make secure payments to virtually anyone
When you apply for American Express AccessLine™, you can make fast, secure payments, even to merchants who don't accept Card payments23C, while earning points at the same time.
Check You're Eligible
To apply for an American Express Platinum Business Card, you'll need to meet the following criteria:
Have a good credit history and no payment defaults
Be an Australian citizen or a permanent resident
Earn a personal gross (pre-tax) annual income of $75,000 or more
Your business must be registered for GST
Swipe right to view more