Key Benefits
Receive access to the Virgin Australia Lounge
Enjoy two complimentary single entry passes to the Virgin Australia Lounge at selected domestic airports every year5G.
Be covered with complimentary Travel Insurance
Simply pay for business travel with your Card to be covered at home and abroad – includes cover for you and any Employee Card Members6G.
Swipe right to view more
Earn 2 Velocity Points with Virgin Australia
Make every business trip count. Use your Card for travel with Virgin Australia and you'll earn 2 points for every $1 you spend3G.
Earn up to 1 Velocity Point on other purchases
For everyday business spend, you'll earn 1 point per $1 spent, except for government bodies where you'll earn 0.5 points per $1 spent4G.
Velocity Points will be automatically transferred
We'll automatically transfer the points you earn to your Velocity Account each month, so you can take off sooner3G.
No pre-set spending limit1G
Unlike a Credit Card, there isn't a pre-set spending limit. A Charge Card must be paid in full each month and as your spending and repayment patterns evolve, so do your purchase approvals.


Up to 51 cash flow days2G
You have up to 51 days from the time you make a purchase until that repayment is due – that's valuable time to pay suppliers while you wait to get paid.
Flexible Payment Option14G
If you prefer not to pay your monthly Closing Balance in full, you have the option to carry a portion of it forward, up to your FPO Credit Limit each month. With an instant line of credit, you can free up your cash flow without depending on an overdraft or business loan. Interest charges apply.
Compare our Business Cards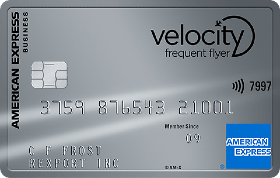 American Express® Velocity Business Card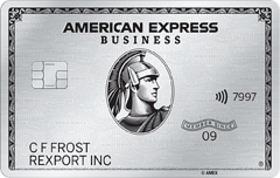 American Express® Platinum Business Card
Welcome Bonus
New American Express Card Members receive 150,000 bonus Membership Rewards points. Apply by 22nd April 2020 and spend $5,000 within 3 months of approval date6C
Annual Fee
$1,750
Complimentary Membership Rewards enrolment
Swipe right to view more
Access services and support when you travel
Two passes to the Virgin Australia Lounge every year
Stay refreshed when you travel, with two complimentary single entry passes to the Virgin Australia lounge at selected domestic airports every year5G.
Complimentary travel insurance
You'll be covered whenever flights are booked with your Card. Coverage includes flight delays, missed connections or delayed luggage, and if you have a serious accident while travelling for business7G.
Business Tools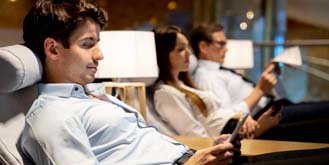 SAVE TIME WITH DATA FEEDS
If you use MYOB accounting software, you can set up an automatic data feed of your Card transactions12G.
PAY WITH YOUR SMART DEVICES
You can also enjoy the convenience of fast and secure mobile payments with Apple Pay, Samsung Pay and Google Pay13G.
Swipe right to view more
Receive protection and support for your business and employees
Receive an emergency Card within 48 hours
If your Card is ever lost or stolen, you can usually get a replacement within 48 hours, virtually anywhere in the world8G.
Make secure payments to virtually anyone
When you apply for American Express AccessLine™, you can make fast, secure payments, even to merchants who don't accept Card payments, while earning points at the same time10G.
Check You're Eligible
To apply for an American Express Velocity Business Card, you'll need to meet the following criteria:
Be an Australian citizen or a permanent resident
Have a good credit history and no payment defaults
Have an annual business revenue of $75,000 or more
Your business must have a valid ABN registered for GST
Swipe right to view more