Key Benefits
Earn up to 1.5 points on every dollar spent3J
Recognise and reward employees with uncapped points earn and on their business expenditure.
Control and track employee spend
Mitigate company risk with real-time spend visibility, customised Card limits, and a choice of liability options to suit your corporate needs.
Protect travelling Card Members
Keep Card Members supported anywhere they do business with complimentary Travel Insurances and protections.5J
Swipe right to view more
Enjoy a range of rewards for either your Card Members or company using the Corporate Gold Card.
Earn up to 1.5 Membership Rewards points per $1 spent3J
With the American Express® Corporate Gold Card, enrol into the Membership Rewards program to receive 1.5 points per $1 spent, and 1 point per $1 on all government spend, with no limit or expiry on points earned.
Membership Rewards program for Card Members

Let your rewards cover your next business trip
Redeem points to pay for flights, accommodation, and car rental at Webjet, Helloworld,8J and the American Express Travel Online booking service.9J Or transfer your points to nine leading airline partners including Virgin Australia and Air New Zealand. You can also transfer points to two leading hotel partners for your accommodation needs.10J

Corporate Membership Rewards program for your company11J
Enrol any number of Corporate Cards into the Corporate Membership Rewards program to consolidate all points earned into a central account, giving your company control of the points earned, and the ability to use points to help pay for business expenses.
Compare our Corporate Cards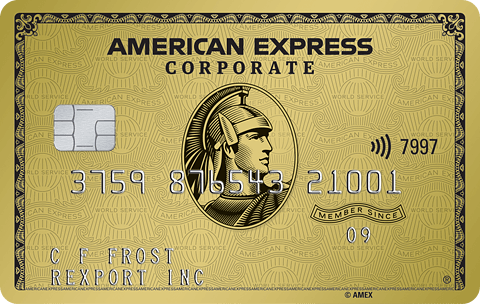 American Express® Corporate Gold Card
Welcome Bonus
Receive 100,000 Membership Rewards Bonus Points when you spend $10,000 in the first 2 months from Card approval date. Membership Rewards enrolment required, fees apply.1J(Ends 6 April 2022)
Annual Fee
$105
$89 Membership Rewards fee (enrolment optional)
American Express® Corporate Platinum Card
Welcome Bonus
Receive 300,000 Membership Rewards Bonus Points at half the annual Card fee for your first year when you meet the minimum spend criteria of $50,000 on your Corporate Card within 2 months of your approval date. 1K(Ends 6 April 2022)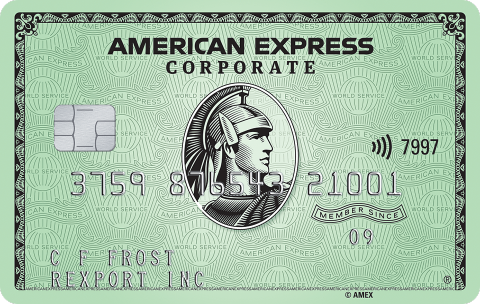 American Express® Corporate Card
Welcome Bonus
Receive 50,000 Membership Rewards Bonus Points when you spend $10,000 in the first 2 months of Card approval date. Available for new Card Programs only. Membership Rewards enrolment required, annual fee applies.1I(Ends 6 April 2022)
Annual Fee
$70
$89 Membership Rewards fee (enrolment optional)
Swipe right to view more
Gold Card Member Benefits
Treat management staff to Corporate Gold Card Member benefits at home and abroad.
Complimentary Travel Insurance
Look after your employees travelling domestically or internationally for business, with complimentary Travel Insurance5J when you book a return trip using your Card, including:

Travel Accident Cover up to $350,000.
Medical Emergency Expenses Cover up to $50,000.
Travel Inconvenience Cover for delays and missed connections up to $1,000.
Baggage and Personal Possessions Cover up to $6,000.
Global travel protections for Gold Card Members
Give your Gold Card Members peace of mind when travelling domestically or internationally with global travel protections including:

12-month subscription to health and wellbeing app, Centr
Assist employees in balancing work and wellbeing with a year's complimentary subscription to Chris Hemsworth's fitness app, Centr valued at $119.99/year. Offering world-class fitness training programs, daily meal plans, guided meditations, and more.15J Offer ends 14 February 2022.
Expense Management Tools
Boost efficiency and productivity with range of innovative tools
DIGITALLY CAPTURE AND TRACK RECEIPTS
Card Members can instantly match receipts to Card transactions with the SAP Concur App to manage expenses wherever they are in the world.16J
PAY USING YOUR DIGITAL WALLET
Card Members can make fast and secure mobile payments using Apple Pay, Samsung Pay, and Google PayTM.17J
Swipe right to view more
Take advantage of Corporate Card program benefits and put your company first.
Oversee management expenditure
By issuing Corporate Gold Cards to your employees, you can streamline the expense management process by consolidating employee spend into a single payment method. This can save your company both time and money, while granting you increased control and real-time visibility over employee expenditure.

With Corporate Gold Cards you can:

Stay in control of management spending with customised spend limits for each Card Member.
Mitigate the company's risk exposure with the choice of either combined or full corporate liability.
Secure company spending with advanced systems providing robust fraud detection and protection.18J
Maintain control of working capital
Whether the Cards within your Program are used to make supplier payments, manage everyday employee expenses, pay for goods and services, or any combination of the above, each Card will provide unsecured funds that help your company keep cash on hand for longer.

As Cards can be used virtually anywhere you do business, the Corporate Card program helps you manage your working capital more effectively by allowing your company to:

An end-to-end purchasing and payment program
The American Express Corporate Card Program is designed specifically to meet the evolving needs of your company, offering a set of unique and versatile end-to-end purchasing and payment solutions that support your employees and your bottom line.

These include:

Tiered Card levels to suit your company's hierarchy, from core employees to senior executives.
A suite of purchasing solutions beyond Cards for simple and streamlined payment management.
End-to-end comprehensive Program management, reporting, and insights via the @ Work® platform.23J
Account management, plus administrative servicing and training for teams that facilitate the Corporate Card Program.