Key Benefits
Swipe right to view more
Earn Qantas Points and Membership Rewards points on your company spend
Compare our Corporate Cards
American Express® Qantas Corporate Platinum Card
Welcome Bonus
Receive 200,000 Membership Rewards Bonus points plus a $300 credit when you meet the minimum spend criteria of $15,000 on your Corporate Card within the first 2 months of your approval date.7N
(Ends 12 January 2022)
Earn Rate
Membership Rewards Spirit program10N:
$1 spent on Qantas = 2 Membership Rewards points
$1 spent on all corporate spend = 2 Membership Rewards points
$1 spent on government spend = 1 Membership Rewards point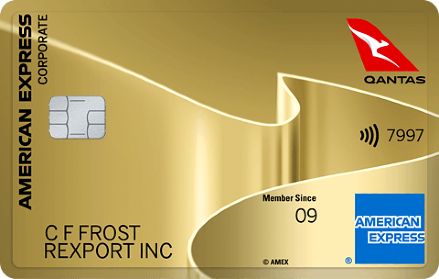 American Express® Qantas Corporate Gold Card
Welcome Bonus
Receive 100,000 Membership Rewards Bonus points when you spend $10,000 in the first 2 months from Card approval date. Membership Rewards enrolment required, annual fee applies.17M(Ends 12 January 2022)
Annual Fee
$105 ($89 optional Membership Rewards fee)
Earn Rate
Membership Rewards Spirit program7M:
$1 spent on Qantas = 2 Membership Rewards points$1 spent on all other corporate spend = 1.5 Membership Rewards points
$1 spent on government spend = 1 Membership Rewards point
American Express® Qantas Corporate Card
Welcome Bonus
Receive 50,000 Membership Rewards Bonus Points when you spend $10,000 in the first 2 months from Card approval date.18L Membership Rewards enrolment required, annual fee applies.(Ends 12 January 2022)
Annual Fee
$70 ($89 optional Membership Rewards fee)
Earn Rate
Membership Rewards Spirit program7L:
$1 spent on Qantas = 2 Membership Rewards points
$1 spent on all other corporate spend = 1.5 Membership Rewards points
$1 spent on government spend = 1 Membership Rewards point
Swipe right to view more
Enjoy peace of mind knowing you're backed by the strength of American Express
Management Tools
Boost efficiency and productivity with range of innovative tools
STAY ACROSS COMPANY SPEND
Manage all your employee Cards simply and easily with the online management tool, American Express @ Work®. Simply log in to apply for, cancel and suspend Cards; monitor policy compliance; track expenses; and create reports.
CAPTURE EXPENSES ON THE GO
Capture receipts, book flights, or reconcile invoices, the SAP Concur App is your time saving and convenient travel buddy to seamlessly manage your expenses14N.
PAY WITH YOUR SMART DEVICES
You can also enjoy the convenience of fast and secure mobile payments with Apple Pay, Samsung Pay and Android Pay13N.
Swipe right to view more
Receive protection and support for your company and Card Members, worldwide
Call the Platinum Concierge
Need to book a table for dinner, find a venue for a business meeting or change a flight at the last minute? The Platinum Concierge Team is available day and night to handle your requests15N.
Receive an emergency Card within 48 hours
If your Card is ever lost or stolen, you can usually get a replacement within 48 hours, virtually anywhere in the world. You can still use your mobile wallet to make payments while you wait for your Card.
Your company and Card Members will not be liable for any unauthorised transactions when online purchases are made using your Corporate Card16N.
Assistance with emergencies
Simply call the Emergency Global Assist hotline to speak with an English-speaking lawyer, doctor or service provider for assistance with cash wires, lost luggage or passports anytime you're more than 200km from home17N.