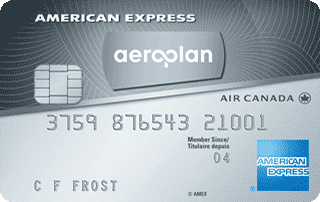 View all Cards
American Express® AeroplanPlus®* Platinum Card
Earn a Welcome Bonus of 40,000 Aeroplan®* Miles1
$199 annually for AeroplanPlus®* Platinum Cards; $50 annually for AeroplanPlus®* Gold Cards7
Key Benefits
New American Express® AeroplanPlus®* Platinum Cardmembers earn 40,000 Welcome Bonus Aeroplan Miles after spending $3,000 in the first three months of Cardmembership.1
ANNUAL PARTNER TICKET BENEFIT4
Bring along a friend with a Partner Ticket™4 .Once per year, you can redeem 15,000 Aeroplan Miles for a short-haulØ roundtrip Fixed Mileage Flight Reward™* in economy class and receive a second Partner Ticket for the same itinerary.
AIRPORT LOUNGE ACCESS WORLDWIDE
Relax in over 700 lounges worldwide, including unlimited access to the Air Canada Maple Leaf LoungeTM** where available6, in major airports across Canada and key international locations, and around the globe with Priority Pass Membership.16
AIR CANADA PRIORITY CHECK-IN
Bypass the regular check-in line at the airport with access to Air Canada Priority Check-in.5
Earn Aeroplan Miles
Earn 1.25 Aeroplan Miles for every $1 of Card purchases up to $25,000 annually2

Accelerate your earn rate to 1.5 miles for every dollar in purchases over $25,000 annually3

Earn Aeroplan Miles twice when you use your American Express® AeroplanPlus®* Platinum Card and provide your Aeroplan Number at over 150 Aeroplan Partner brands
Travel Benefits
There's no feeling quite like traveling with and using the American Express® AeroplanPlus Platinum®* Card. We help make travel smoother for you, from extra special treatment at the airport to special benefits and unexpected touches when you land.
Receive an annual Partner TicketTM benefit4

Air Canada Priority Check-in5

Complimentary valet service at Pearson Airport

Access to over 700 lounges worldwide
Insurance Coverage
Go confidently with coverage that's as broad as your horizons, with:
Emergency Medical Insurance10+ (Out of province/country)

Trip Cancellation Insurance11+

Trip Interruption Insurance12+

$500,000 Travel Accident Insurance13+

Travel Emergency Assistance14

Flight Delay Insurance10+

Baggage Delay Insurance10+

Lost or Stolen Baggage Insurance10+

Hotel/Motel Burglary Insurance10+

Car Rental Theft and Damage Insurance9+
Flight rewards are just the beginning. Aeroplan Miles can be redeemed for merchandise, gift cards and experience.
Wherever you dream of going, Air Canada and its global network of partner airlines can get you there with travel to over 1,300 destinations in over 190 countries worldwide

You can also enjoy Aeroplan's Market Fare Flight Rewards®* which gives you unrestricted access to any available seat‡ on all Air Canada flights (includes Air Canada, Air Canada Express®** and Air Canada Rouge®**).

With Market Fare Flight Rewards®*, you can choose from Economy or Business Class seats.
You can also take advantage of Aeroplan's Fixed Mileage Flight Rewards®* for a predetermined number of miles based on the destination and class of service, ideal for travellers who plan ahead or have flexibility with travel dates

In addition to flights, you can also redeem for hotel stays, car rentals, vacation packages, experiential rewards, merchandise and more.
Entertainment Access
Say hello to American Express Invites®17. It opens the door to memorable experiences we think you'll love!
Front Of The Line® Advance Access17

Front Of The Line® Reserved Tickets17

Front Of The Line® E-Updates

Special Offers & Experiences for all Cardmembers

Special Access for all Cardmembers18
Shopping Coverage
Purchase Protection Plan19+

Buyer's Assurance Protection Plan20+
World Class Service
Emergency Card Replacement

Fraud Protection Guarantee

Manage your account online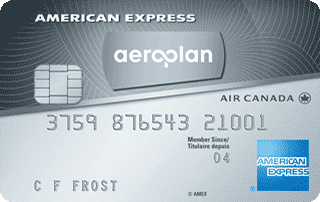 Ready to apply?
Apply for The American Express® AeroplanPlus®* Platinum Card now and get a response in 60 seconds
* As a Charge Card, the balance must always be paid in full each month. 30% annual interest rate applies to balances not paid in full. Payments must be received and processed by the date of the next monthly statement to avoid interest charges.
Featured Cards
Earn a Welcome Bonus of 5,000 Aeroplan®* Miles1
Earn miles twice on purchases at over 150 Aeroplan Partner brands

Get travel and shopping coverage

Access to memorable experiences with American Express InvitesTM
Earn a Welcome Bonus of 15,000 Aeroplan®* Miles1
Earn 1 Aeroplan Mile for every $1 in Card purchases up to $10,0002

Accelerate your earn rate to 1.25 Aeroplan Miles for every additional $1 in Card purhcases over $10,000 annually3

Earn Aeroplan Miles faster with two free Supplementary Cards4
Earn a Welcome Bonus of 50,000 Aeroplan®* Miles2
Access to a $200 Annual Travel Credit4

Enjoy an annual Partner TicketTM benefit when you redeem up to 25,000 Aeroplan Miles5

Unlimited access to the Air Canada Maple Leaf LoungeTM**6 and Priority Pass Lounges7