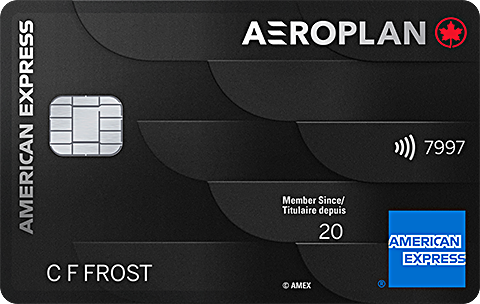 Apply Now
Find your happy places
Earn up to 85,000 Aeroplan®* points.*
*Spend and other conditions apply
Need help finding a Card?
Answer a few questions to help you find a Card that is appropriate for you.
Featured Cards
American Express
Cobalt® Card
Monthly Fee: $12.99

Interest Rate: 20.99% purchases, 21.99% funds advances
Earn up to 30,000 Welcome Bonus Membership Rewards points1
From earning points on your favourite things to exclusive Perks designed with you in mind – get rewarded for your lifestyle.
Featured Benefits
Earn 5X the points on eligible eats & drinks3
Earn 3X the points on eligible streaming subscriptions3
Transfer points 1:1 to several frequent flyer and other loyalty programs32
The Platinum Card®
Annual Fee: $699 Annual Fee
Earn up to 80,000 Membership Rewards® points1 – that's up to $800 in value.2
Discover rewards that can take you places, with access to benefits that elevate every experience. Every point counts with Amex.
Featured Benefits
Earn 3X the points on eligible dining & food delivery purchases in Canada4
Access to a $200 Annual Travel Credit6
Access airport lounges worldwide with the Global Lounge Collection7
SimplyCashTM Preferred Card from American Express
Annual Fee: $99


Important Notice:

Effective October 12, 2022, the $99 Annual Fee for the Basic SimplyCashTM Preferred Card will increase to a monthly fee of $9.99 (equals a total fee of $119.88 annually).
Interest rates: 19.99% purchases, 21.99% funds advances
Earn 10% cash back in your first 4 months (up to $400 cash back)1
Maximize your cash back potential with an elevated earn rate – from recurring bills, online shopping, dining and more.
Featured Benefits
More cash back you can count on

Earn 2% flat cash back rate when your Welcome Offer ends3

No limit to the amount of cash back you can earn
Browse All Cards (20)
American Express® Aeroplan®* Reserve Card
Annual Fee: $599
Interest rates: 20.99% purchases, 21.99% funds advances
UP TO 85,000 POINTS
Earn up to 85,000 Welcome Bonus Aeroplan®* points1
Enjoy benefits like Maple Leaf Lounge AccessTM3, an Annual Worldwide Companion Pass4, Priority Airport Services5 and accelerated earn rates6 to get rewarded sooner.
Featured Benefits
Earn up to $2,600 or more in value within your first year36
$100 NEXUS◊ Card Statement Credit37
Earn 3X the points on eligible Air Canada®* & Air Canada Vacations®* purchases6
Why American Express?

Premium Service
American Express begins and ends with service. From finding a doctor when you're abroad, to resolving an unauthorised transaction.
Reward Options
Whether you desire travel rewards, merchandise, gift cards or cash back, there's a Card and Reward Program that's right for you.

Cardmember Protection
Our Personal Cards' fraud, travel and shopping protection are designed to cope with real life – no matter how extraordinary that may be.