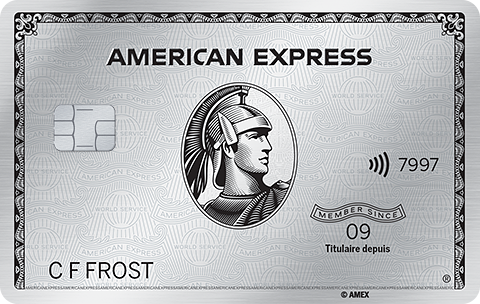 Card Type
Card with No Pre-Set Spending Limit26
Annual Fee
$699
Click the icon for Important Annual Fee Notice
Additional Cards
$175 annual fee for each Additional Platinum Card3

$0 annual fee for first two Additional Gold Cards, $50 annual fee for any Additional Gold Cards3

Click icon for Important Supplementary Fee Notice
On dining & food delivery purchases in Canada

From eligible restaurants to cafés and more4

On travel

From eligible flights to hotels, tours and more4

On everything else

From groceries to luxury goods to self-care and more4

On Amex Travel Online

On eligible hotel or car rental bookings5
To save time, make sure you can say yes to all of the following before applying for The Platinum Card®:
You are a Canadian resident and have a Canadian credit file

You are the age of majority in the province or territory where you live
*Subject to approval. With this Charge Card, there are both Due in Full and Flexible Payment Option balances. All Due in Full Balances must be paid in full each month. Interest rate of 30% applies to each delinquent Due in Full charge. Interest rate of 20.99% applies to the Flexible Payment Option balance. The interest free-grace period is 21 days on new transactions from the Closing Date on your statement if we receive payment in full by the payment due date and if we do not, up to 25 days for new transactions on your next statement.