Almost half of all Google searches are people seeking local information with 30% of Google mobile searches related to location. What's more, in the first half of 2020, searches for local services increased by over 25%. The future of search is local, and with Google's Local Services Ads, your business can make the most out of it.
Here, we speak to Peter Marshall, Marketing Director at Add People, to find out why Google Local Services Ads are the cost-effective way to drive conversions for your business.
What are Google Local Services Ads?
Google Local Services Ads (LSAs) were made available to local UK businesses in September 2020. They're different from Google's other ad services because they help connect your business directly with people searching for the services you offer in the local area you operate in, meaning SMEs don't even need a website to use Google Local Services Ads.
How do Google Local Service Ads work?
When a potential customer enters a search query, Google uses its location and automatic keywords to match the services they are looking for, in the area they're searching, with what your business offers. Then, your Local Services Ad will appear at the top of the search results page – above Google's traditional paid ads – alongside other relevant businesses' Google Local Services Ads.
Google Local Services Ads show potential customers the name of your business, the rating of your services, Google's Guarantee Badge (more on this later), the locations you open in and your opening hours. Customers are then able to contact you easily by simply clicking on the ad without having to scroll through pages of irrelevant businesses that operate outside of their local area or do not offer the services they require. To make doubly sure of this, Google even prompts people who click on the ads to confirm the services they're looking for and the area they're in.
Your business can reply to customer messages, track your bookings and more through Google's online portal or in the Google Local Services Ads app.
Best of all, you only pay per valid lead generated, so if your business doesn't offer the services or operate in the area the customer is looking for after all, Google will save you the hassle and the costs by connecting them with a more appropriate business. Below is an example: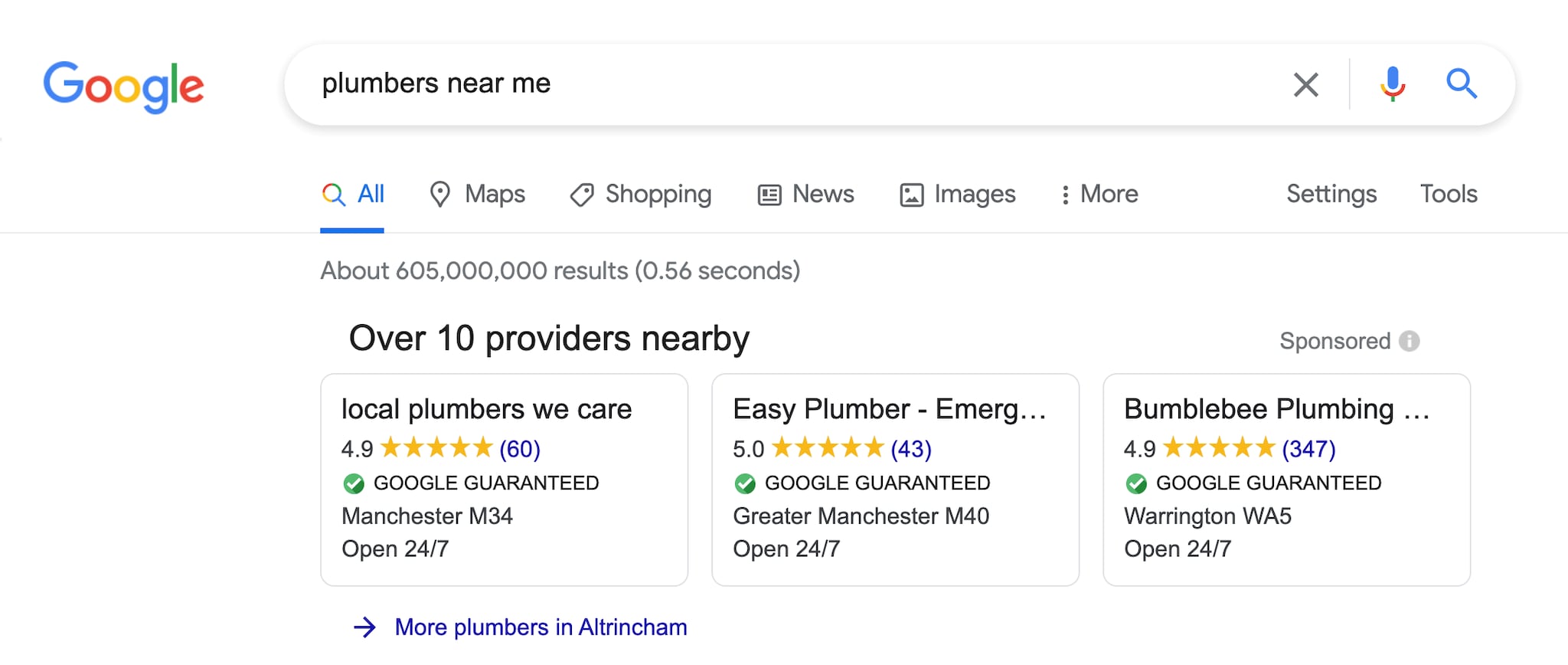 Google Local Services Ads vs. other types of Google Ads
Google Local Services Ads are specifically designed to match local businesses with potential customers based on location and demand for services. Traditional Google ads (aka 'search ads') are ranked based on your quality score, which takes into account your ad's CTR, relevance and landing page. With Google Local Services Ads, you don't have to worry about those ranking factors; Google calculates your rank based on alternative factors including your proximity to your customers' location, your review score and responsiveness.
Another feature of Google's Local Services Ads is its Google Guarantee Badge. This is a certification applied to your business' ad in the form of a green tick, which recommends your services as trustworthy and reliable. You can apply to be Google Guaranteed if you operate Google Local Services Ads and can provide up-to-date licenses and certifications for your business. Google will also conduct background checks and look at your online reviews. Once your business has been awarded the Badge, Google can still take it away and will refund customers for the cost of the job if they aren't satisfied with the services you provide them, so maintaining high standards is essential.
The average conversion rate across traditional Google ads on the search network is 4.4%. Though they're a new offering for UK businesses, Local Services Ads are proving "extremely high – upwards of 30% in many cases – due to the positioning of the ads at the top of the page, and particularly if you qualify for the Google Guarantee badge certification," says Marshall.
The image below shows what a Google Guarantee badge looks like: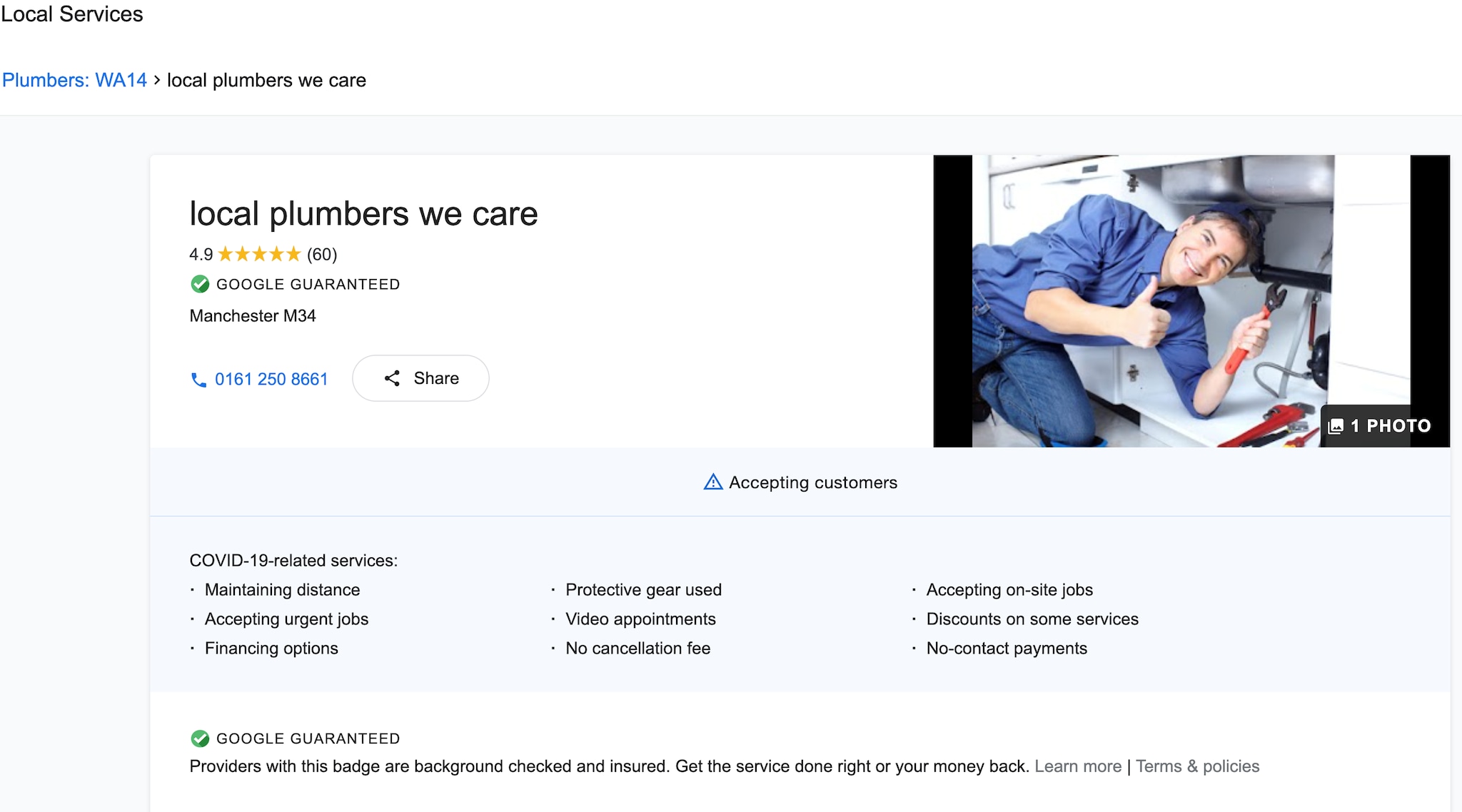 What type of companies can use Google Local Services Ads?
The following categories of businesses in the UK are eligible to participate in Local Services Ads. Check if you're eligible here.
Plumbers
Electricians
Handymen
Locksmiths
HVAC
Pest control services
Roofers
Photographers
Repair services
Cleaning services
How much do Google Local Services Ads cost?
Unlike traditional pay-per-click ads, when it comes to Google Local Services Ads, your business only pays per valid lead generated. Local Services Ads also allow you to set a budget based on the number of new leads you're looking to generate each week, which you can increase or decrease at any time as part of your optimisation strategy, and you can pause your ads at any time too.
The cost of Google Local Services Ads is dependent on factors such as industry and competition, but they can be as low as £3.50 per lead. "Since January, one of our Pest Control clients in Surrey has had 97 leads through the Google Local Services Ads alone, and this is with the lowest budget possible," says Marshall.
Benefits of Google Local Service Ads
The Google Guarantee Badge: This means that Google has recognised your services as trustworthy and reliable, and that you come highly recommended by the search engine.
You appear at the top of the search results page: Google Locasl Services Ads allow your business to be in the optimum position to take advantage of a mobile-first search world.
Only pay per lead: Add to this the high number of quality leads (calls that last over 30 seconds) and the fact that you can dispute a lead if it turns out to be mismatched, spam or fraudulent, your business is always in the driver's seat.
Google does a lot of the work for you: Google does most of the work, including targeting your ideal customers through automatic keywords and absorbing many of the costs associated with more traditional advertising.
Expand your reach: Not only do Google Local Sevices Ads get displayed right at the top of a search results page, but if you run traditional Google ad campaigns and optimise your SEO alongside them, you could explode your business' reach. What's more, Google Local Services Ads integrate with voice search, which is important considering over half of consumers now use voice technology on their devices.
How to create Google Local Services Ads
Step 1: Confirm your eligibility and set up your business profile
Before you can start to create an ad, you need to confirm your eligibility via Google's eligibility checker. Once you know your business is eligible, you can set up your business profile. This includes telling Google where your business is located, what services you offer and what your budget is based on the number of leads you're looking to generate each week.
Step 2: Become Google Guaranteed
Submit proof of your licenses and insurance details to Google to get the Google Guarantee Badge. Marshall says your business should "prove to Google that you are a genuine business located where you say you are (with a utility bill or company reg number), that you have the requisite level of public liability insurance, and – for some specific industries – that you have a live affiliation with one of the sanctioned licensing bodies in your profession."
Step 3: Start running your ads and receiving leads
Choose what jobs you want to take (you have the option to reply, call or decline customers' job requests) and track your appointments through Google.
Step 4: Manage and optimise your ads
Like Google Ads, you can expect your spend to be slightly lower or higher than your budget each week, but Google will never exceed your monthly maximum budget.
How to improve your ranking on Google Local Services Ads
Google relies on indicators such as your location, your review score, your response rate and the amount your business is willing to pay for leads. You can improve your ranking by:
Optimising your location
You can optimise your location by specifying areas you would like to generate leads from when populating your business profile, and by keeping your opening hours up-to-date.
Improving your review score
Your business' review score looks at the number of reviews you have and the average score out of 5 you achieve. Here, it's important to get onto Google My Business - a free tool Google offers to create a business profile that appears when customers search for you - and build a strong presence by encouraging customers to review your services and replying to existing reviews.
Improving response rate
Google will also look at how often and how quickly your business responds to calls and messages. Unlike organic search, where having a consistent phone number across your website, Google My Business page and citations on other sites is critical, "having a separate number for Google Local Services Ads won't affect your other marketing channels... and will only cost a few pounds per month," says Marshall.
Use an American Express® Business Card to set up your Google Local Services Ads and get up to 54 days to clear your balance¹, giving you the extra time to optimise your ad performance and pay off your business expenses when you're ready.
The maximum payment period on purchases is 54 calendar days and is obtained only if you spend on the first day of the new statement period and repay the balance in full on the due date.