This article is part of the American Express UK Employee series, where internal American Express staff have put pen to paper and written about some of our products and services and how they can support UK businesses.
As foreign exchange professionals, one thing is clear when dealing with any of our customers, big or small. If you can hedge and you don't, you are effectively gambling on currency swings. Logic would therefore dictate that businesses with a forecastable or ongoing currency exposure could benefit from hedging their risk; a simple yet effective way to do this is with a forward contract.

Forward contracts allow you to lock in today's rate for use up to 12 months in the future. Therefore, if you send or receive a non-GBP invoice that doesn't need to be paid for, let's say, 90 days, you can guarantee the exchange rate on day 1 and not take on the uncertainty of currency fluctuations that the subsequent 3 months could bring.
Another great use of forwards is to help fix or hit budgeted rates within your accounts.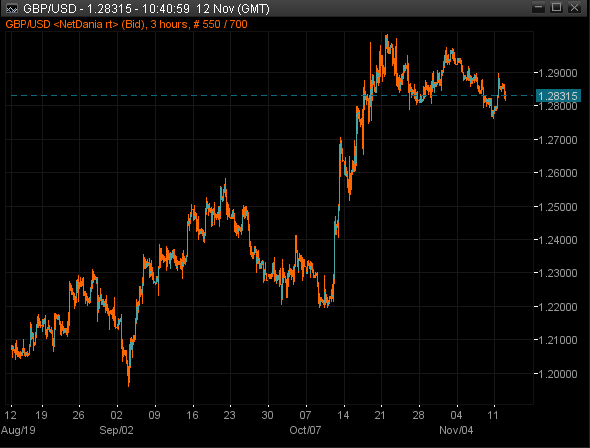 Example: If you look back 90 days from 12th Nov 2019, GBP/USD fluctuated by 8.82% - Therefore the Sterling cost of buying $100,000 US Dollars varied by up to £6,780.87
If we look back even further, GBP/USD has moved an average of 7.22% every 90 days for the previous 12 months.
Can your business afford a 7.22% loss on its profit margin?
There are several questions you may still have regarding forward contracts once you've gained a general understanding:
What if I book forward and the market continues to go in my favour?

What if it doesn't? As counter intuitive as it may seem, when you book currency forward you should want the markets to continue in your favour. This way you can build a better average rate over any given period of time. 
Forward contracts should be used as a way of protecting your bottom line, not as a tool to be used when you think the market has peaked – After all, your business is not in trading the currency markets. If it were, you probably wouldn't be reading this article.
What if I cannot accurately forecast my exposure?
Many companies hedge less than 100% of their FX exposure. There are many variables but a good starting point could be 50-60% of the currency you expect to buy or sell during the contract period. This way, if your forecasts turn out to be short, you have not overcommitted the business. 
Additionally, it will allow you to either top up on spot, or book additional forwards later should the market move further in your favour – helping to build on that better average rate.
So how do I get started?
For more information on the types of forwards American Express can offer and how they work click here.
Written by Joe Chute