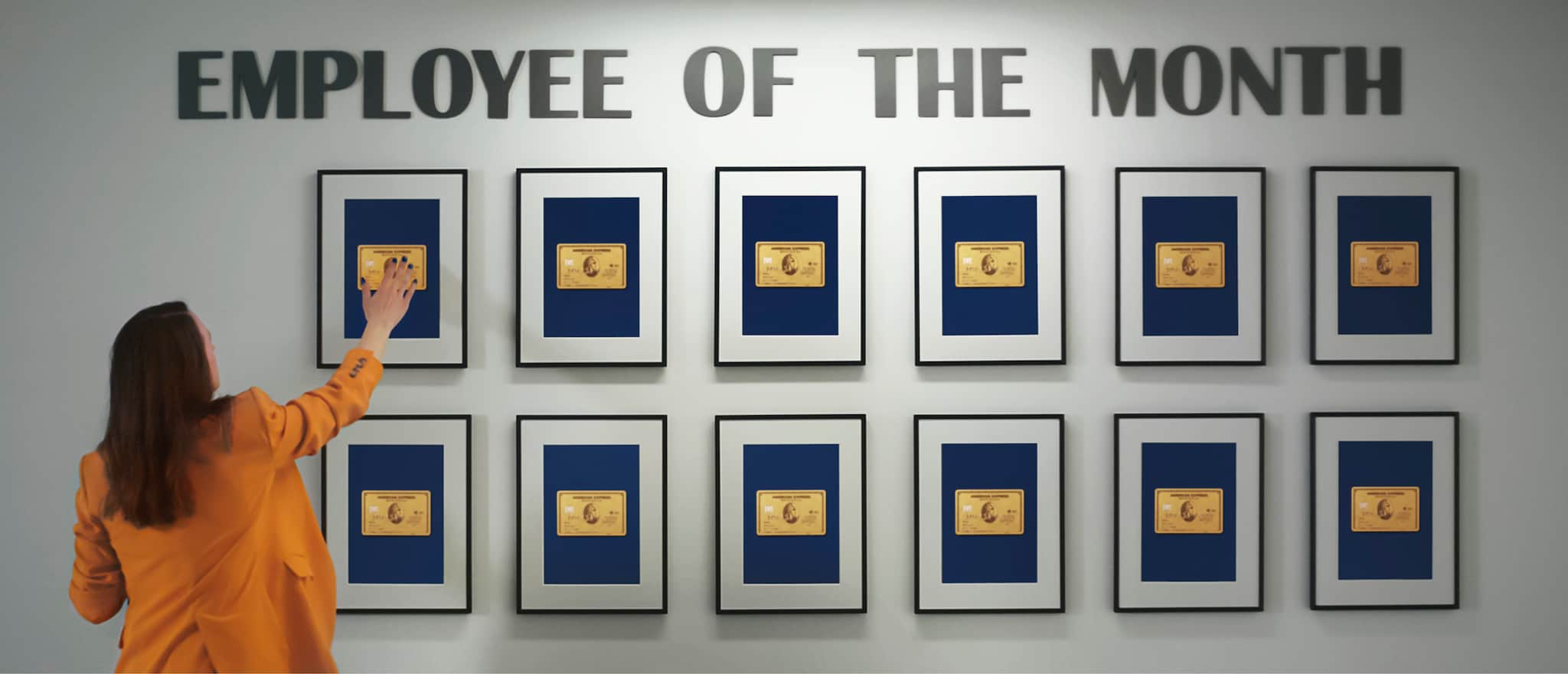 Your business card should give you more than just a way to make payments. It should make every pound you spend go further and work harder for your company. The American Express Business Gold Card does just this. For every business purchase made, you will be rewarded. And how you use these rewards is entirely up to you.
Top benefits of a Business Gold Card
Earn Membership Rewards® points on every single £1 you spend on your Card.¹ Watch your Card work for you by turning your points into team lunches, office supplies, or even online advertising.
Welcome Bonus: Open an American Express Business Gold Card and an additional 20,000 points are on offer when you spend £3,000 in your first three months.² From time to time, we may run a limited time offer on the Welcome Bonus; please check our Card product page for the latest offer level.
Quarterly Bonus: For even more benefits to your business, you can collect 1.5 Membership Rewards points when you spend £20,000 per quarter, that's equivalent to an extra 10,000 points.³
No annual fee for the first 12 months and just £195 a year thereafter.
Amazing offers: Get access to over £600 in savings with partners you'll love.⁴
Up to 54 days payment period on purchases and no pre-set spending limit, giving you the opportunity to spend big when you need it.⁵
Expense Management with AmexExpense: A new, free benefit for Cardmembers. Our streamlined, mobile-friendly service saves time at every level by empowering you and your staff to scan, upload and approve expenses in seconds.
Read more about the Benefits of the American Express Business Gold Card.
How does an American Express Business Gold Card work?
Before deciding whether this Card is right for you and your business, take a look at some of the features and benefits on offer.
Managing business finances
Managing peaks and troughs in cash flow is crucial for growth. That's why your Business Gold Card puts purchasing power into your hands. Unlike a credit card, it's a Charge Card, so you repay the full balance each month. But since you won't be charged interest, there's no pre-set spending limit and you have up to 54 days to pay for your purchases.⁵ We tailor your limit to you, so your credit limit will never be the one holding you back. You will always have the spending power you need to invest in your business whether it's for office supplies or inventory costs, you are in control. 
Our Business Gold Card also brings you partner offers that your bottom line will love. Savings with Google, Apple, Dell, PayPal and Dropbox are just a select few, with new additions all the time. Cashing in on our offers couldn't be easier. Download the American Express® App, select "Offers" and save the Offer to your Card to redeem. Simple as that.⁴
In addition, your Card gives you round-the-clock visibility on your expenses, with 24-hour online business account management and a mobile app, so you can track your expenses and access statements at any time of the day or night.
Earning rewards
We understand that every pound counts when you're growing a company. Your Card makes sure that every purchase you make stretches that bit further. For every £1 spent, you will earn 1 Membership Rewards point.¹ You'll also get an extra point for every £1 you spend on hotels, flights, car hire or experiences through American Express Travel, with our partners including British Airways, Marriott Bonvoy and Virgin Atlantic.
Get inspired by all the ways you can redeem a balance of 50,000, 100,000 or 200,000 points to boost your business.
Growing your Membership Rewards balance couldn't be easier. In addition to the Welcome Bonus and Quarterly Bonus mentioned earlier, you can collect points on every purchase your employees make with up to 99 complimentary Supplementary Cards with full visibility on how they're spending. It's easy to stay in control via your Online Account or the American Express® App. Keep your eyes on spend, set limits on Cards or even freeze them.⁶
However you manage your Cards, it's good to know that your points will be there for you. Whether you want to use them for a well-earned mini-break, reward your employees with a store gift card or treat a valuable client to a spa day experience, how you choose to redeem your points is entirely up to you.
Your business companion
A unique Card for savvy business owners, your Business Gold Card is your business companion. Wherever you are in the world, your Card will ensure you have round-the-clock access to help and advice, as well as protection through travel insurance. And if you want to impress your clients or treat your employees, American Express® Experiences will give you early access to purchase some of the hottest tickets in town. What better excuse to head to a gig or enjoy a concert.
The American Express Business Gold Card gives back to you and your company as you make everyday business purchases. More than just a Business Card, your Business Gold Card will help you manage you cash flow and convert every expense into a reward – so you can keep you, your employees and clients happy.
Who is the Business Gold Card for?
The Card is designed for small business owners who need a Business Card that gives them financial flexibility and generous rewards.
Whether you want to treat yourself to a much-needed weekend away, entertain your most valuable clients or reward your hard-working employees, you will earn rewards on every business purchase you make with your Card. And you have the freedom to use these exactly as you choose, whether in your work or personal life.
However you choose to use your rewards, you can rest assured that Global Assist® will help with any problems that arise, night or day, and no matter where you find yourself, a lost, damaged or stolen Card will be replaced.
How to qualify for an American Express Business Gold Card
To be approved for an Amex Business Gold Card, your business will need to have a current UK Bank or Building Society account, and you'll need to have a permanent UK home address. 
Click here for a full list of eligibility criteria and to find out more about how to apply for the Card.
1. Membership Rewards points are earned on every full £1 spent and charged, per transaction. 
2. If you are approved and spend £3,000 on purchases on the American Express Business Gold Card Account within the first three months of Cardmembership, 20,000 bonus Membership Rewards points will be awarded shortly after the end of the three months. Business Gold or Business Platinum Cardmembers who are enrolled or have been enrolled in the Membership Rewards programme in the last 13 months, are not eligible for the bonus. All introductory offers are subject to change and can be withdrawn at any time.
3. With your American Express Business Gold Card, you get at least one Membership Rewards point for each pound you spend on your Card for eligible purchases. Now in addition with the bonus in any Quarter (Quarter 1: 1st Jan- 31st Mar inclusive, Quarter 2: 1 April- 30 Jun inclusive, Quarter 3: 1 Jul-30 Sept inclusive, Quarter 4: 1 Oct – 31 Dec inclusive), you will receive 10,000 Membership Reward bonus points once you have spent a cumulative £20,000 in that Quarter. The Bonus Points will be transferred to your Membership Reward account, and can be viewed on your Card Account statement. 
You will continue to earn one Membership Rewards point on eligible purchases in excess of £20,000 in each Quarter for each pound you spend on your Card for the rest of that Quarter. Qualifying spend in each Quarter cannot be carried over to the following Quarter.
Eligible purchases are purchases for goods and services minus returns and other credits. Eligible purchases do NOT include fees or interest charges. Full Terms and Conditions for the Membership Rewards programme continue to apply. Visit here for more information.
4. Eligible Cardmembers can redeem an Amex Offer by first enrolling in the offer in their Online Account or in the American Express® App and then using their enrolled Card to pay. Only U.K.-issued American Express Business Cards may be eligible. Please review the terms of each Offer for details on how to redeem.
5. The maximum payment period on purchases is 54 calendar days on Gold & Platinum Business Charge Cards and 42 calendar days on the Basic Business Charge Card, it is obtained only if you spend on the first day of the new statement period and repay the balance in full on the due date.
Purchases are approved based on a variety of factors including Account history, credit record and personal resources, security may be required. We reserve the right to apply temporary spending limits in accordance with the Cardmember Agreement.
6. The Programme helps you to manage the spending of your Supplementary Cardmember(s). You may request an amount on your Card Account up to which your Supplementary Cardmember(s) will be able to spend using their Card each billing period. However, the Programme does not provide for a fixed limit or cap on all transactions made by a Supplementary Cardmember. Subject to application and approval. Supplementary Cards are issued under and subject to the Terms and Conditions of your existing Cardmember Agreement, and as the main Cardmember, you will be responsible for paying all charges on any Supplementary Cards which are added to your Account. Terms and Conditions apply.
7. If you'd prefer a Card with no annual fee, rewards or other features, an alternative option is available – the Basic Card.