Small Businesses (Japanese language only)
Advantages for Corporations
Increase expense management efficiency, and strengthen compliance.
Data Feed to Expense Management Tool
Companies can drastically reduce the expense settlement operations of their employees by linking their own expense management system to their American Express Corporate Cards. We send transaction data everyday, which can then be reflected in your expense management system in a timely manner. This also eliminates the hassle of inputting information for each expense item into your system.
※Please note that this service may not be compatible with all corporate expense management systems.
Customizable Spending Limit
You can tailor expense control by setting up spending limits by department, team, and/or each individual Card Member.
Reporting Tool
@ Work enables you to easily access and process data for expense management and analysis at any time using an online database. You have access to different types of fixed format reports as well as customized reports that can be tailored to a variety of needs.
Corporate Membership Rewards® Program
Corporate Membership Rewards enables companies to accumulate rewards points across multiple cards and use them to achieve tangible savings. You can pay with points with TripFlex® and Flexible Savings.
Program annual fee: 2,200 yen (tax included) per card
*Your participation is subject to a screening process. Please ask the sales representative for details.
Employees no longer have to waste time for business expenses, and can have peace of mind when on business trips.
Streamline Expense Management
Transaction data can be sent daily by us and is automatically reflected in your system. This streamlines the expense process, and eliminates the need for manual input of expenses, meaning employees no longer have to make payments in advance.
Travel Accident Insurance
American Express Corporate Card Members are automatically entitled to Travel Accident Insurance of up to 50 million yen travelling abroad or in Japan. For domestic travel, only payment for public transport using the American Express Corproate Card will apply.
Emergency Card Issuance
If you report your card has been lost or stolen, we will issue you with an "Emergency Replacement Card" on request. Please contact Membership Services Center for details.
Benefits of JR TOKAI Express
The service, "JR TOKAI Express" is available.
The American Express JR TOKAI Express Corporate Card provides many attractive benefits in addition to the range of services available with the American Express Corporate Card.
Save with discount fares all year round
JR TOKAI Express ticket discounts are available for every destination on the Tokaido and Sanyo Shinkansen lines (Tokyo to Hakata). The EX Reservation Service fare for a one-way trip from Tokyo to Shin-Osaka is 13,620 yen while the regular fare is 14,720 yen (Nozomi fare during regular season periods), saving you 1,100 yen on every trip.
Express fares for the EX Reservation Service to major destinations (regular reserved seat) as of October, 2019.
EX Reservation Service Discount
Tokyo & Shinagawa
Nagoya 10,310yen(△990yen)
Shin-Osaka 13,620yen(△1,100yen)
Shin-Kobe 14,170yen(△1,210yen)
Hakata 21,720yen(△1,670yen)
Nagoya
Shin-Osaka 5,680yen(△1,000yen)
Shin-Kobe 7,070yen(△1,250yen)
Hakata 16,960yen(△1,930yen)
Shin-Osaka
Shin-Kobe 2,410yen(△740yen)
Hakata 13,490yen(△2,110yen)
* The above discount table shows the discounts available on regular season period Nozomi fares when you use the EX-IC service.
Further discount with early reservations [Hayatoku]
Make a reservation in advance by 23:30 up to three days before boarding and receive a discount for a limited number of seats on certain trains and journey sections. For more information about Hayatoku, please visit the JR TOKAI website. *This link will take you to an external website "Express Reservation" (Japanese language only).
Express Reservation Green Program
With the Express Reservation Green Program, you can earn points every time you take a train. For example, six Tokyo Shin-Osaka round trips earns you enough points to purchase one Green Car seat at the price of a regular reserved seat. * Points are earned for the Express Reservation Green Program provided by JR Tokai.
Seat number request service
Choose any seat you like to enjoy the best view or get on and off easily. By checking the vacant seat information on the seating chart, you can easily make reservations. * Please note that you may not be able to use this service when the number of remaining available seats is limited.
Easy online reservatons via mobile phones or PCs
Shinkansen seat reservations can be made simply by accessing the JR TOKAI website. ※This link will take you to an external website, "Express Reservation". (Japanese language only)
Unlimited reservation changes free of charge (*) (**)
If your schedule changes at short notice, you are welcome to change your seat reservation to accommodate your new schedule at no extra charge.
* Tickets can be changed any time up to three months after the original purchase date.
** Tickets can be changed before the departure time of reserved Shinkansen. (Before the departure time of the original Shinkansen reservation, or four minutes before any subsequent adjusted departure time). If you have an EX-IC Card, this can only be done before entering the ticket gate. If you do not have an EX-IC Card this can only be done before collecting your ticket.
Ticketless travel using an EX-IC card
There's no need to stand in line at the ticket counter. You can pass through the ticket gate simply by touching your EX-IC card to the reader at the automatic ticket gate.
Transaction data download service
You can download your Express Reservation service transaction records by company or department in an editable file format.
JR TOKAI Express Corporate Card Benefits
Overseas Assist
Whenever you are traveling outside Japan, you have 24/7 access to assistance with medical and legal emergencies, arranging transportation and accommodation, and other useful travel information and services. Overseas Assist is available to you in both English and Japanese.
ANA@desk, JAL Online (*)
Make reservations and payment for discounted e-tickets for domestic flights 24/7 online via ANA@desk and/or JAL Online.
ETC Cards (*)
Each Corporate Card Member can apply for up to five ETC cards.
Annual Membership Fee: 550 yen (tax included) per card
Online Services
You can view your recent account activities and historical transactions 24/7, as well as download statements from the past 6 months by Online Statements.
* Company and employee enrollment is required.
Benefits of the American Express® JR TOKAI Express Gold Corporate Card
Airport Lounge Access
Gold Corporate Card Members have access to airport lounges in major domestic and overseas airports.
Domestic and International
We offer unlimited complimentary access to lounges at 28 domestic airports, as well as Honolulu International Airport in the United States. You can also invite one guest to join you free of charge.
Priority Pass™
Priority Pass gives you greater access to over 1,200 participating VIP airport lounges worldwide. Gold Corporate Card Members have complimentary access to participating VIP lounges up to two times a year. Guests who do not have Priority Pass membership may accompany you to the lounges and access all available facilities for a fee of US$32 per person per visit.
Free Luggage Delivery*
Travel to and from the airport with your hands free. We offer free luggage delivery from your preferred location to the airport, and from the airport to your preferred location.

Service Available at: Narita International Airport / Chubu Centrair International Airport / Kansai International Airport / Haneda Airport (Tokyo International Airport)

(*) This service is available for overseas travel only.
Airport Cloak Service
You can store up to two items of luggage during your layover at Chubu Centrair International Airport.
Compare our Corporate Cards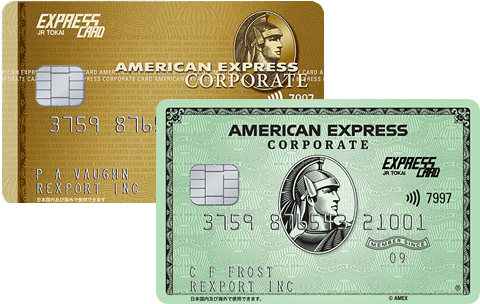 American Express® JR TOKAI Express Corporate Card
American Express® JR TOKAI Express Gold Corporate Card
Convenience and security for frequent business travellers on JR Tokai Express
Travel
JR Tokai Express reservation service
Airport Lounge Access (only for Gold Corporate Card)
Free Luggage Delivery (only for Gold Corporate Card)
Airport Porter Service (only for Gold Corporate Card)
Domestic / Overseas Travel Insurance
24-Hour Overseas Assist
ANA@desk, JAL Online
Airport Parking Service


Other Services
Online services
Card Replacement
Golf Reservation Desk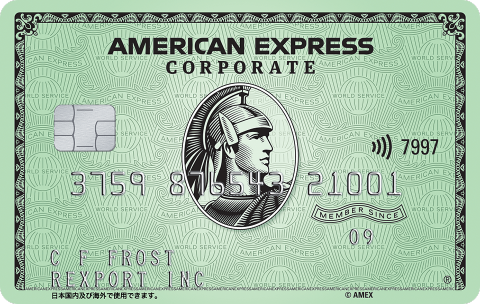 American Express® Corporate Card
Highly secure payment method for all business expenses
Travel
Domestic / Overseas Travel Insurance
24-Hour Overseas Assist
ANA@desk, JAL Online
Airport Parking Service

Other Services
Online services
Card Replacement
Golf Reservation Desk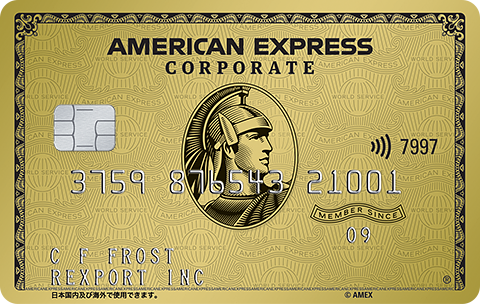 American Express® Gold Corporate Card
Convenience and security for frequent overseas business travellers
Travel
Airport Lounge Access
Free Luggage Delivery
Airport Porter Service
Domestic / Overseas Travel Insurance
24-Hour Overseas Assist
ANA@desk, JAL Online
Airport Parking Service

Other Services
Online services
Card Replacement
Golf Reservation Desk

Swipe right to view more