Get Ahead of Your Online Marketing Strategy Today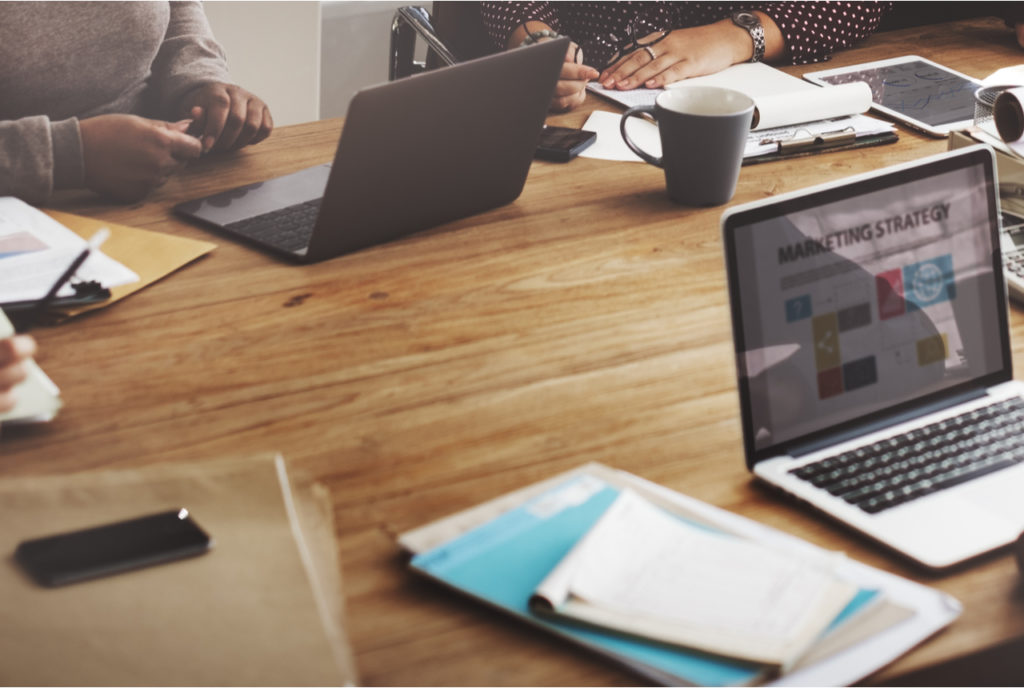 Welcome to American Express Business Blueprint's in-depth digital marketing strategic guide! This guide is approximately 8,000 words (or 28 pages) and contains more than 150 tips on creating a killer marketing strategy for your online store.
If your ecommerce store isn't getting the traffic or sales you need, jumpstart your marketing strategy today with this guide. We know it's long, so we've broken it up into five chapters:
Website essentials you'll need going in

Map out your marketing

Research for your marketing campaign

Be prepared for change

Establish a marketing budget

Low-cost marketing ideas
Website Essentials You'll Need
Having a website for your small business is no longer merely an option for companies in the world. Therefore, your online store needs to be killer. Before you begin your online marketing venture, make sure your ecommerce store has these 12 vital features:
Reliable hosting
You can't make sales or attract customers if your online store is constantly down. All it takes is a few hours of downtime to cost you thousands of dollars in sales.
It's best to use a hosted ecommerce platform rather than installing software on your own or a third party server. With a hosted ecommerce solution, your server and software are supported by the same company. This makes it a lot quicker to track down any issues that do arise.
Thorough branding
With your online store, you're trying to build a brand. You want to be immediately recognizable to everyone who has shopped with you before — and even those who haven't. Branding is a vital part of entering the public consciousness. The ability to fully customize your website to meet the image of your brand is crucial to your success. If you're not a design guru, no need to fret. Companies like 99designs can help you come up with logos, packaging, web design and more to keep your branding on point and thorough.
Your own domain name
Don't underestimate the power of a domain name. You need one of your very own, as it will make your store much easier to find and help you with search engine rankings. You won't get the same results if you're on a subdomain of a larger site, for example.
It's also important that your ecommerce software lets your customers check out while still under your domain name rather than redirecting them for the checkout process. In the minds of many customers, the redirect makes you seem less professional.
Search engine optimization
Search engine optimization (SEO) has several facets that you'll need to cover. HTML meta tags (like page titles, image alt tags and h1 heading usage) all have bearing on your search engine rankings. The content on your pages is also extremely important, and you must always follow SEO best practices.
An SEO-friendly ecommerce platform will provide you with a quick way to edit these attributes without having to dig through code and make the addition of blogs or pages for written content easy for you as well.
Multiple ways to pay
Despite the prevalence of online shopping, half of all ecommerce customers are still anxious about making a purchase online. The news is constantly presenting us with stories about identity theft, hacking and fraud. Some customers may only trust one particular payment option. Others may refuse to use a specific payment method, regardless of its overall popularity.
As an online store owner, you need to make the buying decision as easy as possible for your customers, and that includes giving them a choice of payment options. You'll need to integrate your store with any payment gateway you use, but good ecommerce software has multiple integrations built in — the more, the better.
Integration with accounting software
Accounting is often viewed as an enormous hassle (and a stressful one at that). Improper accounting can lead to auditing – or worse. With the added pressure of doing it correctly, accounting can quickly become the most dreaded part of running your business.
Thankfully, software like QuickBooks, NetSuite, Xero, Freshbooks and others can vastly simplify the process for you. There's still another step to take, though, and that's a direct integration with your ecommerce software so the accounting data is automatically available. This is a feature to watch out for in an ecommerce platform because it will smooth out the accounting process significantly.
Analytics and reporting
Reports are the only way you can learn which of your products are selling and which strategies are effective. With this data at your fingertips, you'll know which of your marketing campaigns are performing well. With Google Analytics, you can identify your sources of traffic and use the information to find more customers. You need to be able to view reports and analytics in an organized way through your store's dashboard. There are no exceptions.
A customer relationship manager
A customer relationship manager (CRM) allows you to keep all your customer interactions on record in an organized manner. This will help you maintain good relationships with them, building loyalty. It costs far more to get a new customer than to keep an old one, so return customers are vital to your success. Tools like HubSpot and Salesforce offer a variety of software tools, from marketing to customer service to sales, to help your customer success.
Simple navigation
The customer must be able to view their cart from any page on your site, and your products and categories must be easy to navigate. Placing a visible shopping cart in your store's sidebar is a good strategy. For products and categories, make it easy for the customer to move between your store's pages by providing breadcrumb links and organizing your categories and sub-categories in a sensible way.
Real-time shipping
Surprise shipping costs are one of the top reasons behind cart abandonment (i.e. a customer puts items in their cart but never finishes the purchase). Real-time shipping updates instantly, preventing the customer from being shocked at the last minute by the additional cost.
A good ecommerce platform integrates with multiple shipping carriers like UPS, FedEx and USPS to provide real-time shipping information and tracking numbers as well.
Improved website speed
Anything from your website code to image size and server technology is going to affect your website load time – and you'll lose customers because of it. Some rules to follow to keep your website speed where it needs to be are:
Avoid landing page redirects

Enable compression

Improve server response time

Leverage browser caching

Minify resources

Optimize images

Optimize CSS Delivery

Prioritize visible content

Remove render-blocking JavaScript

Use asynchronous scripts
Web developer
If website development isn't your forte, consider hiring a web developer either full-time or through contracting. Because estimates vary widely, ask developers these questions before hiring them:
What is your hourly rate?

What is included in the proposal? For example, are planning, design, programming, marketing and site launch included?

Is the website mobile responsive?

Is your website built on a CMS or static platform?

Who has to write the content?

Are any graphics or images included in the price?
Talk to a few different developers to find out how they answer your questions. Just like you would not get just one opinion from a doctor, you should talk to a few different developers. Each one might have a different vision for your website. Plus, it is really important that you are your developer work well together and have the goals for your site. Creating a rapport with them helps you to identify how you can work together later on in the process.
Once your online store has these features – or you're beginning to include them – it's time to plan out your marketing strategies.
Map Out Your Marketing
Before you begin a marketing campaign, you need to have a plan. Here are five steps to creating it.
Evaluation – Conduct a self-evaluation to determine the questions you want your marketing plan to answer. Ask yourself the following:
Who do I want to reach?

Why do I want to reach them?

How am I going to reach them?

When do I want to launch the campaign?

Can I do it alone, or will I need help?

What problem do I want to solve?

How will I solve it?

What are my long-term and short-term goals for this campaign?
Conduct research – Research your targeted audience and what they want to see, marketing trends, industry trends and successful social media strategies. Check Google for a competitive analysis to see what strategies were successful for other businesses in your industry.

Develop and cultivate your idea -Once you've done your research, it's time to develop and cultivate your idea. How will you make it unique to your business? What problem will you solve for customers? It's important to make your idea stand out and be memorable while also creating revenue opportunities. You can make your idea stand out in a few ways:
Include your brand's logo

Create a unique hashtag

Create an attention-grabbing, positive title

Theme your plan
Write the plan – A successful marketing idea needs planning. Your marketing strategy should include:
Clear description of your targeted market

Description of your services/products

What makes you stand apart from your competitors

How much you're willing to spend (will you need

additional funding

)?

Identify your competition

The channels your customers will use to buy from you
Promote, promote, promote! – Once you've done your research, it's time to develop and cultivate your idea. How will you make it unique to your business? What problem will you solve for customers? It's important to make your idea stand out and be memorable while also creating revenue opportunities. You can make your idea stand out in a few ways:
Direct mail

Cold calling

Email lists

OFfering a free trial or product

Social advertisements

Creating shareable content (beyond paid ads)

Offline media (TV commercials, radio/podcasts, print ads)
Now that you have your marketing plan in place, it's time to dig into some research.
Research Your Marketing Campaign
Reviews can make or break your business.
What are product reviews? Why are they important?
Product reviews come in many forms:
Customers who have sampled products/services and given ratings

Online reviews through channels like Facebook, Yelp, Trustpilot, etc.

Individuals and companies who specialize in evaluating products/services, who then produce videos or articles detailing them
Customer reviews are a must-have, as 85 percent of customers trust online reviews as much as a personal recommendation, according to the 2017 BrightLocal Consumer Review Survey. So, how can you get them? Here are three methods.
Ask and solicit customers.
Don't assume that happy customers will know you want them to provide feedback. Ask them to do so! In fact, 68 percent of consumers leave a review behind when asked, according to BrightLocal. Make it easy for them by:
Sending a request by email with a link to your product page or a review site

Adding an invitation to provide feedback to customer receipts

Putting a request for reviews and a URL of the review site on product packaging

Scripting request for reviews to be delivered by staff at the point of checkout or in electronic transactions
Stars matter.
The same BrightLocal survey found that 48 percent of businesses need at least a four-star rating before customers choose to do business with them. Fifty-four percent of consumers say the average star rating is the most important factor when looking at online reviews.
Today, more and more people expect businesses to have a four-star or more rating, although 87 percent of consumers say they will use a business with an average rating of three-to-five stars.
Keep it fresh.
Generating new product reviews and ratings needs to be an on-going effort because the impact of positive product reviews diminishes over time. Seventy-seven percent of shoppers say that reviews left within the most recent 90 days were most relevant to them and only 4 percent said they valued reviews that are a year old, according to BrightLocal.
Now that you know why you need reviews and how to get them, it's time to learn how to handle the bad ones.
One thing all small business owners fear is receiving a bad review. But perhaps more important than the review itself is how you handle it. In fact, 30 percent of consumers judge a business based on how they respond to reviews (up from 10 percent in 2016).
Your response to a customer's complaint shows other potential and existing customers how you handle yourself and your business. A positive response might even bring back an unsatisfied customer.
Here are nine tips on how to respond to and resolve a bad review.
Don't take it personally.
If you get a negative review, try to remember that it's nothing personal; it's just business. No one is trying to be mean, although it can be difficult to separate business from personal, especially when you've taken the risk to start a new business. This business is your baby, after all, and you want to see it succeed. Part of being successful is being able to remain levelheaded and calm. This helps you to separate the business from the personal.
Don't panic.
Panicking and writing a hasty reply will usually end poorly. Take some deep breaths, and try to figure out exactly what happened that could have caused the review. An aggressive response made while in an emotional state makes you look unstable and can turn potential customers away. A perfect example of how not to respond with panic and haste is the Amy Baking Company Boutique & Bistro (which has since closed).
Respond in a polite and timely manner.
While you shouldn't respond immediately, it's still wise to respond as soon as you can. Your responses should be apologetic and address the issue. Start with an introduction and apologize for any inconvenience they may have received. Ask them if they'd like to discuss their issues further and leave a contact number you're comfortable giving them or ask them to send a direct message to your business.
Know the type of response needed…
Some issues can be resolved with a general response. Let's say a customer simply didn't like the product or service or was upset at something beyond your control. An easy response can be, "We're sorry you didn't enjoy (product/service)! At (your business name), we aim to provide the best quality (products/services) with the best quality help. We hope you will come again to give us another chance! Thank you, (your business name) management".
…especially if you are the one at fault.
Sometimes staff members make mistakes. If a customer had an issue that should never have happened in the first place (e.g. being charged for something they didn't order, not receiving replies from customer service, etc.), own up to it. Apologize first and foremost. Let them know that you are looking into the mistake in order to ensure it will never happen again. If you can, offer them a discounted item for the next time they shop so you can re-establish their trust – but only if you really were to blame.
Tell your side of the story.
Let's be honest: Some people are just unhappy, and they just want to complain about something. If they were at fault and refuse to admit it, don't be afraid to tell your side of the story. But remember to tell it in a cool and collected manner. Don't let your emotions get the better of you.
If you think a review is a defamation, report it.
It's possible to run into an instance in which you get a false negative review. Fortunately, most review sites allow you to report this. However, you will need significant documentation or evidence that this review isn't legitimate, so don't go reporting every bad review as fraudulent.
If you made a mistake, learn from it.
The most important takeaway from any review, positive or negative, is to learn from it. Positive reviews tell you what you're doing right while negative reviews tell you what you need to improve on. Mistakes are inevitable – people make them all of the time. It's how we learn from them that really matters.
Ask for positive reviews.
There's no shame in asking for a positive review. Ask customers to complete a short survey, although usually, these should be in exchange for a discounted item or service. You can also ask them to like your social media pages. On your social media pages, ask people for their opinions via polls or asking questions through statuses. People like being heard and having their opinions valued.
Strategize for social media.
When it comes to social media, more doesn't necessarily mean better. Between major networks like Facebook and Twitter to visual platforms like Instagram, mainstream social networks alone can quickly spread your company's social media efforts thin. Add in B2B social platforms like LinkedIn and niche sites, and the workload quickly grows.
It's time to ask yourself: Are you wasting precious time by being on too many social media platforms? Focusing on high-yield networks will let you reduce your time on social while increasing your results.
The benefit of a social platform analysis
A social media platform analysis helps businesses understand which social networks are delivering real results, connecting them with their audience and likely to yield a positive impact over the long-term.
Instead of assuming that your business must be on every social media network, looking through the lens of the results generated helps you determine where to focus your time and attention the most.
The analysis also helps you connect with your audience demographics. Ask yourself:
Who am I trying to reach?

What channels are they on?

What do they like to see?
Looking at where your customers spend time online
To find out where your targeted audience is spending their time online, check out the following tools:
These tools can help you concentrate your content on the platforms that have the highest percentage of your targeted demographic and build your content from there.
Analyze your existing ROI
Analyzing your existing return on investment (ROI) is one of the best ways to know if you're actually getting something out of posting on social media platforms or whether you're just wasting time. Establishing a core set of metrics can help you determine whether you're generating the results that you want. Ask yourself:
Is your following growing on priority networks?

Are people commenting, engaging with or sharing your content?

What are your click rates on links that you share?

Are your social media activities generating sales and other profits?
Social media analytics tools can help you establish a baseline on these metrics and then follow progress over time.
Using tools to help you better manage your social media analytics
If you're looking into analyzing the time spend on social media networks versus the return you're getting by doing it, analytics tools can help. Using a blend of social media analytics tools can help you develop a comprehensive picture of your performance, as well as an in-depth understanding of your most important networks.
Are you achieving your business objectives?
If you're spending a lot of time building a strong profile on many social media networks, there's something you need to ask yourself: Am I achieving my business objectives?
Develop specific goals and then look into the platforms that will help you achieve your goals. A few examples of business objectives may be:
Cultivating customer relationships

Growing sales

Gaining new insights into your target market

Growing your brand sentiment awareness
Balancing results from paid and organic social media traffic
One of the best ways to determine if you're wasting time using too many social platforms is by checking out your results from both paid and organic social media traffic after you carry out an in-depth social media platform analysis.
If you're promoting your business with a mix of paid and organic social media advertising, you'll be able to glean a deeper insight into which one is a better investment. Many business owners shy away from advertising due to the cost. But the higher visibility and less labor-intensive content generation may be worth the trade-off.
Understanding payment platforms and payment processors
What are payment processors?
Payment processors are companies that handle transactions so customers can buy your products. You can get a payment processor through:
Banks

Online providers

Companies like PayPal
How does online payment processing work?
The process works similarly to brick-and-mortars.
The customer makes a purchase.

The customer pays with debit/credit card or through a payment platform like PayPal.

Your system submits the credit card transaction.

The payment gateway sends off secure transaction to the processor.

The transaction, verification process and approval process go through the processor.

The customer's bank sends them money to the processor and then your bank.

The processor sends the gateway an approved or denied status.

If approved, the message is sent to you.

You get the payment!
What are some popular online payment platforms for my ecommerce store?
It's important to find the right payment platform for your online store. Research and compare these popular options for your ecommerce business:
Create a killer content marketing strategy.
Google loves quality content because it improves its search results. Creating great content for Google's users put your business in front of those who might not have been specifically looking for it. This is also a rich opportunity to position your company as a thought leader in your industry.
What does it mean to have a content strategy? Let's take a look at 11 steps to get you on your way to rocking content marketing.
Make sure you have a content management system (CMS)
A CMS is a web application that allows you to add, edit and manage your content. Options such as WordPress and Squarespace are excellent options for small business owners, especially those who are unsure of their technical skills.
Pro-tip: There are two sites: WordPress.com and WordPress.org. WordPress.org is for web developers, so be sure to use WordPress.com.
Host the blog on your website.
It's always better to host your blog on your own website. Here's why:
Your blog creates credibility and likeability. Customers like doing business with companies known for their expertise. Credibility can be established in plenty of ways, the most obvious being a consistent delivery of high-quality products and services. People will notice, and word will spread. But you can also gain business cred by offering customers something they want, that you have, for free: tips and information relevant to your industry. The more credible you are, the more likable you are. Blogging also helps your customers stay in the loop of what your business is up to.

Your blog will help your SEO rankings. Having a blog is often the easiest way to improve how high your website is indexed by search engines, as long as you make sure to do a few things:

Move the blog to your own web domain

Post regularly

Include keywords in your title and meta descriptions
Platforms like Blogger and WordPress let you build a blog for free. But if you really want SEO results, you'll need to host your blog on your own web domain. Having all your sites on one domain is generally a rule of thumb if you care about SEO.
Pro-tip: Your URL structure should be: "businessname.com/blog".
Build a customer persona.
To help shape your content, build a customer persona. If you had one person who represented the majority of your customers, who would they be? Are they a specific gender? How old are they? What are their interests? What obstacles are they facing that can be solved with your products or services? Why are they buying your products or services?
There are many traits you can assign to your customer persona to shape them into a representation of your audience and help you better understand whom you're addressing when writing your content.
Build a content calendar.
The content calendar will help you balance content themes, buckets, types and categories to create a well-rounded content marketing strategy that will be compelling to your audience. Keep in mind:
What categories you want to post

How many pieces of content you want to put out

The types of content you want to put out

Carefully categorizing your blog content with content pillars

Balancing your content strategy
These scheduling tools can help you build out your calendar:
Creating content pillars.
Content pillars are beneficial for your content because they solidify your reputation for certain topics. Pillar content is content that can be broken into many different pieces but fall under one topic. To build your pillars:
Understand your audience

Identify their needs

Identify what topics you will be covering

What types of content can increase conversion rates
Here's an example. Let's say you're a retail business, and you choose four pillars you want to cover. The pillars (and content that could fall under it) might be:
Products

Fashion tips

Seasonal trends

Do's and don'ts

Attire types (business, casual, semi-casual, etc.)

Ethical practices

All about your business

Updates

Your story

Geographical location

Contact information
Brainstorm your content.
After figuring out your content pillars, you'll want to make a list of keywords relevant to your business and industry to use in your content. This is so that those searching for information on that subject will find your content. To help you define your keywords, ask yourself the following:
What are my business's most valuable keywords?

How would I describe the problems my business solves?

How do my customers talk about my products or services to others (in blogs, articles, forums and social media)?

What do I think my ideal customers might type into Google when looking for products or services like mine?

Are there specific product names I sell?

What keywords do my competitors use on their sites, social media channels and in their ads? 
Use Google AdWords.
You can set up a free Google AdWords account to pull keywords. Once you've set it up:
In the "Word or Phrase" field at the top of the main section, paste all of the keywords you've generated.

Leave "Website/Category blank.

Do not click "Only show ideas closely related to my search terms".

Under "Match Types" in the left column, select "phrase".

Click "Search".
With these results, be sure to:
Filter out keywords with too little or too much traffic.

Delete keywords that have too much organic search competition.

Delete keywords not relevant to your business.
Google will then produce a list of keywords that are close to your brand that you may want to consider targeting. You want to find the middle ground of keywords with a good amount of volume, but that are not too competitive. Once you have the full list, filter out:
Keywords with too little traffic (because not a lot of people are searching that term).

Keywords with too much traffic (because they're likely too competitive).

Keywords not relevant to your small business.
Create your content.
Now that you have your content planned, it's time to create it. Here are six tips to creating awesome content:
Write value-rich, long-form content.

Studies show

that long-form content ranks well and can increase your conversion rates. In February 2011, Google released its Panda update, which keeps poor content from reaching the top of the results page. While it's tempting to sacrifice the quality of your writing to meet a certain word count, readers won't appreciate the fluff, and it won't help your search rankings.

Pay attention to your headline. Your headline is the first thing users will see, so make them want to click on your link. While you don't want clickbait, be sure your headline is compelling enough to attract potential readers.

Include internal links. You'll want to include internal links within your content. Internal links are links that point back to other pages on your website. This can increase the time spent on your site, allow an ease of navigation and help build your domain authority.

Have links pointing back to your site. External links build up credibility to your website and help increase your domain authority and SERP rankings. There a number of ways you can get external links; however the most popular are guest posting and outreach. While a link from a ".com" site with a high domain rank is powerful, the strongest links come from sites that end with:
Pro-tip: Be sure you're doing honest link building. Google penalizes those who pay for links.
Include multimedia. Photos, videos and graphics go a long way. Here's a breakdown:

Images are beneficial for blended rankings and help break up long pieces of content. Make sure you include alt text descriptions in them that include the keywords you want to rank for. Google will crawl these descriptions, increasing your image's ranking, which increases its click-through-rate.

You should include closed captions and transcripts for your videos. Captions will help you reach deaf consumers and increase watch time. Transcripts make translations easier for international users and ease content creation. Google can crawl them for keywords as well.

Infographics are unique pieces of content. If done correctly, people will be more likely to share them.

Repurpose or update old content. Content is king, but there's such a thing as too much content. Don't oversaturate your blog with useless content. It's better to have a few, regularly-updated great pieces of content than 500+ articles of the same topic said in a different way. When you do the latter, you actually hurt your search rankings because not only are you trying to top your competitors, you're also competing against yourself. The longer pages sit unchanged, the further they fall in searches.
Seek help if you need it.
If you're pressed for time to maintain a regular content calendar, writing isn't your skill, or you want a robust content marketing strategy, you may want to consider hiring freelance content writers or a full-time content employee. There are a few resources where you can find inexpensive content writers:
There are a few key things you'll want to make sure you do when reviewing potential writers:
Negotiate prices that fit your budget.

Ask for examples of what they've written.

Look for writers who might have an online following to help get the word out.

Make sure to put a contract in place. Online legal resources such as can help with this.
Distribute your content.
Once the content it is written, you want to get it out there so people can find it and read it. There are several ways of going about this:
Schedule social media posts with custom social images. You can create these images with

free and inexpensive tools

.

Feature your content in an email newsletter through tools like

MailChimp

Build up your blog subscription list so users receive a notification every time you publish something new.

Ask your employees to share content, such as including a link in their email signature

Leverage brand ambassadors (those who naturally love your business)

Leverage social influencers (those who have already built an audience and who are influential to your audience)

Share in LinkedIn groups for your industry
Measure your content.
Measurement is important, but don't let it get complicated and overwhelming. Choose two to five key performance indicators (KPIs) you want to measure. Some options:
How much organic traffic/new users to site

How many people converted from content

What content was most read/shared

Keyword rankings and changes
Most content management systems provide analytics, and you can also use Google Analytics for free.
Once you've collected all of your research and data, look at the changes and trends in your industry.
10 Tips For Creating Product Descriptions For Your Online Business
The section was contributed by Mary Walton, a business writer. She helps with content management at Best Assignment Writers and creates helpful writing guides at UK Top Writers, educational resource for British students.
You've got to write excellent product descriptions if you want to get noticed online. There's a lot of competition, and you need to stand out. Your product descriptions can be picked up by Google if you write them well, so it's important that you do your best to write descriptions that will stand out to your customers, and convince them to buy from you.
If you're looking for help in writing your descriptions, then you're in the right place. These 10 tips will help you write descriptions that really speak to your audience and get them to buy from you, rather than the competition.
Watch the words you use.
The words you use in your descriptions say more about you than you'd think. Certain words and phrases can put across an image that you don't want to cultivate, so you need to be aware of how the language you use makes you look. For example, using words like 'stunning' sounds embellished, 'nice' sounds lazy, and 'sorry' has negative connotations.
Know your audience.
"Before you write a single word, you need to know who your audience is, and what they want from you," says content writer Elise James at Elite Assignment Help. "Many companies fail because they don't consider the fact that their audience isn't just anyone that comes across their website. You need to think about who your product appeals to. If you sell craft supplies, for example, you're more likely to sell to women than to men."
Take the time to really dig into what your audience is looking for, and who they are as people. This will help you work out what kind of content should be in your descriptions.
Eliminate buyer's guilt.
For many buyers, they'll feel guilty about spending money online, even if it's something they really need. That means that they may put off buying from you when they're browsing online. Your description needs to eradicate the buyer's guilt that they feel when they spend with you.
The best way to do this is to convince the buyer that they're making the right decision. Tell them what a bargain the item is and how much they need it. Telling them it's essential is the best way of doing this. For example, if you're selling sandals, you can describe them as 'a summer essential for every woman's wardrobe'.
Use online tools.
If you're writing descriptions, there are a lot of tools online that will help you get the most out of them. Try using some of these tools to give your product descriptions the edge over the competition:
Via Writing: This site offers lots of useful grammar and writing advice that you can put to use.

Proofread Bot: This tool will check your writing and automatically show you any errors that have been made in text.

Custom Essay: This writing agency can help you write descriptions when you need an extra pair of eyes on them.

State Of Writing: This site features guides that can help you with every aspect of writing.

Write URL: This real-time text editor allows for collaborative editing, which is useful if you're working in a team.

Big Assignments: This service offers expert writing guides that you can use to write better product descriptions.

Write Box: This is a distraction-free app to help you focus on your writing.

Grade On Fire: This writing service is recommended by the Huffington Post and content creators everywhere for creating good content for your store.
Be careful to avoid duplicate copy.
It sounds impossible, but you can be flagged by Google for writing copy that's similar, if not identical, to another website. If that happens, they won't show your site in search results, which can be a disaster for you. Use plagiarism detection tools to avoid this as you write your descriptions.
Get help when you need it.
Sometimes you just won't be able to write your own descriptions. Maybe you're just too busy, or you don't have the expertise to do it yourself. Don't be afraid to hire in help when you need to. You can find it in unexpected places too: from hiring freelance writers to a full-time copywriter to even academic writers.
Use keywords carefully.
Keywords are the best way to get your descriptions picked up by Google and get your product in front of the people looking for it. However, when you use them, do so sparingly. Keyword stuffing is penalized by Google, so make sure your copy still flows naturally when you use them.
Describe benefits instead of features.
Your customers won't be impressed with a long list of features that mean nothing to them. That coffee maker may have an automatic timer and high-speed facilities, but what does that mean to them? You've got to show them how this benefits them. For example, you can say, "Wake up to freshly brewed coffee each morning with (product name)'s automatic timer."
Appeal to their imagination.
When you're looking at an item in a store, you can pick it up and really imagine owning it for yourself. However, it's harder to do this when you shop online. Paint a picture for your customers as to how the product will improve their life. For example, if you're selling an inflatable pool, you can tell them how refreshing it would be on a hot summer day. You can also incorporate pictures of people using the products.
Always proofread and edit.
Finally, you need to ensure that you're always proofreading and editing any descriptions that you write. Your descriptions need to be professional, and you'll always look more professional to ensure that your writing is polished.
Use these tips to improve your descriptions, and you'll see a real improvement in your online sales. Give them a try to see for yourself.
Be Prepared for Change
It's important to research industrial and marketing changes to keep up with competitors as well as consumer demand on a continuous basis. Maintain these six approaches to the ever-evolving landscape of your industry and marketing trends.
Augmented reality surpasses virtual reality.
Augmented reality (AR) immerses consumers into virtual environments, giving them more personalized experiences. While virtual reality (VR) is also growing in popularity, here's why AR might be a better fit for small businesses:
More cost-efficient

More user-friendly

Most smartphones have AR technology built-in

Helps consumers visualize your products or services

Helps users navigate to find new products or services

Gives customers guidance and tips about using your products
So, how do you incorporate AR into your small business? Here are some examples:
Restaurants can show potential customers a 360-view of their business.

Retailers and beauty businesses can showcase how products will look on the user if the user submits a photo.

Retailers can let customers create their own customizable shirts in 3D.

Customers can use mobile AR for in-store navigation for larger brick-and-mortars.

Realtors can show houses to potential buyers through mobile AR.

Furniture stores can allow users to see how pieces will look in their homes.
Pro-tip: Listings with photos and virtual tours are
twice as likely
to generate interest.
AR can be challenging to set up on your own, so consider hiring an outside agency if you're expanding your business to incorporate it.
Voice search is becoming more popular.
In a world where we're constantly asking Alexa, Siri, Cortana and Google Home for help, the ease of search has improved, with voice search becoming more widespread. By 2020, 50 percent of all searches will be voiced. So, how can you optimize your website or mobile app for it? Check out these six voice search tips.
Optimize your page speed.

Secure your website, changing it from HTTP to HTTPS.

Avoid creating separate pages for separate queries. Consolidate to as few pages as possible.

The more shares a piece of content has, the higher it will rank in voice search results.

Like mobile or desktop search, Google favors long-form content.

Incorporate featured snippets to potentially increase your voice search rankings. Featured snippets include:
Lists, both numbered and bulleted

Tables

Paragraphs that answer questions (see below)
Focus on your SEO.
Search engine optimization (SEO) is vital for your small business. It's how you can reach consumers without paying for their attention. Here are 14 SEO tips for your online store.
Make a list of three to five keyword phrases most likely to draw web traffic. Choose those with high traffic but low competition, and include at least one with your local area.

Include keyword phrases in your page and blog post URLs. These don't have to match the titles, but they carry big weight with Google.

Sign up for Google Local. If Google Plus was Google's White Pages, this is their Yellow Pages. It gives you a huge boost in organic search and puts your small business above the fold even with lower rankings.

Get relevant contacts to link to your website from their own sites and social media. Make sure the links lead to many different pages on your site. Relevant contacts include:
Vendors

Mentors

Friends

Industry leaders

Industry influencers
Write a description tag for every page on your site. Do one a day until you're done. Include your keyword phrases in every single tag. Make the tag a comprehensible sentence giving accurate information about the page.

When you insert an image include keywords in the "alt" box. This is a description for visually-impaired people and read by search engines. Don't misleading. Google will penalize you for that.

Use headings on your pages and posts. This keeps people reading, which reduces bounce rate, and search engines give more attention to headings than to other text.
Pro-tip: Bounce rate is the number of people who visit your page and immediately leave it.
Make sure you're linking to other valuable pages on your site.

Bold-face important concepts, especially those with keywords and key phrases in them. This guides readers (increasing shareability and reducing bounce rate) and gets more weight from the search algorithms.

Share every new blog post or page on your social media channels. Encourage fans and followers to share it further.
Pro-tip: Write a creative headline that people will want to open and share.
Add social sharing buttons to your site, making it easy for readers to share your best material on their own social media channels. Don't go crazy with a dozen buttons, though.

If you have duplicated content on your site (whether it's two very similar articles on your actual website or an article you reposted elsewhere), remove it. Duplicate content was a working strategy before 2012, but now hurts your site's search performance/

It's okay to link to other sites, but make sure to follow Google's guidelines, which means nofollowing these links.
Pro-tip: "Nofollow" means you're not passing SEO-power onto another page. You can do this by going in the code and including rel="nofollow" in the ahref line.
Write better content and update old content. You don't want too many pages on your site.
Optimize for local search results.
Local search allows small businesses to compete in an arena normally reserved for larger corporations. This can result in increased market share and growth. The top search criteria include:
Searching for an address/location

Finding a business with desired products/services

Searching for a phone number

Finding the hours of operation

Getting directions to your business's location

Discovering coupons/special offers

Reading ratings and reviews

Local sponsorships/scholarships
So, now that the local SEO picture is becoming clearer, let's dig deeper into creating a local SEO strategy. Here are four key components it should include.
Local reviews 
Online reviews from local customers help optimize your site for local SEO. Here's how to get online reviews:
Create an account on a review page (GoogleMyBusiness, which comes with the helpful

Google Small Business

resource; Yelp; Foursquare; etc.)

Create your business's page

Include photos of your business, your website, location, phone number, hours of operation and contact information on your page

Ask your customers to visit your page and leave reviews

Make sure to thank them for their reviews
Directories
Directories aren't just yellow-pages anymore. They also include online local site submissions. When submitting to a directory, you're likely to be prompted to verify your listing. Three ways to verify your listing include:
Phone verification using a pin number

Mail verification using a postcard with a pin number

Email verification by clicking on a verification link
You should also update your directory listing if you change your phone number or physical/online address.
Local and regional keywords
Any local SEO strategy should include website optimization. Consumers often search for specific products and services within their location or region. You can optimize for local and regional keywords by:
Making sure your website includes your contact information

Including local and regional keywords in your content

Moving away from mundane titles and instead, incorporating catchy ones (e.g. "The best Italian in Virginia Highlands!")

Using local hashtags (e.g. #atlantaeats, #eatatl, etc.)
Website HTML
Schema is HTML markup that helps search engines find your business. To capitalize on this, your ecommerce store needs to include the following:
Physical address

Hours of operation

Website address

Location

Phone number
Customer service is key.
You started a small business to make money, to create a presence, show the world your genius idea or maybe just because you wanted to see if you could. But the one thing you cannot forget is your main focus should be on your customers. Here are eight ways you can boost your customer service experience:
Have a phone number.
It's not enough to have a FAQ and an email address. Though you might think it will get abused, you need to have a phone number where your customers can talk to a real, live human. Having a human being on the other end of the telephone can make customers feel like they're really being heard. It's also much faster than waiting for an email response. A telephone call is usually one and done.
Spell out your policies explicitly.
To reduce issues and lower angry inquiries, carefully read your business policies on your website, and make sure they are understandable to everyone. Approach them as if you were a first-time user. Have some friends or family read through to see if there's anything you missed. Clearing up problems now before they occur in real-time will save you many headaches later and can also prevent unexpected revenue loss.
Watch the carts.
For every order you get, you'll probably encounter 10 abandoned shopping carts. Watch these abandoned carts, as there may be an opportunity here. If they signed up and provided an email, send them a message thanking them for their time and ask if anything was wrong. Not only do you make a connection with your customers so they might come back, but if there was something that went wrong, you have a chance to fix it.
Connect on Facebook and Twitter.
Having a proper Facebook page and Twitter account will give you even more opportunities for customer service. Watch for comments and replies on both feeds and engage with a real dialogue, showing all your fans how well you deal with issues.
As with email, though, time is of the essence. If you let a post written by an angry customer stand for too long, the problem could quickly escalate, leading to more problems. Answer issues as quickly as possible to prevent customers thinking that you are oblivious to their needs.
Add a little something extra.
In New Orleans, they call adding a little something extra to the purchase "lagniappe". Did someone buy a lot from you? Add a piece or two to the lot. Or if you sell jewelry, invest in some pretty velvet boxes to send it in. You can also offer discounts for frequent online shoppers or free shipping for orders over a certain amount.
Customize your user experience.
Consumers like personalized experiences, especially the next generation (Generation Z). Target these customers through email, videos and images, tailoring them to specific psychographics. You can also include personal notes in shipped orders. Get a start on these strategies as Generation Z will soon accumulate 40 percent of consumers in America.
Maintain your customer retention.
Ecommerce businesses can sometimes lack the personal touch of brick-and-mortars. However, you can still practice the right techniques to gain customer loyalty and retention. Here are five techniques to try.
Create a loyalty program. Offer rewards for repeat customers such as discounts or free products through accumulated loyalty points.

Manage their expectations. Offer your customers more than they expect. This could be through including a small, free product when they order online, covering shipping costs or by completing a project earlier than deadline.

Use blogging to educate your customers. Educating your customers on industry and company shifts is more likely to

increase their trust

in you. They also may come to you as a valuable resource for questions they may have pertaining to the industry. For example, if you own a retail business and post about styling tips, customers will come to you for styling guidance.

Engage with them on social channels. While you don't need to be on every channel, you should use your social profiles to engage with customers. Thank them for leaving positive reviews, apologize for bad experiences and accept constructive criticism. Be sure to ask what they'd like to see and what you're doing right/wrong. Also, shout-outs are a great way to engage with your customers. For example, if someone Tweets positively about one of your products and tags you, retweet and thank them.

Share customer stories. If one of your customers or clients has an amazing story, and you were a positive part of it, share it! Tell your client's story, including their problem and how your business helped solve it (with their permission, of course).
Secure your customer's data.
Cybersecurity is vital for all businesses both large and small. In fact, 43 percent of ransomware attacks in 2016 were targeted towards small businesses. However, 90 percent of small business owners say they don't provide the proper protections for their customer's personally identifiable information (PII). Here are 10 ways to secure your customer's PII data.
Make data security a company-wide responsibility.

Stay on top of encryption practices.

Restrict access to customer information.

Be careful with bring-your-own-device (BYOD) policies (i.e. letting employees use their own laptops, smartphones, etc. for work).

Use a website malware monitoring service.

Shred documents with sensitive data.

Layer security on your website.

Train employees on security measures.

Don't store sensitive data for long periods of time (e.g. credit card numbers).

Require strong passwords from employees and customers.
The National Federation of Independent Business (NFIB) offers various tips and resources for accessing cybersecurity software and why it's essential for your small business. It also gives advice and updates on the small business universe, giving you the news and research your small business needs.
Make your brand consistent.
Building a strong, consistent brand makes you memorable. Everyone knows the Nike swish, right? It's an incredibly well-executed brand play. So, how can you make your brand stick out?
Business name – Your business name needs to be consistent and uniform across the board. According to Google Quality Outlines, here are some additional name tips.

Title should reflect your business's real-world title

Include a strong description that helps customers locate your business

Acceptable taglines should include the name of your business and its location

Use the right words. Your brand's identity lives in your customers' perceptions. What words, thoughts or feelings do you want them to think of when they see your small business? Build your brand off of those, and keep living through those perceptions.

Employees must buy into your brand vision. Your brand starts within your business. While loyal customers and brand advocates are awesome, your employees are your brand ambassadors. They represent your brand online and in-store when interacting with customers and vendors, and they represent your brand wherever else they go once it's known who they work for

Communicate your brand vision. Visual and verbal images and words must support your visions. Even if the logo is artistic or a tagline is clever, if the words don't support your vision, they won't support your brand.

Separate yourself from the pack. Competition is booming in most industries, so it's important for your brand to be different. Price is nearly always the main reason buyers choose one brand over another, but strong brands don't always have to compete with it. Through competitive analysis, secret shopping and conductive research, figure out what your customers aren't getting from your competitors – and give it to them!

Make the world a better place through your brand. Build core values into your brand through measuring customer care, employee treatment, marketing and advertising tactics and how your business will be unique.
Your marketing plan is in place, you've researched strategies and tools, and you're up-to-date with the evolving trends in your industry. Now it's time to set your budget.
Establishing a Marketing Budget
Every marketing campaign and strategy needs its own budget. Creating a budget for your marketing efforts helps you:
Determine how much funding you'll need for the campaign

Determine your cash flow to see how much you can allocate to it

Figure out if you'll need additional funding

Review financial patterns of old campaigns

Explore other strategic options
Here are six steps to establish your marketing budget:
Set the marketing budget at 5 or 10 percent of your business's revenue

Set the marketing budget from 1 to 15 percent of sales

Budget for your long-term and short-term goals

Review previous campaign budgets to project how much you'll need

Include a contingency, keep your budget flexible and be prepared to make adjustments on an on-going basis

Project expenses and assume you'll need more than you think
What defines a goal? How do you stick to it within your budget?
Goals create clear paths to improve your small business's growth. With goals, both long-term and short-term, you have a better picture of what problems you want to solve and how to solve them.
Long-term goals include examples like:
Up your revenue by 30 percent year-over-year

Increase online traffic by 20 percent in three months

Raise time on your site by three-five minutes in six months

Improve your search results rankings to the first page by end of year
Short-term goals include examples like:
Fix site speed within the month

Update old content by end of first quarter

Create better content for search results

Check your analytics each week

Link building efforts (internal and external)

Guest post three times a month
How additional funding can help
If your budget doesn't have much wiggle room for your marketing plan, additional working capital can help fund:
Extended paid ads

Covering unexpected expenses

Outsourcing marketing consultants

Hiring professional videographers, photographers and graphic designers

Hosting local networking events
Where you can find additional funds
When looking for financing, research all available options. Options include:
Traditional loans

Small business loans

Investors (e.g. angel investors, venture capitalists, friends and family)

Peer-to-peer financing
Low-Cost Marketing Ideas
There are many small business marketing tips you can take note of to market your product or service to customers, and most of them cost a lot of money. To do it on the cheap is an art form and takes a lot of skill. Here are seven low-cost ideas to consider:
Publish or perish.
Publishing content that relates to your business—and that your customers want to know about—is one of the best ways to market yourself, and it's absolutely free. The principal behinds businesses publishing online make it a solid investment of your time. Publishing helps more people find you through search engines, and publishing useful content helps make you an expert in your given field. When people search for information, they read the content you have produced, and then it leads them back to you as a viable option for the sale. Have an opinion, a perspective. Don't be afraid to offend or make your voice heard.
Commune, create, prosper. 
Find the aficionados. You can't be the only one, right? A strong community around advice, learning, and industry trends is a key way to promote yourself and your business. Connecting through blogging services, LinkedIn groups, Twitter, and Instagram. You can't just follow and like. To make this a good use of time, you need to participate.  Retweet, comment, and discuss. Gaining a rapport with other industry insiders and people who successfully market their businesses online means exposure for you.
Cross-pollinate.
When you've developed a rapport with people in your community, there are all kinds of ways to share with audience. A guest blog is a good opportunity to expose another blog's readers to your ideas, products, and more. The host blog gets good content for free, you get exposure. Link backs are helpful for your search engine purposes. Want to take it further? Offer a special promo to a blogger with a large audience. They get to offer a good deal to their fans, and you get to gain exposure, and if you design the promotion correctly, you'll bring in profits.
Learn your social graces.
You can spin your wheels on social media. Don't. If you want success here, then you need to analyze what works. Looking across the items that you share for patterns, what posts are garnering the most likes, shares, and new followers. Social media can be a great, free addition to your marketing mix. Just make sure that you are spending your time wisely by putting effort into posts that have the most return for your business. If you have a business Facebook page, check the Insights tab for detailed info on what people are engaging with and sharing.
Make the news.
We're not talking frontage of The Times, here, but people forget that there are lots of places that people go for news and information, and getting your story told on these sources is a smart, free way to market. Are you writing press releases for local publications?  Are you pitching news sources online? Even something as simple as creating a Wikipedia page for your business can be free marketing. Start a discussion on Reddit. Do an AMA (ask me anything.) Share all the news coverage you can get over social, blogs, and email to amplify the results. You can also subscribe to Help a Reporter Out.com (HARO) Each day you will get solicitations to be a part of press articles and you can respond to them if you have insight in areas they are seeking.
FREEmail 
Email gets overlooked. But if you do it right, it's incredibly effective. Especially when measured against cost. The challenge is collecting email addresses. To get people to sign up, you need to give something away for free. It doesn't need to be a physical item. Plenty of people will sign up for marketing emails if you make the content valuable for them. A very successful realty collective highlights local businesses and attractions every week in their emails. A designer does a trend watch piece similar to what is seen in magazines. Offering information in exchange for peoples' attention is a great way to market without spending money. There are a lot of services like Constant Contact that offer free trials for email services if you don't yet have one.
Engage
Engaging your customers through photo and videos is the number one way to get attention. People don't read anymore, they consume media in sound bytes, video or beautiful imagery. Make sure you have a Pinterest page to highlight your products or images within articles you are writing. Get your happy customers to send a photo of them with their new product that you can post to social. You can even pull all of this into a platform called Crushpath which lets businesses create free "pitch" sites to promote their small businesses in under 2 minutes. Once a pitch is created, you can send it to other Crushpath users, share it on social networks, or send it out as an html email. All of these things drive engagement with existing and potential customers and allow you to show off your business better than ever.
Try one or try them all, there are many ways to experiment in getting your business out there, and all for free. So go for it! As we move into the busy holiday season, there has never been a better time to start trying some of these tactics. So, what are you doing to promote your business that costs nothing?
Congratulations and thanks for making it through our in-depth guide! If your small business's online store might be struggling to get the reach you desire, don't fret. With this in-depth online marketing strategic guide, your online store can reach new levels of success: from increased traffic to higher sales to larger brand awareness.