How to Build Your Accounting Practice Website Authority in 90 days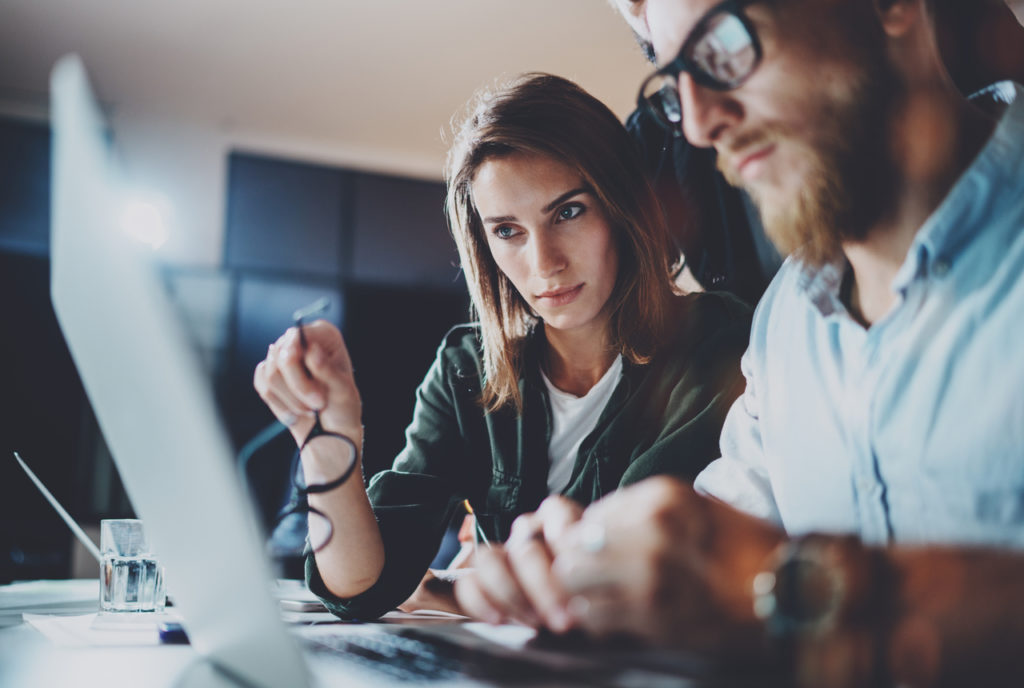 For an accounting business, it always comes down to the numbers. It takes a number of clients to make your business function and the right numbers to fill out tax forms. However, there's another number to watch out for: your website authority score. If your online presence isn't getting the traction it should, building an authority score is an effective way to fix the problem. An authority score helps boost your site's popularity and interacts with potential clients on a higher level.
Here is how to get started:
Building Trust with Your Website Authority
A website authority score is a unit of measurement to see how credible your website is stacked up against other similar sites. Between 1 and 100, your website is ranked from varying factors that make a site a qualified source of information. If your website doesn't have a lot of interaction, it is likely due to a low authority score.
Is your website being linked from reputable sources around the internet? Are you updating with latest accounting or finance-related news? If not, these are a few reasons why perhaps your score isn't where it should be.
Building a higher authority score takes a certain amount of creativity, but it also utilizes tools and practices that can take your website from little traction to a high-traffic information hub. An authority score along with your domain and trust score create the ultimate toolkit to get your website up and running with momentum.
Your First 30 Days: Reaching Out
It's important to see where your website is starting from. Figure out your authority score easily with websites like SEMrush and other score services that give you your starting number. Once you know your number you can take steps to improve upon it.
Remove Broken or Dead Links
Not the number you expected? In order to figure out why your number is low, you could try a backlink audit to see where old or broken backlinks are located. Depending on how long you've had a working website, there may be many links that simply don't work anymore. This could happen naturally due to software or website upgrades, company name changes and so on.
If the websites in question are still updated regularly, contact the authors immediately and give them your updated website link so they can edit the post or potentially post something new.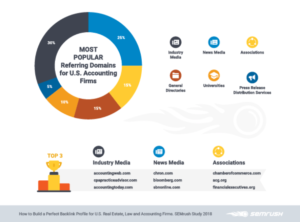 Reach Out Locally
Now that your website links are in working order, it's time to start small and expand outward. Are there any local blogs, online newspapers, or businesses that could benefit from featuring you and visa versa? Start making a contact list and reach out about potential blog posts. If they only accept completed articles, consider hiring an informed freelancer that understands your brand.
What industries gain the most traction for accounting websites? Statistics show that accounting websites excel in fields like industry and news media.
If you want the complete list, you can download the entire the backlink report for accountants.
Here are some ideas to start building your contact list:
Financial firms in the area who write about money
Happy clients with business sites who would love to endorse you
Local accounting associations
Financial advice columns in the local paper/magazines
This is an excellent way to build a connection to your community while building your authority score from the ground up.
The Middle 30 Days: Content Creation and Engagement
Now that you have a healthy local list who potentially want to showcase your company, it's time to make sure your website is more than just a front page.
Create Meaningful Content
Building an authority score means your website needs to be a place of updated and meaningful content. Does your website have a blog? Is all the information up to date? Keeping up with the latest accounting trends is pivotal in being an authoritative source. Depending on your goals, you should update your blog regularly with the same keywords to keep your website fresh in search engines as a continuous information source.
Some blog ideas to get started:
Ways to prepare paperwork for an accountant meeting
Tax season tips and tricks
Showcase local finance events and more
Things you wish your clients knew
Engage with your Client Base
Now that you have content building up, there are endless ways to interact with your previous, current and potential clients. Between email lists, blog posts, interacting on social media and getting involved in the community, there's no shortage of opportunities to get your name out there in an impactful way.
Does your social media presence have a feedback feature? Facebook, Google+ and Yelp have excellent features in getting your happy clients to give you positive public feedback that will always help bump you up on search engines.
The Last 30 Days: Getting on the List and Keep Going
Now that your links are fixed and you're starting to engage with your local community, it's time to take it nationally to boost your authority score even further.
Reaching out On a Larger Scale
Besides word of mouth, many people trust reputable lists as a source of finding the right kind of accounting services for their needs. Since your website is being built as a voice of authority, you want to try and get on popular U.S. referral lists that showcase accounting companies and services.
Here the top five most popular referring domains to start from:
These referral lists and websites are often showcased on several blogs, as many content creators understand the importance of these high-performing lists as a respected and updated source of relevant information. In other words, getting on a list like these would mean a constant influx of site traffic.
Create a Marketing Routine and Keep Going
There isn't a magic button that will keep your authority score high. You must constantly update your blog, create monthly email campaigns, and find potential marketing opportunities for your website to stay relevant in search engines. Once you see the huge increase in site traffic, however, you'll realize that an authority score is much more than a number, it's an integral part of your business.