Business Cards
Cards
Business Cards
Payment Solutions
Payment Solutions
Payment Solutions
Resources
Resources
Other Resources
Due to the impact of COVID-19,
for eligible Card accounts approved from December 1, 2019 through May 31, 2020 for which you are eligible for a welcome offer, the period to make eligible purchases to earn your welcome bonus will be extended for an additional 3 months. Eligible Cards are U.S. Consumer and Business Cards issued by American Express National Bank to a Basic Card Member.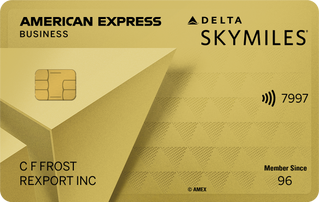 Delta SkyMiles® Gold Business American Express Card
Delta SkyMiles® Gold Business American Express Card
Get More Out of Your Getaways
First checked bag free.‡
$0 intro annual fee for the first year, then $99†¤
Get a Decision in as little as 30 seconds
♦︎‡†Offer & Benefit Terms
| 
¤Rates & Fees
Delta SkyMiles® Gold Business American Express Card
Get More Out of Your Getaways
Featured Delta SkyMiles® Gold Business Card Benefits
Earn Miles
As a member of the Delta SkyMiles® Program, you can use miles towards flights, seat upgrades, car rentals, merchandise, gift cards, and more. Miles do not expire, and there are no limits to how many you can earn.‡
2 Miles‡
On every dollar spent on eligible purchases made directly with Delta.

On every dollar spent on U.S. purchases for Advertising in select media.

On every dollar spent on eligible U.S. Shipping purchases.

On every dollar spent on dining at restaurants.
1 Mile‡
On every eligible dollar spent on purchases.
---
Delta SkyMiles® Gold Business Card Benefits & Details
Travel & Transportation

perks that can help protect you when you're doing business on the road

First Checked Bag Free‡You can check your first bag for free and save up to $60 on a round-trip Delta flight.‡

Main Cabin 1 Priority Boarding‡Enjoy early boarding on Delta flights as a benefit of Card Membership. You can board your flight when Main Cabin 1 priority boarding is called, so that you find room for your carry-on bag and settle into your seat sooner.‡

$100 Delta Flight Voucher‡Take $100 off your next Delta flight – after you spend $10,000 in purchases on your Card in a calendar year, you will earn a $100 Delta Flight Credit to use toward future travel.‡

20% In-Flight Savings‡On your next Delta flight, enjoy 20% savings in the form of a statement credit on select in-flight purchases when you use your Card.‡

No Foreign Transaction Fees‡There are no foreign transaction fees with your Delta SkyMiles Gold Business Card.

Baggage Insurance Plan♦︎Travel more comfortably knowing you can be covered by the Baggage Insurance Plan♦︎ for eligible lost, damaged, or stolen baggage when you purchase the entire fare for a Common Carrier ticket (e.g. plane, train, ship, or bus) on your eligible Card. Coverage can be provided for up to $1,250 for carry-on baggage and up to $500 for checked baggage. For New York State residents, there is a $10,000 aggregate maximum limit for all Covered Persons per Covered Trip. Please read important exclusions and restrictions.

Car Rental Loss and Damage Insurance♦︎As a Card Member, you can be covered if your eligible rental car is damaged or stolen when you use your eligible Card to reserve and pay for the entire eligible vehicle rental and decline the collision damage waiver at the rental car counter. Please read important exclusions and restrictions. Not all vehicle types or rentals are covered. Coverage is not available in Australia, Italy, and New Zealand. This product provides secondary coverage and does not include liability coverage.

Customer Service

and 24/7 support, whenever you need us

Global Assist® Hotline‡Lose your wallet? Need a referral for a doctor? Global Assist Hotline is there to help with coordination and assistance services when you are traveling 100 or more miles from home. We can also help you with visa and customs information, and more.Card Members are responsible for the costs charged by third-party service providers

Relationship Care® ServiceWhen you become an American Express Business Card Member, you can receive our special brand of Relationship Care® service. Whenever you have questions or concerns about your American Express Business Card, you can rely on us to give you answers 24/7. Simply call the number on the back of your Card to speak to one of our Customer Care Professionals who are specially trained to understand the needs of small business owners and can provide you with business-savvy support.

Expense Management Tools

to help you track and organize expenses

Employee CardsGet the most out of your Business Card by adding Employee Cards.
Earn rewards‡ on employee purchases, plus track employee spending with alerts and summary reports.‡

Account ManagerWhen you designate an Account Manager, you can allow trusted individuals - like an assistant or business partner - to access and manage your Business Card account. So you can trust your Account Manager to get the work done when you can't be there.‡

American Express® Business AppSimplify the way you and your employees manage Business Card receipts with the American Express® Business App.‡

Account AlertsSet Account Alerts to help you avoid late payments, notify you of irregular activity, and monitor Employee Card spending.

Year-End SummaryAt the start of each calendar year, we provide access to a Year-End Summary of charges so you can review your annual spending by category or merchant. With your charges itemized in one place, this is a great tool you can rely on to help prepare your taxes and manage your spending.‡

Online StatementsView your purchase history, prepare reports, and budget your expenses.

American Express® AppTrack spending and rewards, find offers, make a payment, and get important account alerts in real-time with the American Express® App.

Vendor Pay by Bill.com‡You can make the most out of paying your business bills. Improve your cash flow and take advantage of Card benefits when you use your Card to pay bills with Vendor Pay by Bill.com.
Take advantage of Vendor Pay by Bill.com by enrolling your Card. With the Basic plan, there is no monthly fee for the first user. Additional fees may apply based on plan type and number of users.

Even More Benefits

for Card Members

Extended Warranty ♦︎When you use your American Express® Card for eligible purchases, you can get up to one extra year added to the original manufacturer's warranty. Applies to warranties of 5 years or less. Please read important exclusions and restrictions.

Purchase Protection ♦︎Purchase Protection♦︎ can help protect eligible purchases made with the Card against accidental damage, theft and sometimes provide lost coverage for certain Card products for up to 90 days from the date of purchase. Please read important exclusions and restrictions.

Dispute ResolutionWe will work with you to help resolve the issues if there is a fraudulent or incorrect charge on your statement.‡

Amex OffersAmex Offers is a simple and easy way to make your life more rewarding. With offers for shopping, dining, travel, and more, there's something for everyone. Adding offers to your Card is quick, easy, and best of all, incredibly rewarding.
♦︎‡†Offer & Benefit Terms
| 
¤Rates & Fees
♦︎‡†Offer & Benefit Terms
| 
¤Rates & Fees