There are a lot of WordPress themes out there. Whether you're looking for a souped up, paid premium template or a free alternative, it seems everyone and their grandma has created a tweak on the basic two- or three-column WordPress model.
While it can be a little daunting to sort through the many options, the explosion of available templates is a healthy sign of a vibrant, sometimes prolific, design community. This is good news, of course, if you're a designer. This is not such good news if you're a small business looking for a simple, free, and adequately outfitted theme for your company.
Picking a theme for your blog can be much like picking the right pair of shoes. It's a personal choice as much guided by the needs of your company as your own aesthetic ideals and personality. With that in mind, we tried to do some of the heavy-lifting by picking out 10 of the best, free WordPress themes for small business. We've included some points on how each theme could be maximized, but feel free to experiment, modify, and select for yourself. After all, you are wearing the shoes.
Have a look through our picks, and do let us know if there are any personal favorites we missed in the comments. Don't forget to let us know why you picked your site's theme.
1. Notepad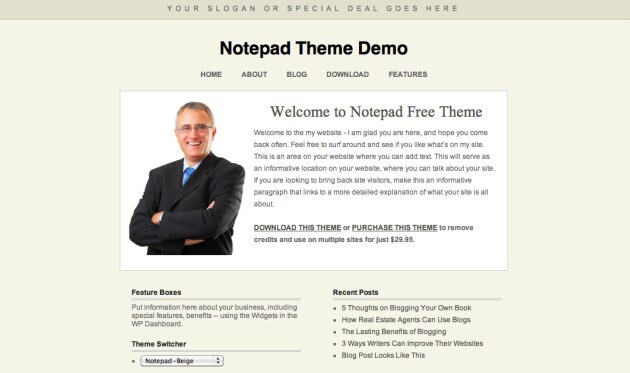 Think of this as small business 101. Notepad is a simple theme with a clean, clear landing page. The theme is best for showing off your product, slogan or any other branding you've developed.
2. Colourise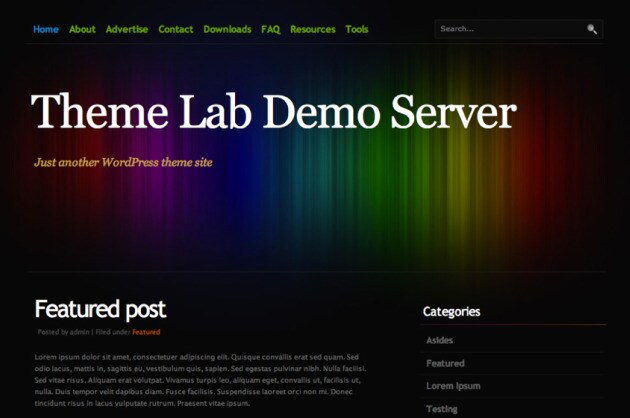 Colourise is a nice choice for edgier, more graphics-based companies. And no, not just because it's black. The theme comes with a huge header image (shown here in the muted rainbow) that enables you to showcase your business's logo or other design features in a variety of ways. This is balanced with all the standard navigation features and a prominent display for your company blog.
3. Makisig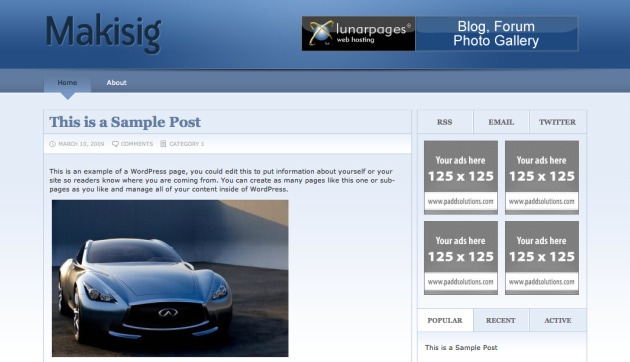 Makisig is a little more corporate with cleaner lines and more conventional design choices. One of its best features is an expertly designed sidebar with plenty of room for prominently placed ads and easy navigation through your previous posts based on several criteria.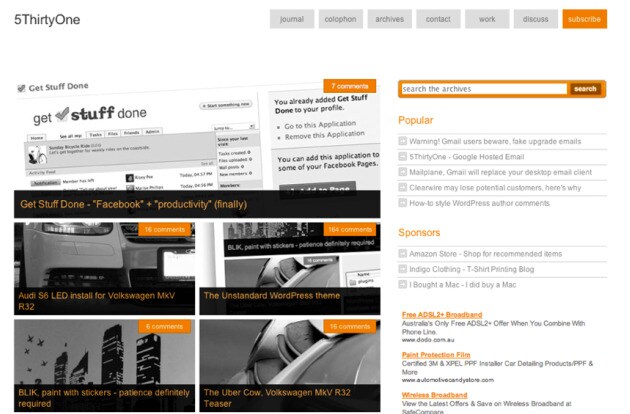 While it initially looks suited for photogs, this WordPress theme is a great way to feature a set of hot-selling products. Each thumbnail on the homepage can be based around your products; the flashy design is a great way to draw readers in. Warning: Top-notch photography is a must with this scene as it dominates the user experience.
5. LaunchPad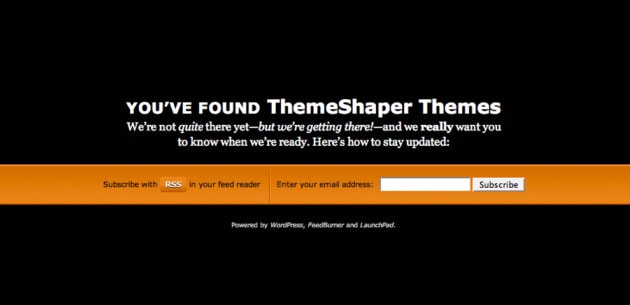 This is the only theme on the list that isn't really a "theme." LaunchPad is meant to be an effective placeholder when you're developing your real website. Rather than offering a blank page to pre-launch visitors, you can add a short message and have potential customers sign up to your RSS feed or mailing list. Consider it a necessary tool as you develop your homepage.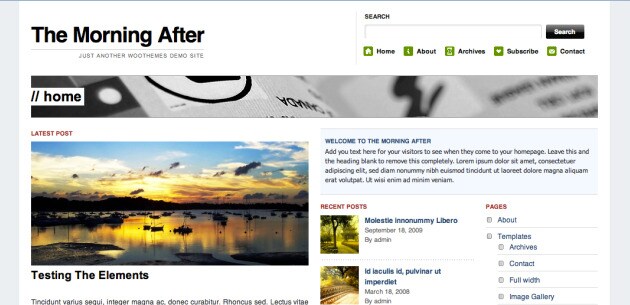 The Morning After is a classic for magazine style WordPress themes. Don't let the moniker fool you, this theme comes packed with sleek navigation features and tons of space for brand headers, featured products, and thumbnails. If you're looking for a sharp theme with lots of multimedia, this might be your cup of tea.
7. Charred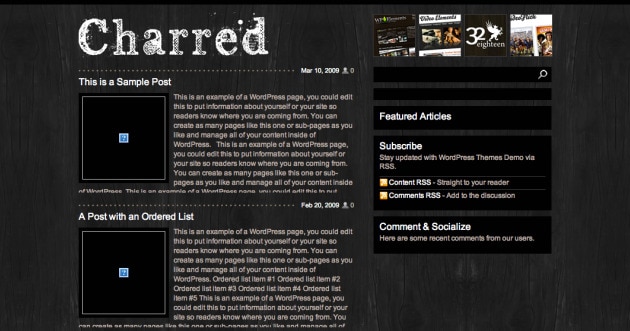 This stream-lined theme is something a little simpler for companies wanting to focus on product info or news. The dark design means this probably isn't the best bet for your organic farm blog, but for simplicity, this theme is still a good starting place for smaller businesses.
8. TheSevenFive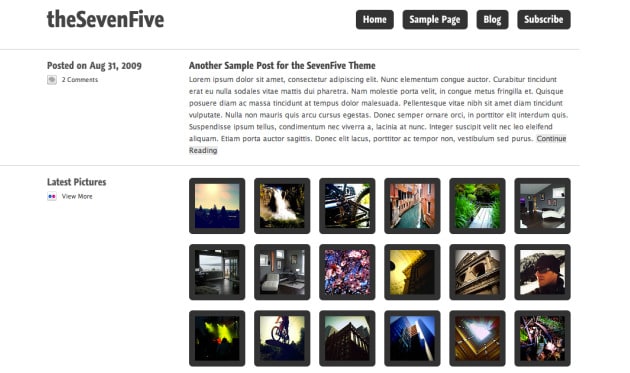 This theme is best for small businesses looking to build communities and share information with its users. Posts can be organized in a variety of formats including collected photos, tweets, and straight-up news posts. The lack of a huge header image or brand-focused landing page, however, makes this theme less useful for showcasing products.
9. Snapshot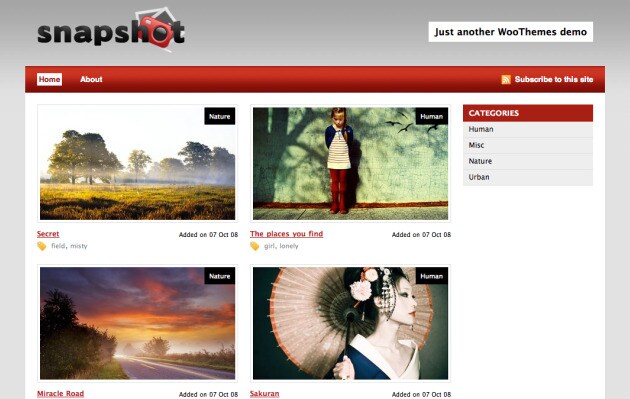 Snapshot is another photo-heavy theme best used for showcasing your products. This theme provides an elegant solution to giving a product overview if you don't feel like downloading a marketplace widget. There is ample room in each photo box for a detailed description but not enough for substantial news posts.
10. Bueno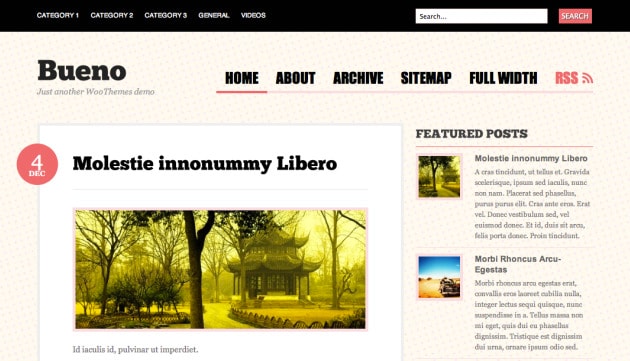 Much like The Morning After, this theme's bold, clean, graphics-heavy design is perfect for balancing news, brand, and product highlights. This is a great choice if you're looking for a site design that can help you build community with enough features and flexibility to promote yourself and your goods.
Image courtesy of iStockphoto, MandarineTree