Sometimes it's the simplest things that are the most effective. IFTTT.com (the acronym stands for "If This Then That") is an online service that lets you automate actions you take on the Web every day. When used correctly, it can be an extremely powerful tool for small-business owners, saving you time and keeping you organized.
For example, you might set a "recipe," which is simply a trigger/action that reads: "If the shipping status changes on my Amazon order, then send me a text message." You don't have to post a sticky note to remind yourself to go to Amazon and check the status. Or, how about if you want to keep an eye on your competitors in the next town? Set a IFTTT recipe to email you a digest of their blog posts, which you can review while you're getting ready for bed each night.

And that only scratches the surface of possibilities. You can create recipes using 60 channels (i.e., Weather.com, Twitter, Facebook, Instagram, WordPress, etc.), and an endless number of combinations.

We've gathered 10 IFTTT recipes that you can apply to your small business, but the trick is to get creative and explore the possibilities. Stay alert to the actions you habitually take every day and see if a simple IFTTT recipe can eliminate the extra leg work.
1. If it snows, send a tweet about soup.
Part of operating a small business means responding to local buzz and news. If there's a snowstorm coming to town, set IFTTT to tweet about your restaurant's delicious clam chowder. Run a beer shop? Instagram a frosty mug whenever it hits 100 degrees outside.
2. If you get a new order, add it to a Google spreadsheet.
If your small business doesn't yet have an established account system in place, consider organizing through an IFTTT recipe. This one will file all incoming emails marked "receipt" or "order" into a handy Google spreadsheet.
3. If someone tweets with a specific hashtag, add it to a Google spreadsheet.
Want to organize a contest around a custom hashtag? File those tweets into a Google spreadsheet for easier browsing and search later on.

RELATED: 10 Amazing Productivity Apps You Aren't Using
4. If someone has a birthday, send him an email.
A great idea to send recurring coupon emails to your subscribers on their birthdays.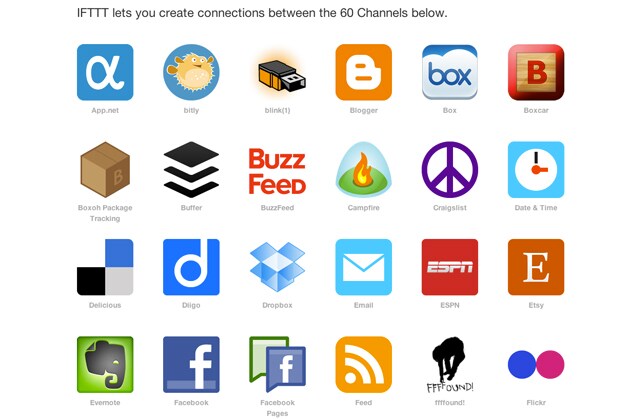 5. If your competitor creates a blog post about a certain subject, have it texted to you.
Want to keep an eye on that pesky new boutique down the street? Set an IFTTT recipe to send you a text each time the owner posts about a store sale on her blog.
6. If a user likes your Instagram photo, save it to a Google spreadsheet.
Rewarding your customers and social media followers is extremely important. This IFTTT will save Instagram "likes" to a Google Spreadsheet, so you can find out who is most active with your content—and reward him with a coupon or special gift.

RELATED: 9 Must-Have Gmail Plugins to Make Email Easier
7. If you post to WordPress, have it posted to your Facebook page.
Simple and sweet: Push your WordPress posts straight to your Facebook page. Voila!
8. If a Google Calendar event starts, post it to your Facebook page.
Keep locals in the know by syncing a Google Calendar event with your Facebook page, which will share the names and locations of your most recent events.
9. If you post a Facebook link, save it as a private bitmark.
Bitly can be more than a link-shortening tool—it also comes in handy for tracking analytics. Transform all your Facebook links into private Bitly bitmarks, then count the clicks.
10. If you make an Etsy sale, have a text sent to you.
When you don't have a giant team keeping track of your sales, you need to stay on top of every dollar earned. This IFTTT notifies you via text when your Etsy shop makes a sale.

Read more articles on productivity.

Photo: Courtesy of IFTTT.com