Branded mobile apps come in a variety of types—they tend to focus on entertainment, utility or product enhancement.
Entertainment and utility apps don't necessarily highlight a company's offerings in a lot of cases. But apps developed with product enhancement in mind generally introduce services beyond those already offered by businesses.
Using a mobile phone's top features—such as its camera, GPS and Bluetooth—brands have created a number of innovative branded mobile apps that enhance their products and services. Here are 13 apps that do just that. Let us know about your favorites in the comments below.
1. Airbnb
Airbnb is a startup that enables users to seek out non-hotel travel accommodations listed by other users. The mobile app features an added functionality for travelers on the go. Under the "Search" tab, the "Help! I need a place, tonight!" button helps users find and book nearby apartments that are available at the last minute.
Building upon its ColorSmart Web app, paint producer BEHR introduced its ColorSmart mobile app, which lets users create and browse color palettes before buying paints.
The "photo match" options enables a user to take a picture or pick an existing picture from his or her photo album in order to choose colors for building a color palette. Once the user chooses a color or multiple colors, the app recommends color palettes.
Besides the "photo match" feature, the app also features a paint calculator that helps users determine costs and a store finder that locates nearby Home Depot stores, where app users can purchase their paint selections.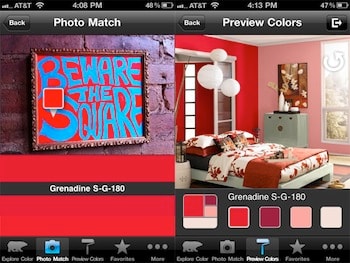 3. Chase Mobile
Chase bank announced a big update to its mobile app last July with the addition of Quick Deposit, its mobile deposit feature.
Using the app, Chase customers can snap shots of the front and back of a check, confirm details about the amount of the check and then deposit it into an account from anywhere.
The app also features Person-to-Person QuickPay, which allows users to issue payments to other individuals, as long as he or she has the person's e-mail address.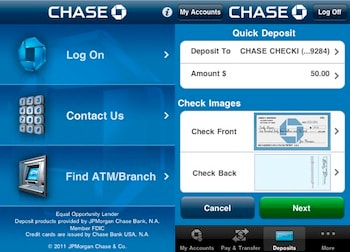 Chipotle enables die-hard burrito fans to order from their phones with its Chipotle Ordering app. Users simply choose the nearest Chipotle, customize their items, enter payment details and pick up their orders.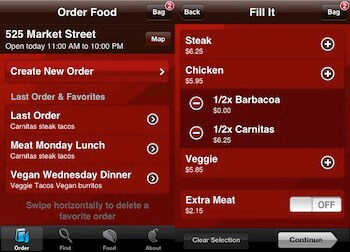 5. Domino's
The Domino's mobile app lets users order and track their pizzas all from the comfort of their homes. It boasts "more than 1.8 billion pizza combinations all in the palm of your hand," and its patented Domino's Live Pizza Tracker lets customers follow the step-by-step progress of their orders.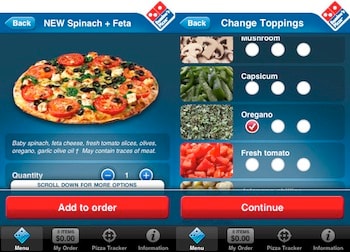 6. eBay Mobile
The eBay Mobile app's integration of a bar code scanner allows users to scan products in a store for price comparisons while shopping or even scan products that they plan to sell. In both cases, the app pulls up all relevant products and lets the user go from there.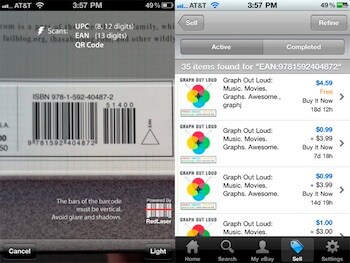 7. Pizza Hut
Like Domino's, Pizza Hut lets hungry locals order via its mobile app. Users can log in or checkout as a "guest." Logged-in users benefit from having orders automatically saved to their accounts for easy reordering. Unlike Domino's, though, Pizza Hut does not enable users to track the progress of their orders.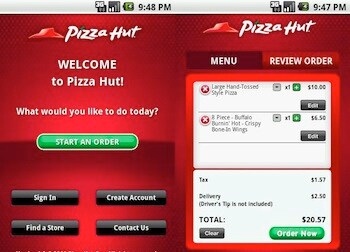 8. Jones Soda
The Jones Soda mobile app lets fanatics make a custom-labeled Jones Soda. Users personalize the label by adding in a mobile photo. They can also choose from 16 flavors and order 6-packs or 12-packs with their custom label right from the app.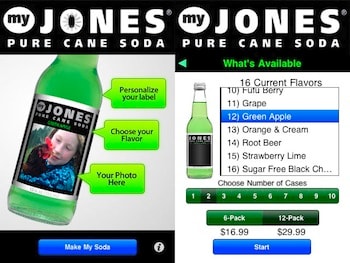 Are you one of those people who takes smartphone pictures that never see the light of day? With the Kodak Pic Flick app, that's no longer a problem—well, as long as you have a Kodak Inkjet printer.
The app lets a user print pictures directly from his or her phone to a wireless Kodak Inkjet printer. It can print sizes anywhere from 2x3 to 8.5x11 inches and is compatible with the Kodak ESP 9200, 7200, 5200 Series and ESP Office 6100 All-in-One Printers.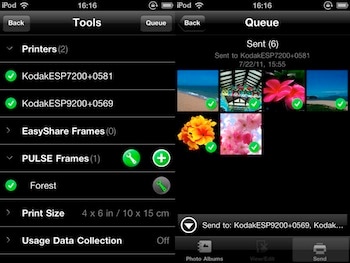 10. Juice It Up
Domino's and Pizza Hut have cornered the pizza-by-phone market, but smoothie chain Juice It Up is hoping to make waves in the juice bar industry with its ordering-enabled mobile app.
The app lets smoothie lovers order and pay via their smartphones. Diehards can even save account information for subsequent orders.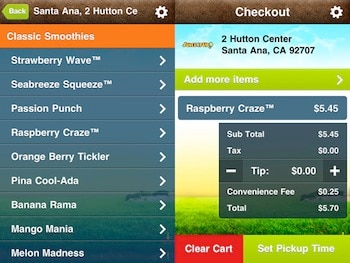 Shoemaker Merrell aims to revolutionize the way people walk, run, hike and play. As a result, it launched a minimalist line called Barefoot. Sure, people can buy the shoes, but do they really understand how they work and how to get the best out of them?
As Merrell explains on its website, "While going Barefoot increases balance, endurance and agility, the benefits of this groundbreaking exercise cannot be realized without the proper education, training and commitment."
As a result, the company launched the Go Barefoot app to train new shoe owners how to best wear the shoes. Featuring the "Merrell Barefoot Challenge," the app takes users through a step-by-step training program and tracks their progress. The app features more than 40 days of workouts, exercises and challenges, leading up to the ultimate challenge—a 1.5 mile run in the Barefoot shoes.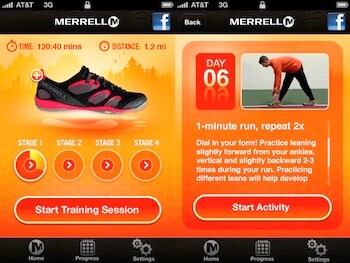 A number of hotels have introduced mobile apps, and most of them feign the ability to order room service in-app—they merely enable users to call room service from the app.
The W Hotel Worldwide app, though, enables hotel guests to order room service, such as meals or new towels, via the app. The navigation is a bit confusing, but the functionality is there.
The app also lets users stream custom music mixes compiled by emerging global DJs as an added bonus, courtesy of W Hotels Global Music Director, Michaelangelo L'Acqua.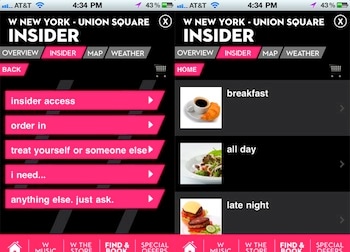 13. Zipcar
The Zipcar app is chock-full of product-enhancing features. First off, a user can find and reserve available Zipcars using a map of his current location. The user can also view upcoming reservations (and extend or cancel them on the go). Once a user's rental time has come, he can use the app to locate the car by honking its horn. The app also lets a user lock and unlock the car's doors after scanning his Zipcard at the start of the reservation.