Creating and maintaining a corporate blog isn't always the easiest of tasks and doesn't come naturally to most people. There are a lot of considerations to take into account -- theme, topics, audience, content, design, writers, multimedia, promotion, writing style, comment policies and so on. Above and beyond all of that, you also need to consider the blog's name and URL.
Although the act of creating blog posts can be quite simple, forethought and planning must first go into the creation of a corporate blog in order to keep the processes running smoothly, especially if multiple bloggers are involved.
We recently outlined 10 tips for corporate blogging for businesses hoping to focus on key elements of creating a blog in the corporate world. Now, we're taking it a step further, presenting 15 excellent corporate blogs that you and your fellow employees can learn from.
Let us know if you follow any other particularly noteworthy corporate blogs in the comments below, and please include some details on what makes them stand out.
1. Squarespace: Choose a Fitting Blog Design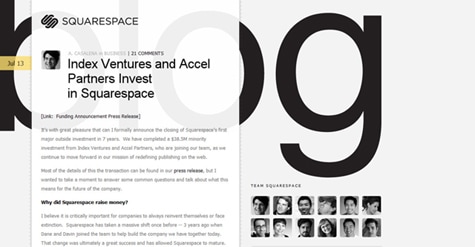 Web design is one of the most important factors in creating a blog that is user-friendly and visually appealing. Corporate blogs are notorious for lacking in design. Whether they are über-branded, overwhelming or uninspiring, business blogs often fall short in the design department.
Squarespace, a web publishing platform, is "one of the best designed corporate blogs around," according to Grace Smith, a freelance web and graphic designer and contributing writer to Mashable. Smith elaborates:
"Squarespace is a fine example of a creative, yet brand aware corporate blog design. The subtle details of the ruler marks and slight transparency are small but beautiful details. It perfectly sits within the Squarespace brand, with attention to great typography and a simple yet engaging layout. The blog is beautiful, uncomplicated, subtle and successfully engages the reader with a strong company voice."
Designed by Creative Director Tyler Thompson, Squarespace's blog is simple and readable, including only the most important details. The minimalist interface includes a feed of posts, icons for each Squarespace team member (which link to author pages), a widget for the most recent company tweet, columns for archived posts and categories, as well as a directory at the bottom of the page, linking off to related product, company and community webpages. And, of course, the blog is published on Squarespace's platform.
Thompson explained the inspiration and objectives behind his design:
"My main goal was to make the content the focus. By putting only the blog posts in a defined column, I think it helped put them front and center and show their importance ... From strictly a design standpoint, I wanted to have lots of subtle details and showcase the author and post date in a unique way. I think a neutral color pallet and a small hint of color, in this case yellow, is [a] fairly timeless and safe design. I wanted to avoid lots of bright colors and patterns that might get old fast, become trendy, or visually fight too much with the information.
"It is all too easy to have information overload on a corporate blog -- you always want to make sure your readers know everything that is going on. But with our blog, we wanted to take a quality over quantity approach, and really just showcase the blog posts and make it easy to dig through archives. For me anyway, after I visit a site once and experience the design, the next time I visit I really just want the design to go away so you can read the information. I tried really hard to strike that balance with this design."
Thompson makes a really great point that web design should enhance the content, not battle with it. When designing your corporate blog, focus on the most useful information and make it the center of your design idea. Your blog will be easier to navigate and the most instrumental content will be highlighted.
2. Dell: Use a Landing Page to Organize Multiple Blogs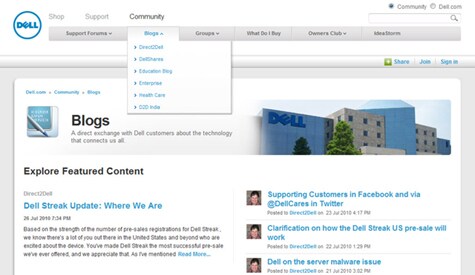 Some corporations have more than one blog -- this could be a solution that's useful for you, especially if you have a large business with multiple arms. One of the difficulties of managing multiple blogs is finding a place to house them all. This is where a landing page can come in handy.
Dell has a number of corporate blogs, focusing on many specific topics, including technology, investor relations, products, education, and health information technology. Dell organizes all of its blogs under one landing page, which is used to curate featured content from across the blogs, while also including a feed of the latest blog posts, a directory of blogs, and a search bar that scours content from all the blogs.
With 750 videos and over 5 million video views, Dell has a very active and successful YouTube presence which they call the Dell Vlog. While Dell bloggers often embed these YouTube videos into blog posts, an on-site video player on Dell's blog could be a great improvement.
3. 37signals Product Blog: Showcase Your Products and Services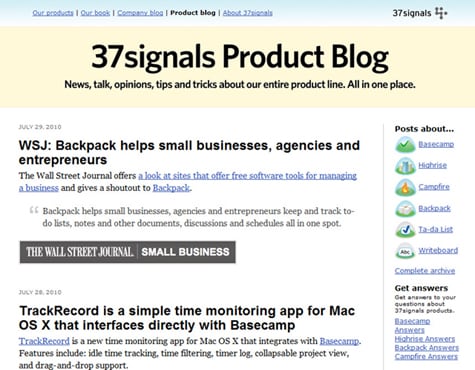 Posting updates about your products and services on your corporate blog can sometimes seem too promotional, especially if the information isn't essential to the audience. 37signals has a great solution; they have two blogs -- one called Signal vs. Noise about "design, business, experience, simplicity, the web, culture and more," and another called The Product Blog, about their products, including Basecamp, Highrise, Campfire, Backpace, Writeboard, and Ta-da List.
If you'd like to keep your main corporate blog focused on industry news and insights, but would also like the flexibility to announce product updates, creating a products blog is a great option.
4. Zillow: Provide Valuable Insights on Your Area of Expertise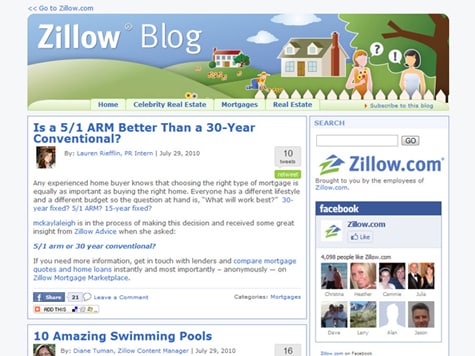 When creating any property on the Internet, you must always consider your audience. Think about their needs and put forth content that they would consider valuable. If you stick to your core competency, you should do just fine.
Zillow, a free real estate valuation website, maintains a blog that publishes information on real estate, mortgages, and celebrity real estate. By focusing on their core strength, Zillow creates high quality posts that act as resources for the blog's audience. For example, they recently posted on top-tweeting real estate pros, questions to ask mortgage lenders, and Sharon and Ozzy Osbourne's oceanfront Malibu home rumored to be up for rent for $40,000 per month. They cover the difficult real estate and mortgage questions, but also keep it light with interesting stories about the high-end real estate market.
5. PlayStation.Blog: Get Ideas From Your Fans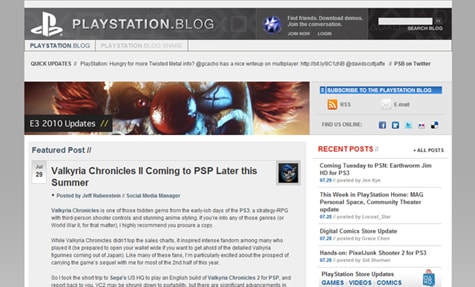 Take note of Playstation.Blog Share, a section on PlayStation.Blog, PlayStation's blog, where users can submit and vote on ideas for improving PlayStation's products. Upon writing this, the most popular idea on the site proposes the ability to talk to friends via the PS3 Bluetooth Headset even if they are playing other games; the idea has received over 25,000 votes. Feedback like that is of serious value to PlayStation and its fans.
Does your corporate blog provide ample space for readers to submit ideas and suggestions?
6. Disney Parks: Take Your Fans Behind the Scenes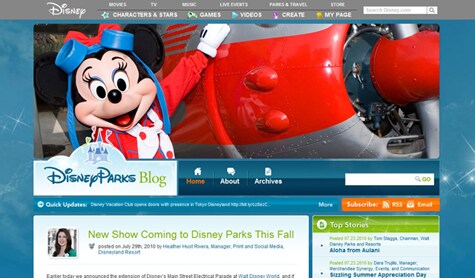 The Disney Parks Blog is an example of how to take readers behind the scenes. The archives are split into a variety of categories, but one of the largest is marked "Behind the Scenes." Scrolling through the category, you'll see posts about dance rehearsals, sneak peeks at new construction sites, interviews with employees, and more.
One of my favorite posts is an interview with Don "Ducky" Williams, a Disney artist known around the company for his brilliant Donald Duck drawings. While he draws all of the characters, he has a fondness for old Donald. Videos like this one humanize a company and make devoted followers out of fans and admirers.
Disney Parks' Social Media Director Thomas Smith explained why behind-the-scenes blogging was so important for the company:
"On the Disney Parks Blog, we like to go behind the scenes to show the dedication and inspiration that make our park experiences so magical for our guests. People often talk about the "Disney Magic" and ask "how do they do that?" This wonderment applies not only to our attractions and shows, but also the many everyday events that happen at all our destinations. We know it's our cast members that go the extra mile to make those experiences so special for our guests, and we love to share those stories on the blog."
7. BBC's The Editors Blog: Bring Readers Into the Process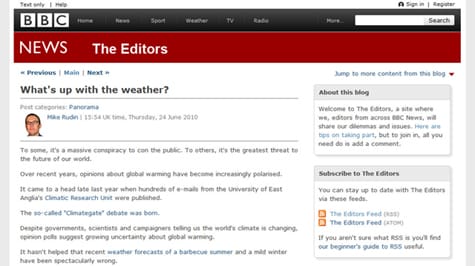 Just as behind-the-scenes exclusives give readers a new perspective on your company, posts that allow readers to be a part of the process provide unique value for dedicated supporters.
BBC maintains a blog called The Editors that "aims to explain the editorial decisions and dilemmas faced by the teams running the BBC's news service -- radio, TV, and interactive."
The blog allows readers to voice their opinions on the way news is being covered, while also weighing in on issues that the BBC News editors are facing. This is something that readers can't get anywhere else. When planning your content strategy, strive for unique information that others are unable to create.
8. GM FastLane Blog: Keep a Focus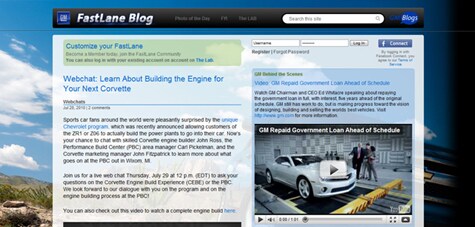 Don't try to be something that you're not. If your business is selling cars, talk about cars. It sounds obvious, but without strict content guidelines, a blog can quickly derail into the great abyss. GM's FastLane blog is a great example of a blog that keeps a niche focus. Some recent posts included a webchat on how to build a Corvette engine and a post on how to pre-order the 2011 Chevrolet Volt.
While FastLane posts revolve around GM's current and future products and services, the blog manages to provide valuable content in a genuine way.
9. Evernote: Mix It Up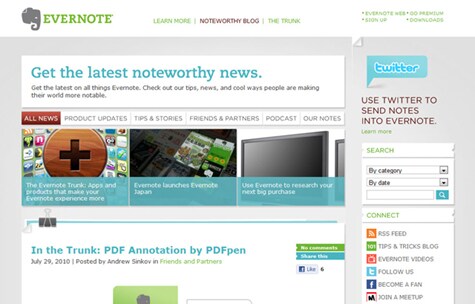 You can maintain focus on a particular topic while still mixing up your content, especially when it comes to adding multimedia to your blog.
Evernote has streamlined their web design to incorporate a number of categories, including product updates, tips and stories, friends and partners, podcast and general business updates, which they call their "notes." All of these sections are segmented into tabs for easy browsing. Furthermore, the blog utilizes a variety of multimedia including photos, videos, and podcasts.
10. Flickr: Highlight Your Community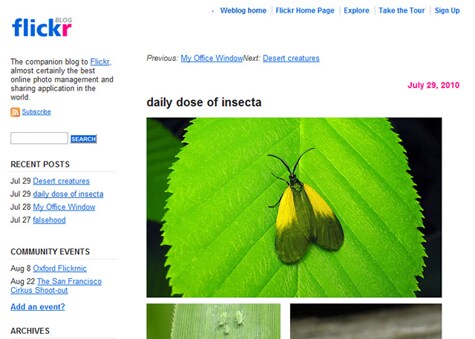 People love participating in projects that feature their work. Try to emphasize your community's strengths and contributions to your site by highlighting community members and groups on your blog. For example, on its company blog, Flickr curates photos and videos from around their community. A recent post showcased the vibrant insect shots taken by Flickr member urtica.
11. O'Reilly Radar: Define and Introduce Your Blogging Team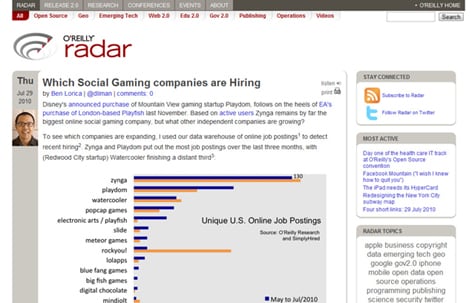 People want to communicate with other people, not with "companies". Lose the corporate voice and empower your employees to write about areas that they excel in.
For example, O'Reilly Media, a technology book publishing company, gathers a diverse team of bloggers on O'Reilly Radar, the company blog. With varying interests, the writers are able to report on a range of topics, including business, copyright laws, emerging technology, open source projects, data visualization and programming, among others. On each post, the author's name, Twitter handle and photo are displayed, adding a personal touch to each update.
Make sure you define a team of bloggers and give them a presence on your blog. Include headshots, short biographies, and contact information, so that readers can get to know your writers.
12. Google Blog: Include Employees from Across the Company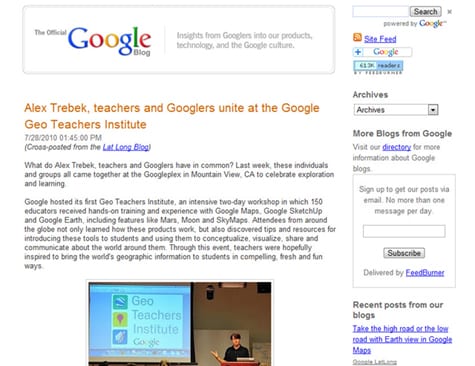 The official Google blog pulls insights from all over the company. Taking a quick look at posts from the past few days, I found updates posted by a software engineer, a technical program manager working on Google Apps for government, the vice president of search products and user experience, an entertainment marketing associate, and a university programs specialist -- that's a diverse crowd.
Depending on your blog's focus, it may be beneficial to include bloggers from all areas of your company, especially if you offer a wide variety of products in several industries. In this case, you may consider creating separate blogs that highlight various topics.
13. Marriott On the Move: Put Your Leader in Charge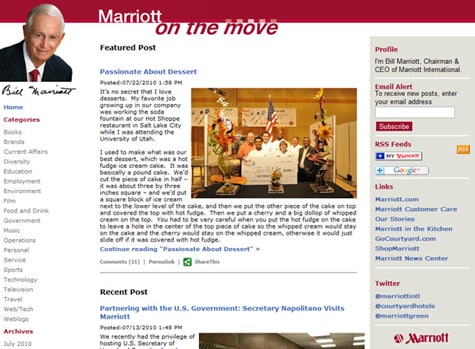 Another strategy altogether is passing the keyboard to your founder or CEO. Influential leaders make it their profession to gain a following, so blogging isn't too much of a stretch.
A small number of founders and CEOs are taking their company's online strategy into their own hands. One of those leaders is Bill Marriott, chairman and CEO of Marriott International, a worldwide hotel franchiser and operator. Via the company blog, Marriott on the Move, Marriott posts about the company's recent activities and gives readers a look into the various offerings at hotels around the world, while also incorporating updates about his travels, family life, and interests. The blog allows readers to interact directly with Marriott, bringing them closer to the man at the top.
14. eBay Ink: Embrace Social Media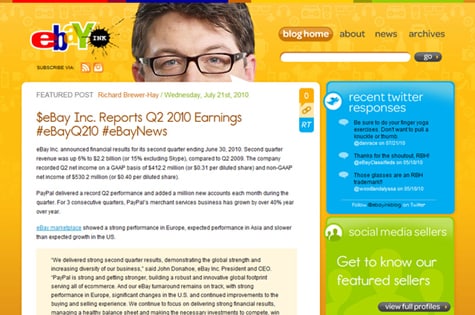 One way to increase traffic to and interaction with your blog is to develop a social media strategy for connecting with readers and sharing your latest content.
Richard Brewer-Hay, chief blogger behind eBay Ink, eBay's corporate blog, believes that Ink and other social media platforms are key to connecting eBay employees with eBay users. Through Ink, Twitter, YouTube and Flickr, Brewer-Hay acts as a facilitator for telling stories and sharing experiences from around eBay. He explained why social media is such an important focus for eBay:
"Social media is in the DNA of our company [and is] the foundation of our business model. Back in the mid-late nineties, eBay [then called AuctionWeb] was the first online tool that connected buyers and sellers -- individuals that had never met before -- to one another through a transaction-based relationship.
The success of [individual constituents using our tools and platforms] hinges on personal relationships. It's only natural that our success hinges on a similar foundation."
Above and beyond maintaining an active social presence, eBay also encourages users to take part in social media to improve their sales. They recently started the Social Media Seller program, which Brewer-Hay elaborated on:
"I'm hoping to empower some of our constituents, beginning with our sellers, through the Social Media Seller Program, by showing other sellers how social media tools can enhance their online presence, ultimately resulting in increased sales."
By embracing social media, companies have the opportunity to promote their businesses, get feedback from their communities, and empower consumers.
15. The Counterintuitive CEO: Promote Your Blog


You can't put up a blog and expect people to just discover it. While that's possible, it's very unlikely. Just like any other business, marketing, or educational program you may run, you need to promote it.
There are a lot of ways to promote your blog, but one particular corporate blog is doing a great job with search engine marketing (SEM). Forrester Research's CEO George Colony runs a blog called The Counterintuitive CEO. While searching for "ceo blog" on Google, you'll run across his blog in the "sponsored links" section, where paid Google AdWords ads are displayed.
SEM is just one way to promote a blog, though. Think outside the box on how you could attract an audience for your blog and refine your plan based on your learnings.
These 15 corporate blogs are making headway in various areas of blogging. Let us know in the comments which corporate blogs stand out in your mind.
Image courtesy of
iStockphoto
,
Franck-Boston