The statistics indicate that small businesses with corporate blogs receive 55 percent more web traffic than small businesses that don't blog. That's why it is so important for companies to explore the possibility of adding blogs to their marketing and social strategies.
Blogging isn't just writing posts. You have to choose images for your posts, monitor your blogging platform and analytics, market your blog and constantly think about new post ideas.
To keep your blogging activities flexible, there are several iPhone apps that you can use. This allows you to keep up with your blog no matter where you are.
These 16 apps will help you do just that. 
Blogging Platforms
BlogPress ($2.99) provides complete mobile blogging, including text, images and video. It supports multiple platforms such as Blogger, WordPress, TypePad and many more.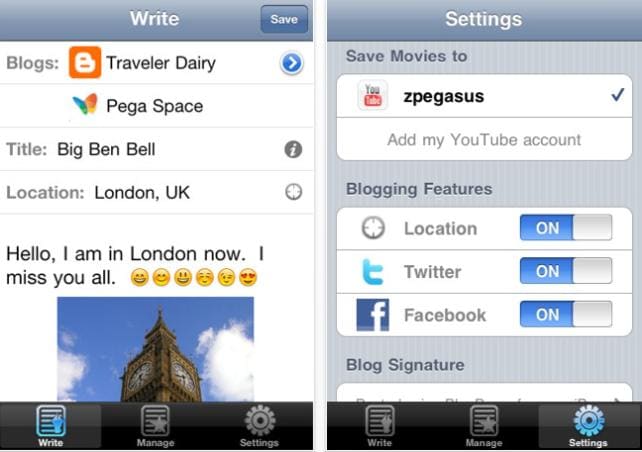 If you don't need to have multiple platforms at your disposal, there are some apps for specific blogging platforms available. And many are free.
WordPress for iOS (free) allows you to moderate comments, create or edit posts and add images or videos. You can use this app with both a WordPress.com or self-hosted WordPress.org site.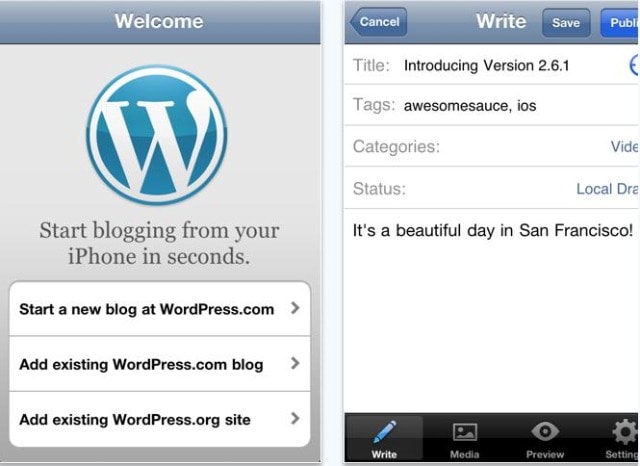 And if you have a Squarespace site, there's an iPhone app (free) to create and manage your Squarespace site entirely from your iPhone. It also offers "seamless importing" from WordPress, Blogger, TypePad or Movable Type sites.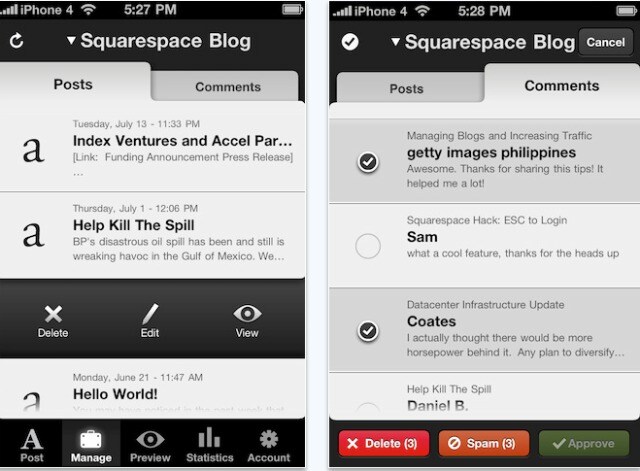 Strong images or videos increase reader interest and engagement, so they're an important part of every blog post. And there are several apps that can help you find, format and insert them on the go.
Photobucket Mobile (free) allows you to upload photos and videos to your blog, Facebook or Twitter. The app also provides access to a searchable media library, with uploading capability and album management.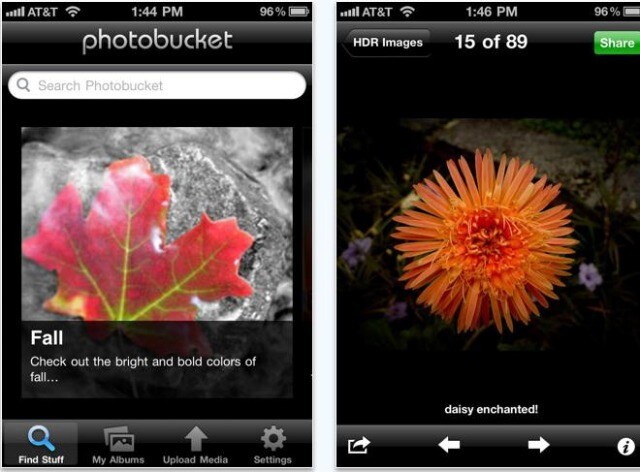 Adobe Photoshop Express (free) provides one-finger photo editing. You can crop, adjust, filter and add effects or borders on the go.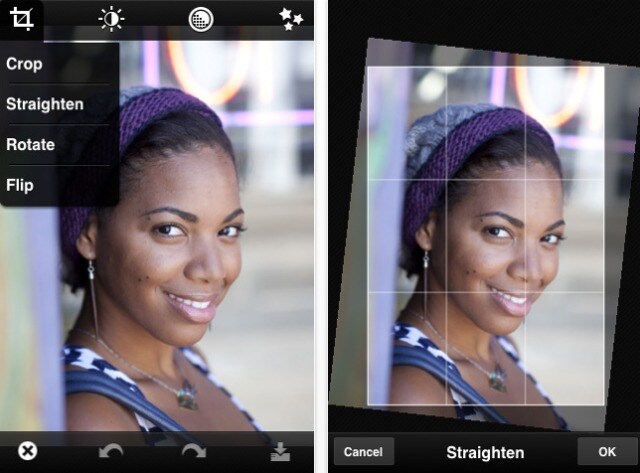 CellSpin ($1.99) offers the ability to capture video, photo, audio or text and upload it simultaneously on all of your social networking sites like Facebook, Twitter, YouTube, LinkedIn, etc. This could be an easy way to send out photos of the team at a company event to your entire network (at one time!).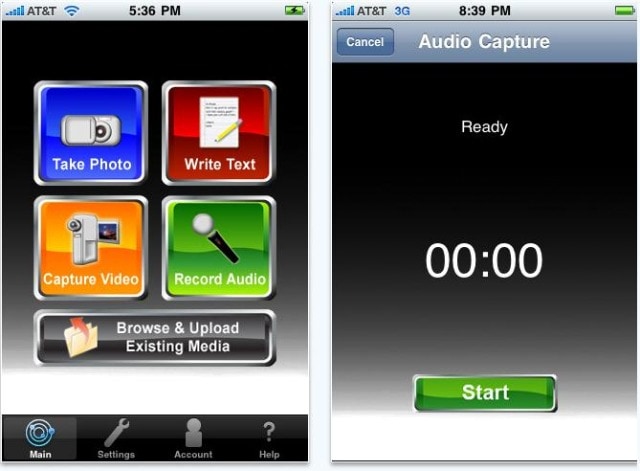 Marketing Your Blog
Once you have your blog up and running, you have to start marketing it. Some of the best ways to market your blog are via other social media sites.
Twitter (free) provides you with the same real-time search and trending topics you enjoy on your desktop.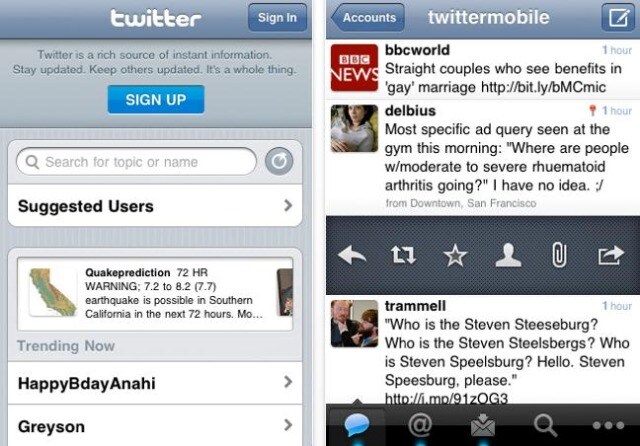 If you are looking for more organization, Tweetdeck (free) provides the ability to create groups, manage multiple accounts as well as sync to your existing desktop Tweetdeck account.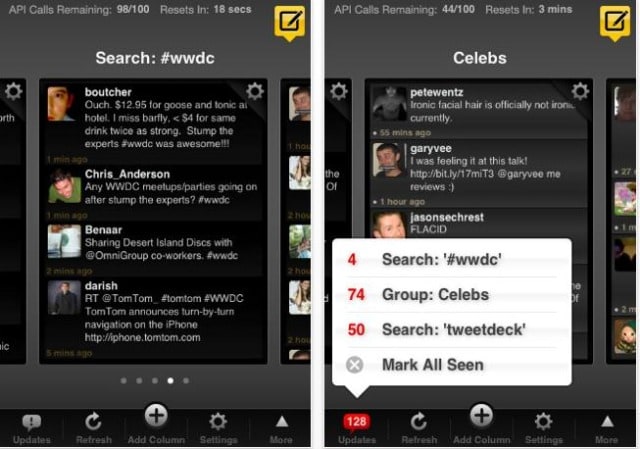 Facebook (free) gives you access to not only your personal Facebook account but any company Pages to which you're assigned administrator access, as well. So you can check your Pages and respond to comments.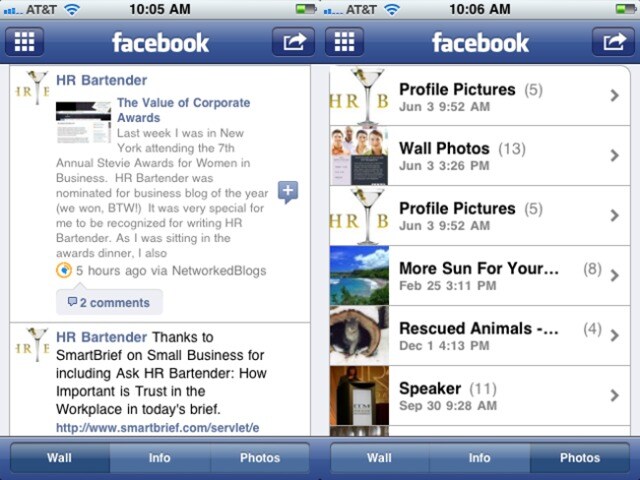 Analytics
After spending time marketing your blog, it's only natural to want to see the traffic numbers. Analytics App ($6.99) provides complete mobile access to Google Analytics.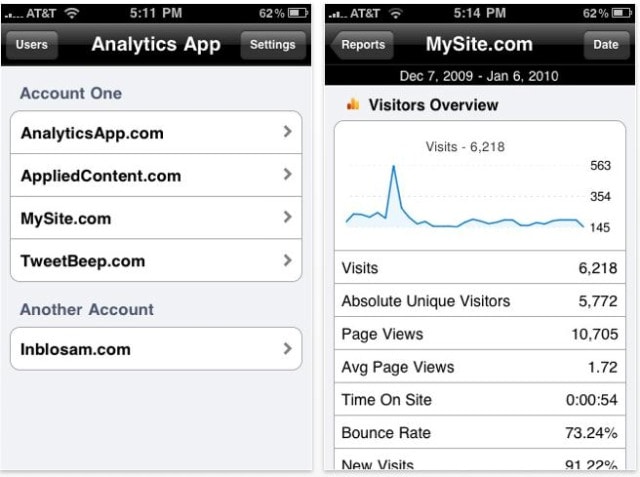 Analytics Pro ($6.99) also provides access to Google Analytics, along with features to export data into reports, as well as grouping and sorting of accounts. In addition, it provides an intuitive date picker for setting the date range.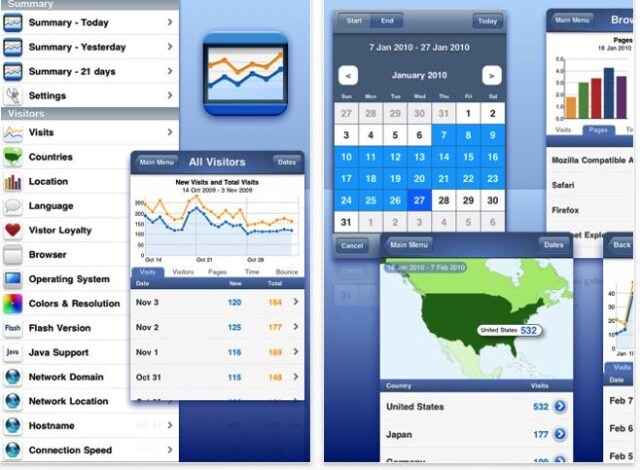 For a quick check on numbers like subscribers, Twitter followers and page views, Ego ($4.99) offers a single dashboard to check the statistics that matter to you.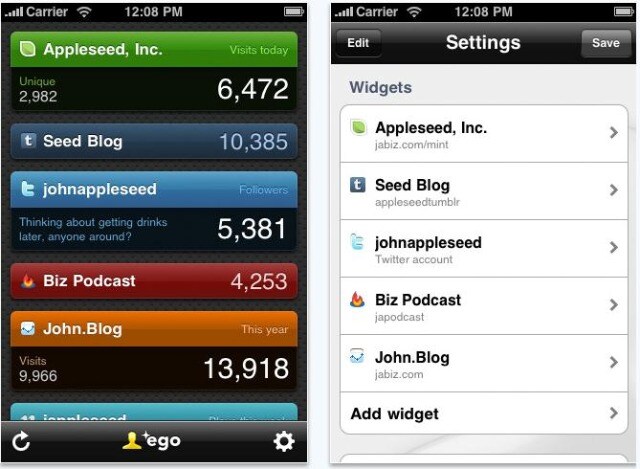 Idea Gathering
Bloggers are constantly looking for their next post idea. To make sure you don't forget your best ideas, consider a note-taking app.
Evernote (free) allows you to create text, photo and audio notes that will sync with your PC, Mac or Web. A nice feature is Evernote's search capability, so you can store and catalog a lot of thoughts without losing them.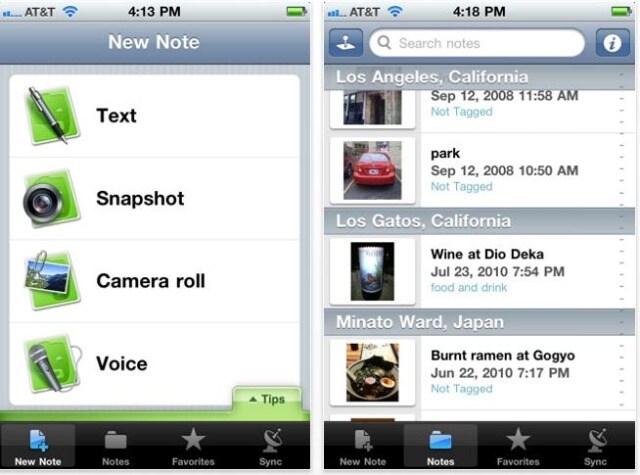 If you're already using Microsoft OneNote, MobileNoter (free) can be used as a standalone app or synced with OneNote. It allows you to create notebooks and share your information. This could be very handy if you have a multi-contributor blog and want to exchange ideas among several people.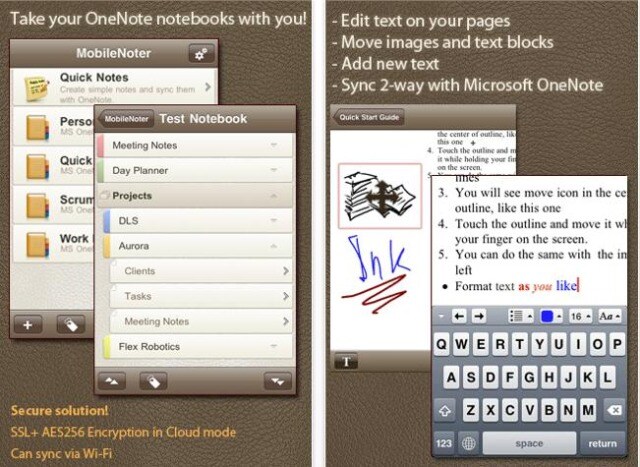 As the name implies, Simplenote (free) offers a straightforward, easy note-taking app that syncs with your computer. It's a great place to jot down a list to reference later.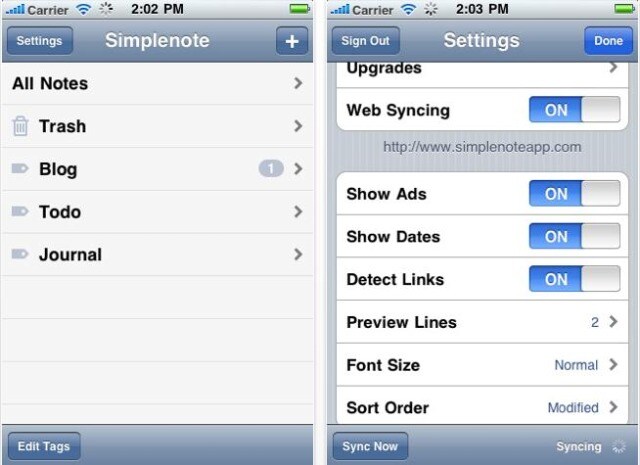 And while we're talking about ideas, don't forget to set up Google Reader on your iPhone so you can read your favorite blogs when you're out of the office. Other blogs are a great source of inspiration.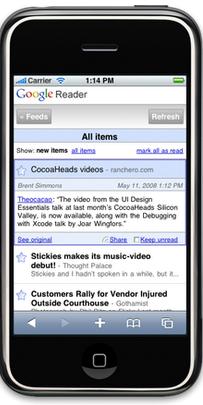 Writing a blog is hard work. But it doesn't have to be a burden. Finding a few apps that can make managing your blog a bit easier makes all the difference. What apps are you using to manage your blog? Leave a note in the comments.
Image courtesy of
Talaj