Let's face it: blogging is big business. I predict that in 2011, there will be a rise of Lifestyle Bloggers. This new breed of business-savvy blogger not only writes, but also handles business development and prioritizes having a fulfilling life NOW. Cash flow positive with a happy, small and flexible team, this type of blogger has a balanced, sustainable new business model.
As creating content gets easier, we are faced with more noise online than ever before and more data than people are willing or able to parse. Curation was the inevitable trend of 2010 -- everyone from huge corporations to small businesses to college kids uses platforms like Tumblr and Twitter to distribute content and create influence. In 2011, we'll need people to curate the curators to find a more refined signal. 
This is where the Lifestyle Blogger comes in. Are you a Lifestyle Blogger? Do you want to be? If not, does your business know how to best work with and benefit from this rising group?
I had a conversation with a growing Lifestyle Blogger who just made the transition from having a day job to blogging full-time and trying to become a sustainable company. He's brought on two writers, and he's starting to negotiate contracts for advertising and special projects with a major ad agency. He asked me for help. 
Here's a little snippet from our conversation: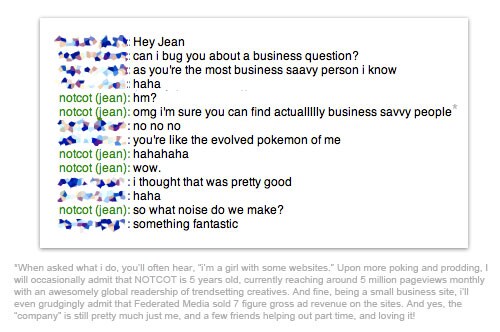 Yes, I was horrified at the idea of being compared to a cartoon pocket monster… even a more evolved one. But more importantly, I wondered what it was that he saw that we had in common? And, if he was looking to grow, why did he turn to me instead of the founder of a major blog with teams of writers, venture capital and ad sales teams? As we talked further, it became clear: our goals as site owners, as writers, as bloggers united us… and were very different than those of most other types of blogs. The word blog doesn't even begin to encompass the spectrum of what's out there. 
As we see it, here are the main types of blog based businesses today and how we've seen some of them evolve:
Hobby Blogger or Community Seeker. 
This is the person with a full-time job posting about their hobbies in their free time or looking to share experiences. Maybe it started as a place to keep track of what they've been baking or the home improvement projects they've done. Or maybe it's a way to connect with other parents or cooks. It's not about traffic. It's about the fun of having a community of readers and other bloggers to talk to. As the site grows, maybe the person running the site starts playing with Google AdSense or starts selling ads as inquiries come in. 
Evolves to: A bigger blog. If it keeps growing, maybe this blog joins an ad network and makes enough to quit the day job some day. Then suddenly it becomes a "business" and no longer a hobby. 
Want more from Jean Aw? Check these out:

Lifestyle Blog. 
With anywhere from a few hundred thousand to a few million page views, this type of blog is either run by a single person or a small collective of friends. The primary founders will play both publisher and editor, delicately balancing the business and content worlds. Maybe a few interns or hired contributors help out. Ad sales are handled by ad networks. Usually these have a personal editorial focus instead of a thorough news-coverage focus. They are curating the world for their readers and sharing their distinct perspective. 
Evolves to: A bigger blog, while staying a sustainable small business. Often the blog supports their main business (i.e. consultants, photographers, designers, freelance writers, caterers, etc.), but slowly, some might not even need that main business any longer.
Blog as a Business. 
A site or networks of sites with 10 million to 20 million page views and a staff of 10-20 people, mixing staff editors and freelancers. There is a publisher and someone in a business development role and probably an in-house ad sales team and a team of investors. They are probably also part of one or many ad networks. The bottom line matters. 
Evolves to: Keep growing. Get acquired. And/or acquire others.
Blog Networks. 
Giants like AOL and Gawker... with huge editorial teams, writers and crowd-sourced content. All organization is in-house, with the exception of some freelancers. If they don't see themselves as a major media outlet, that's the goal. 
Evolves to: They just keep growing, optimizing SEO, becoming more like TV networks as they try to schedule content.
The rise of the Lifestyle Blog doesn't mean that other blogs will disappear. It's just a growing and increasingly relevant part of the ecosystem. This crude breakdown is to illustrate the differences between Lifestyle Blogs and other blog businesses. It's not a job. It's a lifestyle. It's something that evolves in parallel to living fulfilling, exciting lives. It's a means to share a perspective on life. Not news. Not covering every topic. It's a curated view of the world that readers can fall in love with and live through. It's about passion, aspiration and inspiration.
Unlike many business models, this model thrives if and only if you are happy, and living/sharing the life you write about. Between Facebook, Twitter, and all your other channels, whether you really live that life is immediately transparent. The money isn't enough. In fact, a focus on the money can even kill what makes you successful in the first place. Don't get me wrong, the money helps. But it is not what makes a Lifestyle Blogger successful. And understanding that is huge whether you want to be a Lifestyle Blogger or work with one.
The Fast Company piece Inside the Wild, Wacky, Profitable World of Boing Boing says it nicely. "David Carr, The New York Times media columnist, offers another view. Boing Boing remains relevant and popular -- a "sensibility blog on steroids," as he puts it -- because its editors remain interesting, and that's precisely because they have other projects and are out in the world doing things. "They're not just people sitting in a room, typing," he says."
So if you are on the public relations side reaching out to them to talk about your clients/products or on the advertising side negotiating sponsorships with the business savvy side of these small business bloggers, don't forget that often these are often the same people who will passionately write the stories you are pitching. Business is business, but, here more than ever, the interpersonal relations will go a long way. After all... they love what they do. They love the experience of it. They will write about your work, because you do great work. They will tweet about your story, because it fascinates them. They will post Facebook pictures from your event, because it is and incredible experience. And the more you can nurture that passion and support their businesses, the more your business can gain from understanding and leveraging their infectious excitement as they share your stories with their communities and followers.