Two years ago at a TEDx event in India, a speaker was invited, in a sense, right off the street.
Ravi Kumar is a street kid like millions of others in India. At 8 years old, he went to work on the streets of Mumbai, working all day to sell hand fans that his grandmother made of peacock feathers to passing tourists. Not speaking a word of English at that time, young Ravi realized that if he was going to sell his fan, he would need to learn English. So he taught himself. Each day he would interact with tourists, learn more words and watch what they did. Over the next few years, he continued to learn by observation—and expanded beyond English.
In 2007, a passing tourist asked to videotape a two-minute conversation with Ravi where he asked him about all the languages he had learned. In that video Ravi expertly delivered his pitch for the fan (which he jokingly calls "Indian air conditioning") in eight different languages. So impressed with the experience, the tourist posted the video online and dubbed Ravi the "Lingo Kid."  The name stuck.
Several years later, the same tourist went back, recorded another video and posted that one online as well—calling it "the teenage years."  Together, both videos have been watched more than 2.5 million times. Meanwhile, the Lingo Kid has become an online celebrity and someone that travelers to the Hanging Gardens in Mumbai actively seek out to meet and speak with.
His story got so much attention that it led to an invitation to speak at a prestigious TEDx event in Sabarmarti, a city in Western India. During his video conversations and his TEDx talk, Ravi reveals several of the lessons he learned on the street that helped lead him to success—including the fascinating reason why he chose not to attend school (because he could only learn one language there).
We can learn a lot from Ravi, who might just be one of the most intuitively gifted salespeople you'll ever hear about.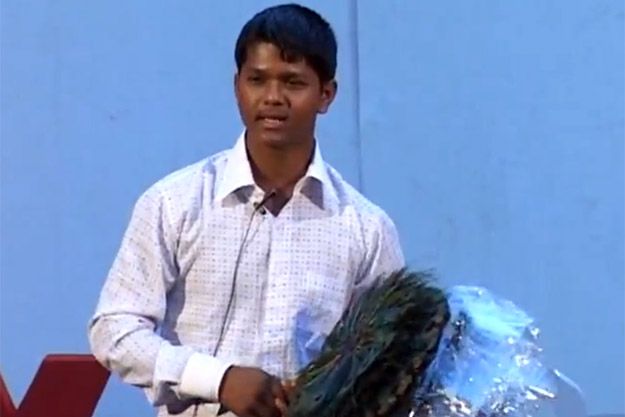 1. No one is shopping for your product.
The truth is no one goes to the Hanging Gardens in Mumbai to buy a peacock fan as a souvenir. Knowing that immediately helps Ravi to throw out all the usual sales pitches. He can't really sell you on necessity, or features or benefits. The only thing he really has is personal connection and novelty. You'll buy a fan from him because of who he is and because of how he sells it. The story matters more than the product, and he is a master at creating an emotional connection with you for a few short moments—just long enough to buy his product, remember the experience and share it with friends and family when you get home (or on YouTube)!
2. There is a sweeter sound than someone's name.
Dale Carnegie famously wrote, "There is no sweeter sound to any person's ear than the sound of their own name." For a tourist in a foreign place like India, a sweeter sound just might be the sound of their own language. More than just the language, Ravi took time to learn sayings, cultural references and even songs that might connect with someone's heritage and background. To hear those things in India is surprising enough. To hear them from a boy selling peacock fans on the street was so delightful and unique that people passing by had to stop and find out how he did it. A great salesperson knows how to capture attention—that's how Ravi did it.
3. Curiosity is a powerful form of relevance.
Of course, after hearing Ravi speak to you in your own language, the natural question to ask is: how? How does he know all these languages? How could he speak them so perfectly in order to sell his fans? Curiosity is a big driver of attention. As a result, passing tourists stop and engage with him—not because they suddenly realized they had a need for a peacock fan, but because his story piqued their curiosity.
Watching and listening to Ravi's story is more than an educational tale for how to sell a perishable product on the street, but an amazing story of a boy doing more than just surviving. At the end of his TEDx talk, Ravi tries to answer the question that has often confused so many of us: What do you want your future to be?
He dreams of opening a small handicraft store, a place where he can take what he learned on the street and use it to make a better living for his family. After watching his story unfold online for the last several years, I can clearly picture that shop on the side of the street already.
Right outside I see him smiling—and selling.
Read more articles on sales.
Rohit Bhargava is founder of the Influential Marketing Group and the bestselling author of four marketing books. He is a two time TEDx speaker and popular keynote presenter at events around the world. He was born in India, has returned often and plans to finally pick up a peacock fan the next time he's visiting Mumbai. 
Photos from top: Thinkstock, YouTube