The small business professional's workday can be both tedious and mundane when it comes to necessary daily, weekly and monthly tasks that feel more like chores than accomplishments.
Presentations for meetings or keynotes can take hours, if not days, to perfect. Building dynamic accounting reports is a labor of love (or heartbreak), and everyone dreads monthly must-complete expensive reports.
While there's no escaping these unfortunate tasks, newer web and mobile applications, like Prezi, inDinero and Expensify, make the time spent doing them much less arduous, and in the end, you might be infinitely more pleased with the results.
Which online tools do you use to spice up your daily tasks? Let us know in the comments below.
Make Presentations with Punch
Building presentations in PowerPoint or Keynote is often a laborious experience that can make you want to pull your hair out. More often than not, the end result is a snooze-worthy, aesthetically unpleasing deck of slides that you hope to forget as soon as your meeting or speaking engagement is over.
Prezi makes desktop and web-based software to help you build better presentations. Instead of taking a slide-based approach to presentations, Prezi gives you one large canvas where you can storyboard your masterpiece.
The idea is to transform the presentation creation and demonstration processes into flexible activities that flow in a way that more closely resembles how your brain works. Prezi forgoes the linear model of other presentation software for something more free-form. The application also allows for group collaboration and eliminates the version control issues typically experienced when sharing PowerPoints with team members.
Use the Prezi canvas to associate ideas with photos and videos, and arrange them in a flow that will help tell your story. While you present, you can zoom in to any portion of the canvas for a more detailed look, or zoom out for a birds-eye view of different concepts you wish to present. The end result is a slick, visually entertaining presentation that will change the way you think about building and performing your presentations.
Account for Financial Fitness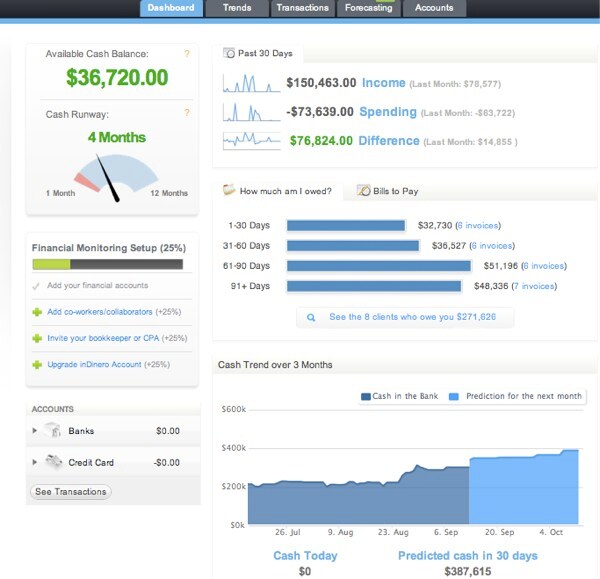 Small business accounting software is anything but fun. inDinero was built to make tracking the financial fitness of your small business a much easier and more dynamic experience with an ever-present eye on the horizon.
inDinero automatically consolidates your bank, credit, and loan information into a single place to create a real-time financial dashboard with insightful trend analysis.
During the initial setup process, inDinero will download your financial data -- with support for more than 10,000 financial institutions -- and continue to automatically synchronize on an on-going basis to ensure that your financial data stays up-to-date.
inDinero's ultimate goal is to help you understand your financial well-being. The application identifies how you spend your money and what you're earning, and then analyzes change over time. inDinero can also project how much cash you'll have on hand over the next 30 days and predict future cash flow shortages (and recommend short-term loans should that be the case). You'll also be presented with graphs designed to help you quickly glance at how to cut costs and optimize product sales.
inDinero also recently added FreshBooks integration, which means you can also use the application to account for all of your invoices and get a better idea of how much you're owed. Your web-based financial dashboard will also look great on your iPad.
Expense Reports Minus Manual Entry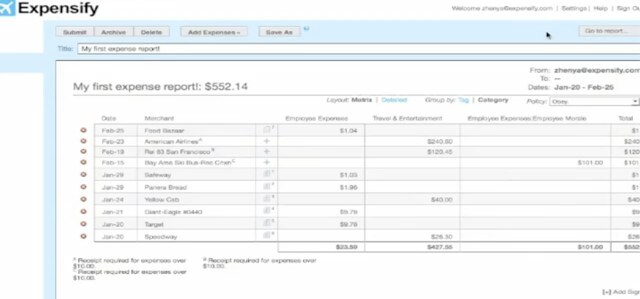 Expense reports are a necessary evil for employees who want to recoup the money they've spent on business-related items and activities. Getting the money back is usually incentive enough to complete the reports, but that doesn't make the report completion process any less loathe-worthy.
Enter Expensify. The web-based service will do all the heavy lifting for you, which means you can stop manually entering your expenses altogether.
So long as you charge your expenses, Expensify can import them from your credit card. You can also opt to use Expensify's mobile apps to keep track of expenses on the go, send a text message with "Amount Merchant" to (415) 448-7534 to track cash expenses, upload receipt images for processing, or send receipts to your account via e-mail. Worst case scenario, you can log expenses the old-fashioned way, as well.
The system is perfectly designed to transform the way employees complete expense reports, but it also works for employers, who can use the system to directly reimburse employees and contractors to their bank accounts.
Let us know which business tools you use to spice up boring business tasks in the comments below.
Image courtesy of
iStockphoto
,
jwholfeil