As an entrepreneur, you probably have an on-the-go lifestyle, running from meeting to meeting and coffee date to coffee date. But the iPad and other tablets are making business life on the go increasingly palatable.
Whether you're in a meeting, on a conference call, or just trying to keep your day in order, there are thousands of apps to help you through your day.
So how best to choose? If you're looking to supercharge your productivity this year, check out the following iPad apps that will get you in the groove—all for free.
1. Wunderlist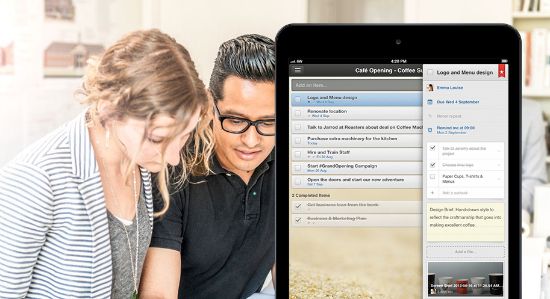 If you've self-diagnosed as a to-do-list-toting calendar lover, do yourself a favor and download the free Wunderlist app, the ultimate to-do list.
The easy-to-understand user interface is as simple as adding and checking off to-do items. Even better, though, your lists sync across devices and can be shared with colleagues. The app enables you to set reminders, receive push notifications, input recurring to-dos, jot down task notes, and even break tasks into subtasks for easier tackling. You can also print your to-dos with a click and forward emails to be converted into to-do items.
For the super collaborator, Wunderlist Pro can be unlocked for $4.99 per month or $49.99 per year and includes the ability to assign tasks to colleagues and engage in commenting on list items. Wunderlist Pro also enables file attachments, including photos, spreadsheets, PDFs, videos and audio files, so that you've got all your documents and resources at hand for meetings and tasks.
Beyond the iPad app, Wunderlist is also available for iPhone, Mac, Windows, Android, and Kindle Fire, and it is also offered as a web app.
2. Penultimate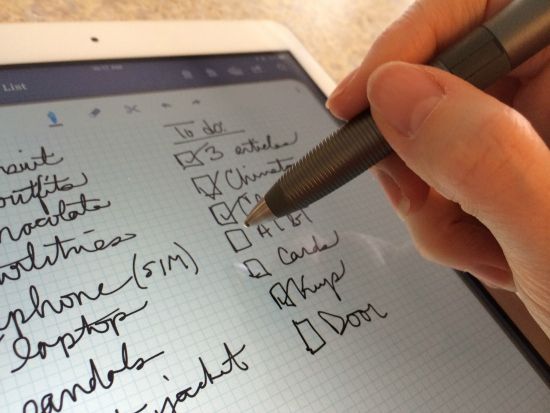 For me, having a tablet is all about minimizing. With an iPad, I no longer have to carry my laptop to meetings and my tiny paper notebook is now even on the way out, especially with my discovery of Penultimate, the free iPad app that makes tablet-based note-taking fun and almost paper-like.
Penultimate is a great tool for taking notes, jotting down sketches and explaining concepts when you can't find a whiteboard or napkin. The experience is as close to jotting in your Moleskin as you can find in a digital form.
If you're a traditionalist and want to get even closer to the pen and paper feel, consider the stylus approach. The Adonit Jot Script Evernote stylus ($74.99) syncs seamlessly with Penultimate and makes jotting and scribbling a breeze. Penultimate even incorporates a feature that minimizes wrist mistakes, the ugly scribbles that pop up when your wrist makes contact with the screen and is mistaken for a purposeful stroke of the finger.
Whether you're marking up your business concept, drawing models, or writing out a packing list, Penultimate is a friendly way to write out and share your handwritten notes. You can even search your handwriting within the app. And if that's not a selling point, Evernote lovers will be happy to know that all of their notes sync with Evernote, across devices, for easy access. For those of you who haven't tried Evernote, it's the ultimate note-taking app on the market, complete with voice memos. The basic app is free and features just about every feature you could need, including note-syncing across devices; note-taking via text, video, photo, and voice recording; text search, and sharing functionalities. An in-app Premium upgrade is also available for a $4.99 monthly fee, or at a discounted $44.99 annually. Evernote Premium features the abilities to access notes offline, allow others to edit your notes, and secure Evernote with a PIN lock. Personally, I use the free version, but I hear there are tons of Evernote fanatics that find the Premium version necessary.
Penultimate, unfortunately, is strictly an iPad app at the moment, unavailable on other platforms. I was hoping there'd be an iPhone app for when I'm on the go with just my phone and want to jot something down. For those moments, I stick to typing in Evernote or the iPhone's default Notes app.
3. MobileDay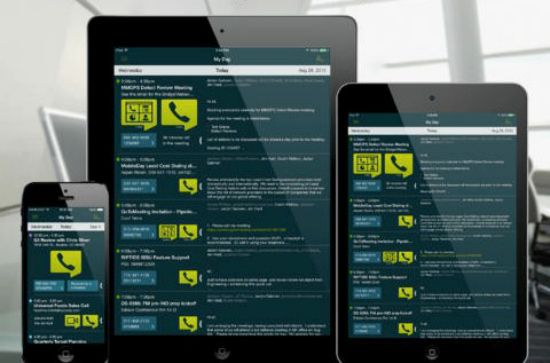 Being a mobile entrepreneur in a world where more and more employees are empowered to work from home entails increasing reliance on conference calls and digital meetings. The coming of conference calls has also welcomed in passcode doom, that all too familiar feeling of being overloaded with 20-digit passcodes and conference call dial-in numbers.
Enter MobileDay, the free app which enables users to dial in to any conference call with one touch. The app syncs with your calendar and detects conference call details, which are pulled into the app and utilized for your call-in.
Let's say you're on a business trip, taking your weekly team call from your hotel room. MobileDay sends a notification, which opens the app. With just a touch of the join button, you're dialing in. The app uses your phone's dialer to call in and also takes care of all of the digit inputs—including pound signs, zeros, and ones. If you're suddenly booted off the call, the app has the ability to take care of that with its one-touch rejoin feature. And if you're running a bit late, it enables you to message others on the call to let them know.
Whether you're dialing into a GoToMeeting, Google+ Hangout, WebEx, Apple FaceTime, or Skype audio call, among others, you're covered with MobileDay. The app currently handles nearly 30 providers, so you should be set. No more fumbling to find conference access codes or sitting through menus. MobileDay is also available for iPhone and Android, both of which are free.
What apps do you use to save time? Share your thoughts in the comments below or tweet me @ericaswallow!
Photos from top: Shutterstock, Courtesy of Wunderlist, Erica Swallow, MobileDay