The brands that are killing it in marketing these days produce content that's truly useful, honestly empathetic to people's needs, and laced with inspiration.
That inspiration bit is a tenet I particularly like. In a world where every brand doing business online has the opportunity to publish blogs, produce webinars, create videos, issue social updates and so on, the Internet quickly becomes a kind of content cacophony. Meaning, you've got to create something inspired to truly stand out. 
Sometimes that inspiration can lead to something offbeat or quirky, just a little outside of normal. And I say that with nothing but a heart full of admiration, because I like the quirky—both in content and in life, for that matter.
Of course, "offbeat" doesn't always equal "effective." But when it does, the results can be impressive. Here are three offbeat content marketing programs that are driving results for the companies that launched them.
1. "Introducing the Definitive Guide to Marketing Automation" music video
Created by Marketo (www.marketo.com)
Marketo created that fun music video as part of an awareness campaign prior to the release of its e-book, The Definitive Guide to Marketing Automation. In other words, the song itself is a piece of content that's promoting another piece of content, if you catch my drift. And, as far as I know, it's the first business-to-business music video that's about another piece of business-to-business content.
Marketo released the song one week before the release of its e-book, purely as an organically fueled social awareness campaign, according to Jason Miller, Marketo's social media and content programs manager. The song was posted across all of Marketo's social channels and on a landing page, which also had a registration form for the downloadable e-book.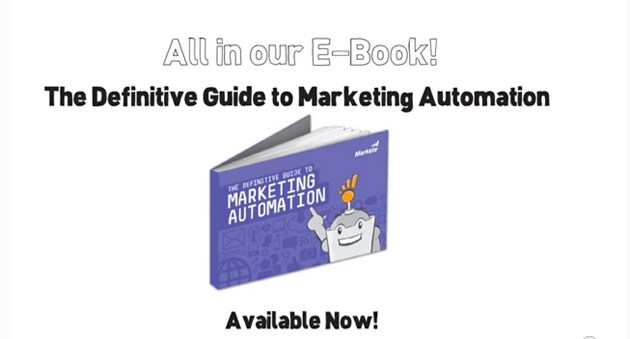 As a result, 286 people filled out the form in that pre-launch phase, allowing them to be among the first to receive Marketo's e-book. The video also earned a ton of engagement on Facebook.

RELATED: How to Generate Content
Ideas you can steal:
Market your marketing. The song is essentially content marketing for content marketing. Marketo gave its Definitive guide an extra boost by creating the fun and memorable song, which essentially functions as a trailer for the guide itself. The bigger lesson here: Don't assume good content will succeed on its own; instead, ensure its success by amplifying your content through social media as well as other content programs.
Let your own creative passions inform your content. Miller is a music fan, photographer and amateur musician in addition to being a marketer, so the idea of creating a song about content is near and dear to him. (Side note: The song reminds me of the FreeCreditReport band; Miller said he wanted to hire the FreeCreditReport.com band for this ditty. "But they were unavailable, as they are touring at the moment," he says. "Not making this up.")
2. Instagram Film Experience
Created by Toronto Silent Film Festival
One of Canada's leading agencies, Cossette, used the popular photo-sharing network Instagram to create what it terms the world's first Instagram Film Experience. The idea is to use the scrolling feature of three separate Instagram accounts to simulate the look and experience of silent movies. The program promotes the Toronto festival—which takes place April 4 to 9—to a social media audience. 
Similar to Marketo, Cossette then marketed its marketing, producing this video to promote the new Instagram profiles. The accounts on Instagram are @TSFF_1, @TSSF_2 and @TSFF_3, but you need to view them on a mobile device in scroll mode to fully understand the way it works.
I love the creative simplicity of this effort, and I particularly like the use of a new social tool such as Instagram to promote old-school silent films. The three accounts on Instagram have about 500 followers, but the earned media coverage for this novel idea has been significant, including coverage on various film sites as well as media and marketing sites.
Will it help sell more tickets to the festival later this week? I sure hope so, because it's definitely helped grow awareness.

RELATED: Is Adding Video to Content Easier Than You Think?
Idea you can steal:
See social channels as storytelling platforms, not just promotional platforms. The Toronto Silent Film Festival's effort reminds me of other brands that use social platforms as a launch pad for storytelling, and not merely shilling. For example, the festival could have merely used an Instagram account to show scenes from the festival. (And no publication would have covered that.) But instead, the festival opted to create something that uses the inherent strength of Instagram to create something more. In that sense, it reminds of me of how Oscar de la Renta used Pinterest to tell a story: The company "live-pinned" a recent bridal show to tell the behind-the-scenes story of a bridal show rather than, say, simply showcasing gorgeous gowns.
So the question to all of us becomes: How might we use our social media profiles in inherently richer ways?
3. "15 Marketing Buzzwords to Stop Using" slideshow
Created by MarketingProfs
I know I'm biased, but I love this quirky, hand-doodled slideshow. It had its genesis as a Facebook post in which MarketingProfs asked its fans, "What's the one marketing buzzword that drives you absolutely bonkers?"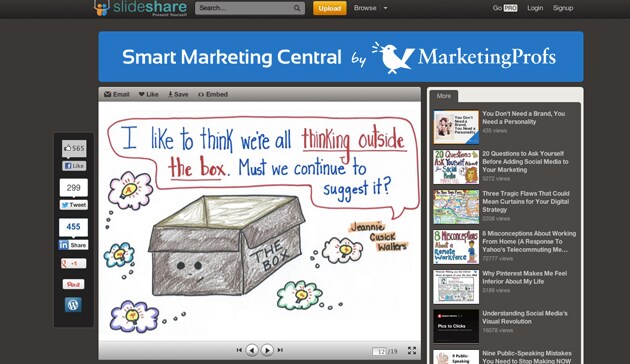 The number of responses was overwhelming. (Apparently, there's a lot of latent buzzword anger.) The interest ultimately inspired this slideshow, hand-drawn by staffer Veronica Maria Jarski. Jarski's doodles have become, in essence, the "visual voice" of MarketingProfs, since we've used her doodles and drawing for various projects throughout the site and on our social channels.
The curated collection of 15 marketing buzzwords (like "low-hanging fruit," "frictionless," and "epic") generated close to 65,000 views, 64 embeds, and 230 downloads. Which are nice metrics for a small company. But even more rewarding? The 3,000 new members this doodle and others earned the site in the first quarter of 2013.
Ideas you can steal:
Use social channels to inspire and test content creation ideas. Things that get a lot of engagement on Facebook or LinkedIn or other social channels can be great fodder for larger content pieces, which can then inspire further engagement (cue "Circle of Life" here). An audience is a living, breathing entity, so make sure you don't schedule your content creation efforts so tightly that there's no room for improvisation. In other words, leave room in your editorial calendar for some moments of serendipity.
Use Sharpies. Well, you don't have to use Sharpies. But think visual: How might you use photos, graphics, cartoons, doodles or other images as part of your content marketing? Do you have a visual voice?

Read more content marketing articles.
 Ann Handley is the CCO of MarketingProfs and the co-author of Content Rules, the bestselling book on using content to grow your business. 

Photo: iStockphoto