In order to positively impact the bottom line through social media, small business owners should look beyond the sales pitch. Today's savvy business owner maintains a social media presence among other online activities, in order to further brand affinity through their own online endeavors.
Sites like Aardvark, Quora and LinkedIn cater to the business professional seeking out knowledge or educational resources. Because savvy entrepreneurs are using these sites to seek resources and experts, they are great for demonstrating expertise in particular areas of interest. By being an active contributor in these communities, you can help make your name -- and your company by association -- synonymous with a particular field, category or topic.
There's a also a nice side effect to using these sites that extends beyond building up business acumen on the web. As a business owner, joining newer social sites will help to further introduce you to the influential inner circle of social media early adopters. Making digital connections with this crowd in the professional realm will have long-term business bonuses.
Aardvark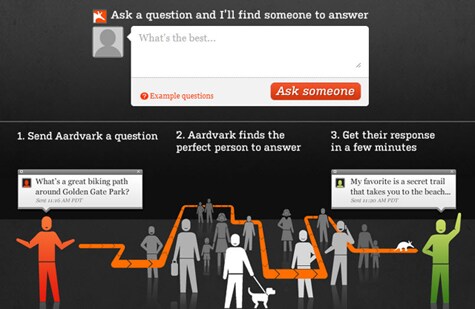 Aardvark, a startup recently acquired by Google, lives by the philosophy that an answer to any of your burning questions is likely just a few degrees of separation away.
The service lets users submit questions and then algorithmically works to find the best possible people in a user's extended network to answer that question. The algorithm factors in friend relationships and self-selected topics of expertise to scour friends of friends to get the original inquirer a response with a quick turn-around time.

It's also PC-independent, so users can participate on the platform of their choosing, which means users can ask and tackle questions regardless of whether they're in front of the computer or on the road.
Using Aardvark to enhance your own reputation is fairly simple. You'll want to visit the Profile section of the site to define the topics that you'd like to answer questions about. The more topics you add, the better Aardvark will get at suggesting additional topics that you might be able to answer questions about. Don't make the mistake of overextending yourself, just pick the topics that you know well and that pertain to your industry or professional niche.
If you make an active effort to answer questions in a timely fashion, you'll soon develop a reputation as the go-to person for a particular subject matter. Plus, for every question you answer, you're potentially exposing your business to a future advocate of you or your business.
Quora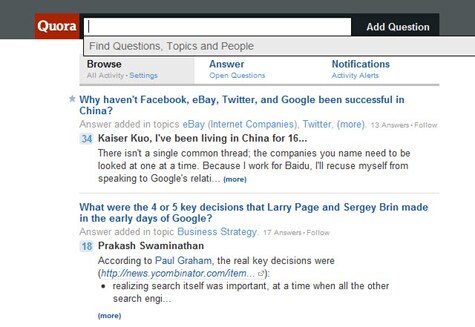 Quora is an incredibly trendy startup right now. The site was co-founded by Facebook's former CTO Adam D'Angelo. D'Angelo's high profile has attracted the tech elite to join and use the site in droves. This creates for an atmosphere where smart people ask questions and receive educated answers from high profile people.
The purpose behind the site is fairly straightforward and obvious -- it's a question-and-answer site where anyone can ask a question on any topic, and anyone can answer the questions that interest them. As a Quora user, you can follow people and topics. If there's a topic you think deserves its place on the site, you can create it.
The site does a remarkable job at surfacing questions that pertain to your interests, as well as surfacing the best answers to questions by crowd-sourcing votes from users. The site also supports endorsements, so friends can endorse you as a subject matter expert for topics.
Using Quora for establishing your own credibility on certain topics is as simple as diving into the site, following the topics in your area of expertise, following people you know or respect on a professional level, and then answering as many questions -- with thoughtful answers -- as possible.
LinkedIn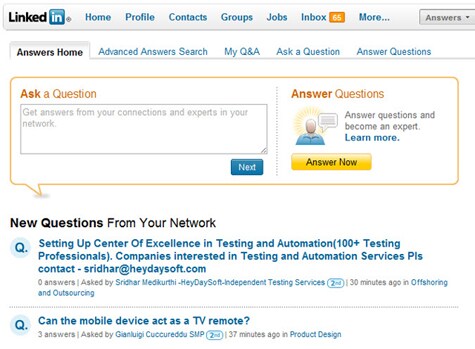 LinkedIn is no longer a small emerging startup like the other two services mentioned on this list, so it will be harder to distinguish yourself among a large user-base. But, LinkedIn is a formidable site with a massive user base all focused on professional betterment, and that makes it an ideal place for business-focused discussion that other users will appreciate and seek out.
Use the Answers section to demonstrate knowledge in your areas of expertise by asking and answering questions in the categories that pertain to your business. LinkedIn takes an expert-focused approach to highlighting super user activity. It's likely a super human feat to rank in the top five experts, but shooting for a few "Best Answers" per week is a reasonable goal that will go a long way towards helping you establish your business acumen.
Small business owners should also consider creating or participating in one of the many active on-site groups. These discussion-driven dynamic entities offer another avenue for conversing with like-minded professional users.
Image credit:
nasus89