Everyone loves international clients, but not everyone likes the headache of trying to reach those clients to talk shop. Business is becoming more global and most companies, from startups to corporations, will need to think about cross-border clients.
So how do you call your partner in Hong Kong or your supplier in London without breaking the bank? There are a bunch of ways to use popular chat services that will help expand your business' international scope. Read on for some quick tips and let us know what you use to conduct your global business.
1. Skype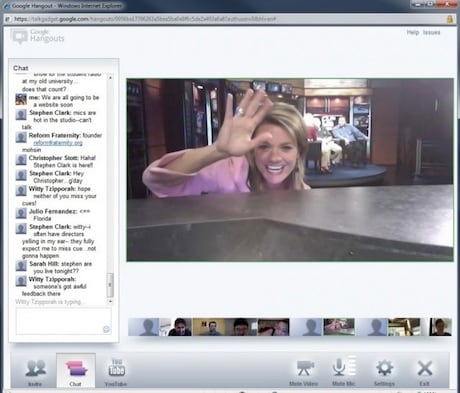 Before we jump in, yes, you can just e-mail your international clients. But this often doesn't create a true real-time dialogue no matter how fast you, or your clients, can type. For better or for worse, Skype is still one of the best ways to chat across the seas. Skype has video and audio conferencing as well as an instant messaging system. There are a lot of other video clones out there, but Skype is still the most reliable video conferencing service, especially when dealing with people in different countries.
Twestival, an international online social media charity fundraiser, was organized largely thanks to Skype and some late night coffee runs. Amanda Rose, Twestival's mastermind, held daily calls and chats with her teams based in London, Ireland, Russia, Japan and more in order to sync details and check progress.
2. Gchat, Facebook, Google+
Gchat is an absolute gift, assuming your team uses Gmail. Google's built-in chat service lets users message, call or video conference, a good option for businesses that need to check in with employees throughout the day rather than schedule individual meetings. It's far less formal, but just as effective (and reliable) as paid services or Skype.
Another similar option is Facebook's chat service. While a lot of people actively dislike its aesthetic and user interface, it still stands as a viable chat tool. A Facebook account is, of course, necessary to use the service, but at this point odds are pretty high your clients are already online. This option, like Gchat, is more of a passive system that is better for quick chats rather than formal business meetings.
Google+ offers a unique spin on the chat function with its Hangouts. A limited number of users can sign into a hangout to share ideas and conference. Hangouts have been growing in popularity as a way to schedule meetings with remote business teams. While Hangouts are a better option for doing business, Google+ has comparably fewer users so you might need to explain how to use a Hangout before you set up a meeting.
3. Free conference calls
It seems like everyone and their grandmother has signed up for a free conference line. These numbers allow many users to call in and share a communal line. Depending on where you register for the number, you will often get a local (or at a least national) number. However, most services worth their salt will also give you a toll-free or international number that overseas clients can call without picking up huge long-distance fees. For example, FreeConferenceCall.com has an international account option that will create in-country call-in numbers for global participants.
4. Go local
If your international dealings are limited to one country or geographic region, consider signing up for popular local chat services. For example, one of the largest chat services in China is QQi. Signing up for local services will help those clients feel more comfortable using familiar technology. Of course, QQi isn't much help if your clients are in London, so be careful about which services you join.
Bonus: Time zones
One of the most difficult things about chatting with international clients is figuring out what time it is over there. Anyone that's done international business has either called, or been called, at an ungodly hour because of a time zone miscommunication. Do yourself a favor and look up a good time zone converter online like TimeAndDate.com, which also has a handy meeting planner to help keep everyone on the same schedule.