Salesforce.com removed one free conferencing tool from the world when it acquired DimDim in January, leaving many startups without a free teleconferencing service.
Fortunately there are many excellent free options for coordinating remote meetings. "Free," in this instance, means a service that doesn't charge extra call rates or add service subscription fees on top of call fees. Aside from the well-known FreeConferenceCall.com, here are four of our favorite services in this category, listed below, ranging from impromptu team conversation tools to meeting organization powerhouses.
1. Rondee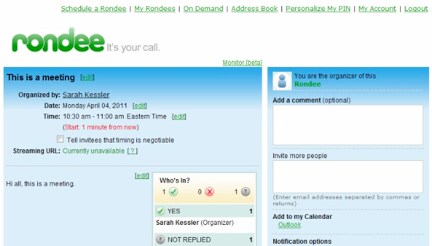 Rondee is a champ at coordinating conference calls with minimal e-mail exchange. Meeting coordinators simply select a start time and enter e-mail addresses of participants (contacts can only be imported from Outlook). If scheduled in advance, participants RSVP to Rondee, which tallies an attendee list.
At call time, each user enters a unique pin number to join the call. There's also an option to host impromptu meetings, for which call participants receive the same code and can set up meetings using that number at any time.
For no extra charge, Rondee will record the call and make it available for download. For toll-free calls, the service has a premium option that charges $.05 each minute per participant.
2. Wiggio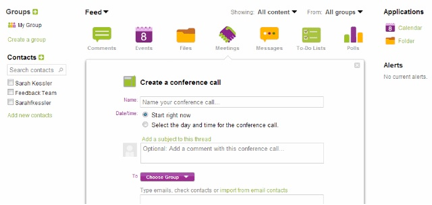 Conference calling is just one feature of Wiggio's free group-management service. The site also helps users plan meetings, send mass text messages, plan projects and take polls within groups.
Want to read more from Sarah Kessler? Check these out:
To set up a conference call, users can either invite a group they have set up within the system or enter individual email addresses. Unlike Rondee, Wiggio gives users the option to import their e-mail contacts from non-Outlook e-mail accounts, which makes this part a little easier. But Wiggio lacks Rondee's RSVP feature—although the invite e-mails include calendar invites, it can be hard to determine who plans to dial in to the meeting.
During the call, the moderator can switch between conversation mode (unmute all), Q&A mode, and presentation mode (mute all). Unlike most free services that don't require a download, Wiggio calls aren't necessarily restricted to voice. Moderators can also set up a virtual meeting that pairs a screen share, a shared whiteboard, file trading and video conferencing options with a conference call.
3. GroupMe


The group messaging app that dominated conversation at SXSW this year is also an excellent conference call option. Each group a user creates is assigned a single phone number. Texting that number sends a message to all members of the group. Calling that number puts the entire group in an instant conference call.
Since the app lacks scheduling options and meeting invites, it's a better option for small teams that need to communicate with each other often than it is for client calls.
4. Google Voice


With Google Voice, anyone can initiate a conference call by having the call participants dial his Google Voice number at the same time. As each participant calls in, the initiating user will be asked to approve the person on the line to join the call. Note that Google Voice does not currently offer services for inviting call participants or soliciting RSVPs.
What free conference call services do you use? Let us know in the comments.
Image credit: KuznetsovDmitry