"What does my job contribute to the company's overall mission?" "Which projects are my top priorities?" and "How can I grow in my position?" are questions that every employee should be asking, and every company must answer. Assigning and tracking goals is an effective way to both answer them and to make sure that personal and corporate objectives align.
Though goal-driven performance management may be as effective in a 50-person company as in a 5,000-person company, most software programs for this purpose come loaded with features to suit the latter.
Here are four programs that concentrate on the features small businesses need to track employee goals at a price they can afford.
If your business uses these tools, let us know about your experiences in the comments below.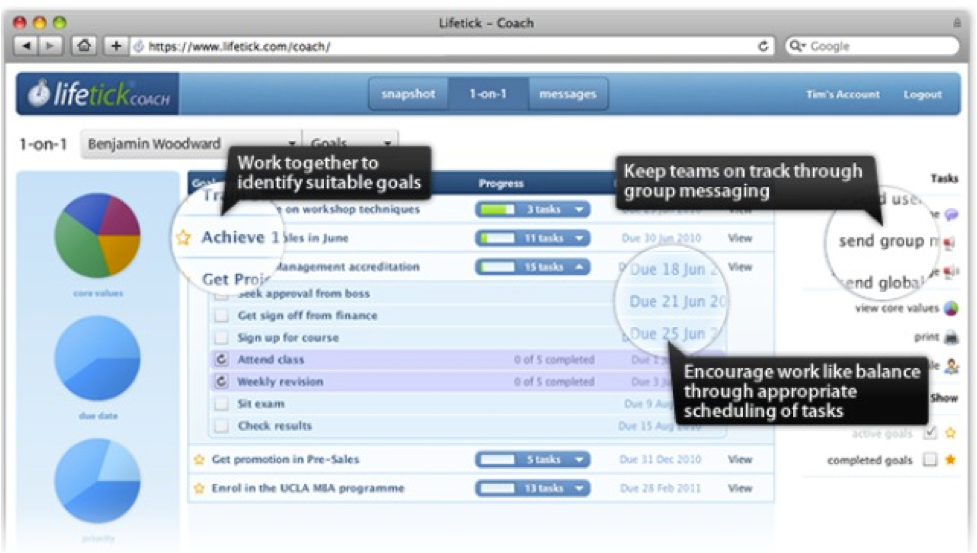 The manager component to the Lifetick independent goal setting app, Lifetick Coach, is intended for life coaches or mentors to track their mentees' progress. Features like mentee-mentor messaging, group communication, SMART goal planning, and core value-based goals also make it a viable option for small businesses. Unlike other goal-tracking programs, employees using Lifetick Coach set up their own goals and designate tasks that might help reach those goals. This process empowers employees to organize their goals while giving managers full visibility of their progress.
Price: $29 per month for up to eight employees
Want more tips of managing employees? Check these out: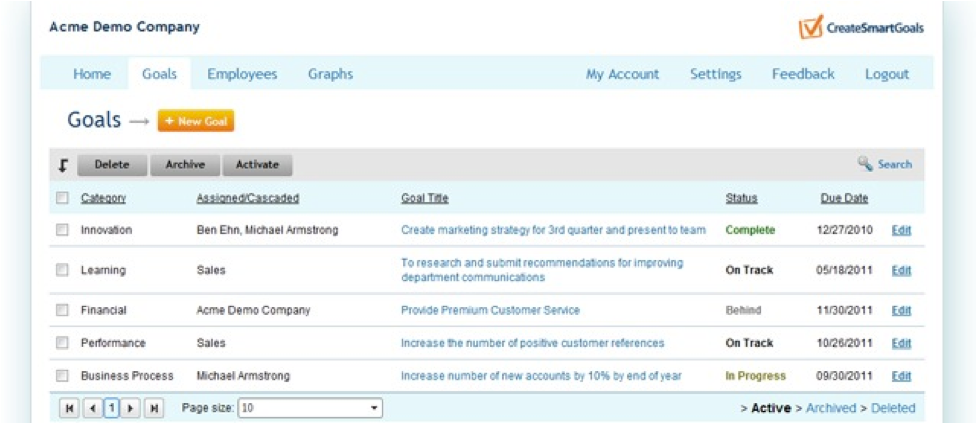 CreateSmartGoals is another hosted solution to managing employee goals. Managers can set goals for the entire organization, a specific department, or specific employees, who note their progress in a results journal. They can also designate the status of goals and what percentage of each goal is complete. But without the ability to break goals into smaller tasks, the platform becomes more of a task manager than a large-lens, goal-setting mechanism.
Price: $30 per month for up to 10 employees
3. Goalscape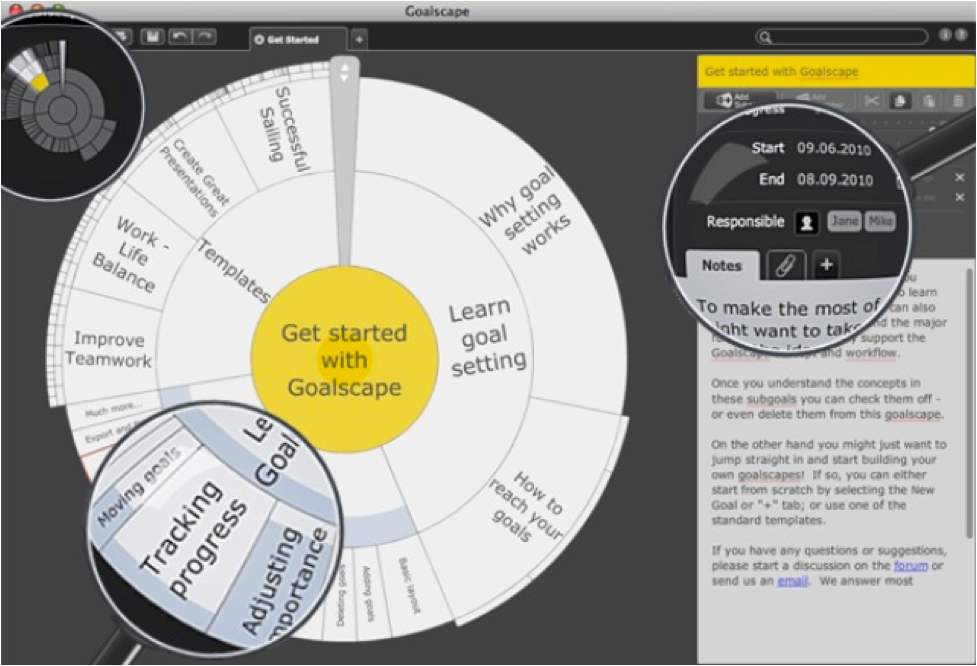 Goalscape is the ultimate tool for visualizing goals. Your company's main goal (i.e. "make more money") goes in the middle circle of the interactive infographic, and subgoals go around it. Each subgoal can be broken down into more subgoals by adding further layers to the infographics. The space each goal takes up can be adjusted to signify its relative importance, and shading signifies progress on each goal.
You can invite as many collaborators as you want into the infographic, as well as share it with all of your employees. A helpful feature that allows you to designate who is responsible for the completion of each subgoal, as well as attach notes and files, makes it helpful for managing projects, and the infographic is slick enough to include in presentations.
Price: About $12 per month
4. WorkSimple


With WorkSimple, you can assign goals to departments, employees, and yourself. The goals are either visible to the entire company or to only the employee and manager. Employees report their own progress and check in on goals that are aligned with their own. When it comes time to give employee evaluations, the platform automatically compiles a report based on goal performance and asks employees to self-evaluate.
Price: $60 per year
Image credit: xJasonRogersx