It's a compelling proposition: Entrepreneurs step in where governments and not-for-profit organizations have stumbled, create businesses that not only aim to solve big problems but improve lives globally and create wealth and jobs.
It's not as easy as it sounds, of course. But increasingly, "I want to change the world" isn't just a mantra uttered by activists and idealists; it's a phrase we hear from entrepreneurs who believe that doing well and doing good are not mutually exclusive. They're learning how to skillfully blend traditional capitalism with a desire to address some of the world's most pressing needs—and they're succeeding.
Over the past several years, we've seen a dramatic increase in the number of social enterprises—for-profit companies with social objectives at their core—and heard a lot of rhetoric about their impact. So what does it really take to start and scale a successful, global social business? We spoke to a few entrepreneurs who are in the thick of things to find out.
Big Problem, Big Opportunity
Ashley Muspratt, a 35-year-old environmental engineer, first became aware of global waste treatment challenges while working as a science teacher in Ghana, where she saw human waste dumped directly into the ocean in truckloads every day. The problem, she discovered, wasn't specific to Ghana—while working on her Ph.D., Muspratt visited failed waste treatment plants in India and China and realized that "the single biggest barrier to waste treatment in cities was the high cost of operation and maintenance of treatment plants." Governments or international organizations such as The World Bank would frequently provide money to build waste treatment facilities that would ultimately become too costly for poor cities in the developing world to operate.
"They would fall into disrepair in a year or two," Muspratt says. The only alternative: dumping untreated waste into oceans.
Muspratt says she became "frustrated seeing the same mistake made over and over again" and began to think about alternatives. "We treat the nutrients in waste water as a contaminant," she notes. "What if we could harvest and monetize the resources in human waste?"
She's not the first to be struck by the potential of  "poop power"—there are others at work on systems that convert human waste into valuable resources such as fertilizer or biodiesel. The Bill and Melinda Gates Foundation, for instance, has awarded 16 grants to international researchers to come with innovative ways to "reinvent the toilet" in order to bring affordable, sustainable sanitation solutions to more than 2.5 billion people worldwide.
Muspratt, however, decided to focus her efforts on a business-to-business model. She recently started building a manufacturing facility in Mombasa, Kenya, that will convert human waste into a fuel that can be used by industrial manufacturers. Her company, Pivot, received financing from both a French development agency and the Gates Foundation, and has a letter of intent from its first large customer—a French cement manufacturer. 
Was there resistance to her alternative fuel?  "We've never approached a cement company that was resistant," she says. "As long as we can be competitive, they're interested."
Initially, she says, the plant will produce five tons of fuel per day but will quickly scale to 40 tons. "A cement company that burns 500 tons of coal a day could buy all the fuel we could possibly produce," she says. She's currently researching cities in Uganda, Tanzania, Senegal and India as sites for future plants with the goal of building these plants as quickly and as widely as possible.
While the value proposition for municipalities sounds attractive ("We'll build a plant, solve your sanitation problem and generate revenue"), there's always skepticism when it comes to challenging the status quo. But Muspratt is hoping to prove the efficiency of her model in Mombasa, then leverage it elsewhere to scale quickly.
Systemizing a Solution
Creating a system and scaling quickly are exactly what have made Bridge International Academies a success. Started by Shannon May and her husband, Jay Kimmelman, seven years ago, the for-profit company operates 369 primary schools that serve more than 100,000 students in Kenya; 150 of the schools were opened just within the past year.
"We're able to grow quickly because of the amount of time and energy that goes into every system," says Marie Leznicki, vice president of brand development for the company. "It's not that different from a Starbucks or a McDonald's."
Before launching a school, Bridge International researches demand at prospective sites, working with parents and village elders to gain trust. "We go door to door and do community outreach events," Leznicki says. While parents pay to send their children to Bridge, she notes that 50 percent of families who live on less than $2 a day already pay for private school—Bridge's pricing is often less than that of its competition.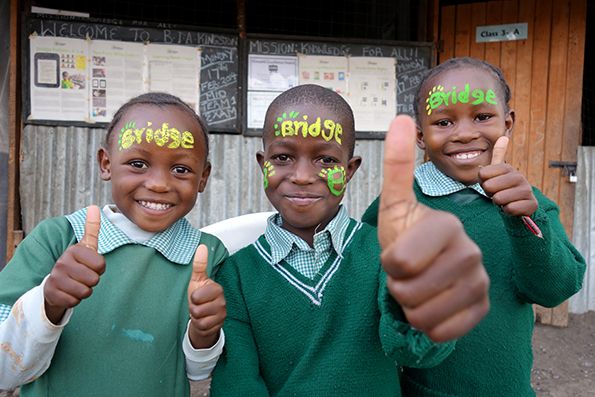 "We're not starting anything radically new," Leznicki says, "but what's different is that we're a chain so we can guarantee quality." The company reports that its students score, on average, 35 percent higher in reading and 19 percent higher in math assessments than their peers in nearby schools. Its teachers teach more than eight hours a day, compared to a national average in Kenya of just more than two hours a day.
So what's the secret sauce? It's a system the company calls "Academy-in-a-Box"—a toolkit that contains everything from instructional materials to methodology for constructing schools, training teachers, setting curriculum, managing schools and finances, leveraging technology, marketing to parents and more. Most administrative functions, such as billing and payroll, are automated via smartphones and tablets that are interconnected to a backend ERP. Curriculum, says Lezniki, is developed in Boston by "a team of the world's best teachers who come up with the best methods."
On any given day, Bridge's 4,000-plus teachers check into the system and access the exact same lessons on their tablets. This standardization allows the company to more accurately analyze and measure the success of its curriculum. "Everything is data enabled so we can track progress," Leznicki notes.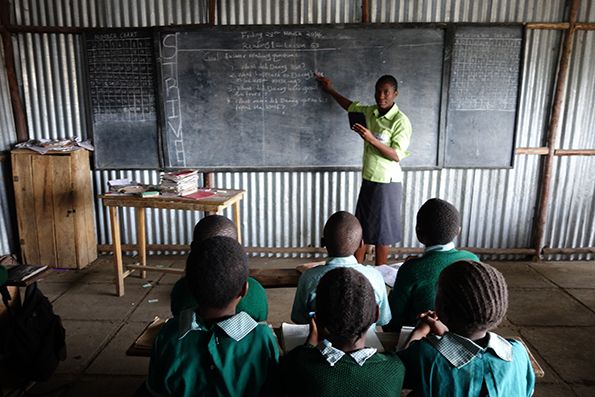 With four rounds of capital from such heavy-hitting investors as Bill Gates, the Omidyar Network, Khosla Ventures and National Education Association, Bridge plans to continue to expand rapidly. Nigeria is next, Leznicki says, with 25 to 50 schools planned for 2015. 
"We need over half a million students to be profitable," she notes. The company expects to reach that goal by 2016 and to be well on the way to its ultimate goal of teaching 10 million kids and to putting a dent in poverty through education.
Big Goals Require Big Global Partners
Entrepreneurs who start social ventures know that it makes no sense to reinvent the wheel. That's why getting your novel idea to the marketplace may best be accomplished by partnering with large, established organizations that see value in joining forces with an upstart. Such was the case for Lauren Bush Lauren, who came up with the idea for FEED Projects after traveling to Guatemala with the United Nations' World Food Programme (WFP) and witnessing real poverty for the first time.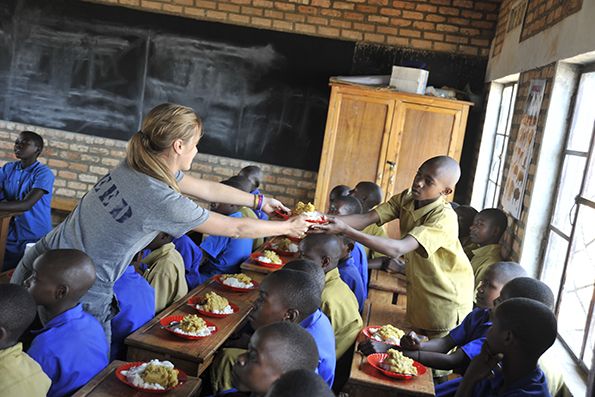 "They have an incredible network of offices around the world and have their finger on the pulse of what's happening with hunger," Bush Lauren says of the WFP. "I saw they were lacking a consumer-facing way of raising money, and that's what we bring to the table that's unique in the hunger space."
Bush Lauren co-founded FEED to manufacture totes and handbags that would help WFP and other hunger-related organizations provide school meals to needy children worldwide. Each bag is stamped with the number of meals the sale of it will fund.
Early on, however, Bush Lauren learned an important lesson about working with big partners. Retailers, such as Whole Foods, might initially agree to carry her bags and share the cost of the donation to WFP. But when the novelty wore off, some retailers reevaluated the bottom line impact of carrying the products, and their buyers didn't reorder. To preserve those relationships, Bush Lauren reluctantly raised product prices and reduced her own margins so retailers wouldn't feel the pinch. The lesson: You can't count on your partners to finance your social mission—a sustainable social business has to make bottom line sense for all of its stakeholders.
A secondary but important element of FEED's mission is to employ local artisans wherever possible to create the goods the company sells. To that end, the company works with groups of craftspeople in Colombia and Guatemala and also in Kenya, where six leather artisans create FEED's new line of leather bags. Bush Lauren says that artisan partners, whose product sales directly benefit their home communities, are chosen carefully and with the goal of forging long-term relationships. 
While distribution for all FEED products has primarily been in the U.S., FEED bags are also sold at Harrods in the UK and in a handful of stores in Japan. "Americans have been at the forefront of the social business, give-back model," Bush Lauren says. "It's taken a bit more explaining in other countries, but they're catching on." 
Additional global expansion is in FEED's future, but since its launch, the company has already provided more than 85 million school meals through WFP, UNICEF and Feeding America, the company's U.S.-based partner.
A Global Solution to a Domestic Problem
"Brilliance is equally distributed, but opportunity is not," notes Jeremy Johnson, CEO and co-founder of Andela, a startup that teaches computer science to young Africans, then connects them to companies that are hungry for talented Web developers. Johnson, who was also a co-founder of 2U, a heavily funded online education company that went public in March, knows a thing or two about education and has some strong opinions on how to leverage ed tech to create a broader impact around the world.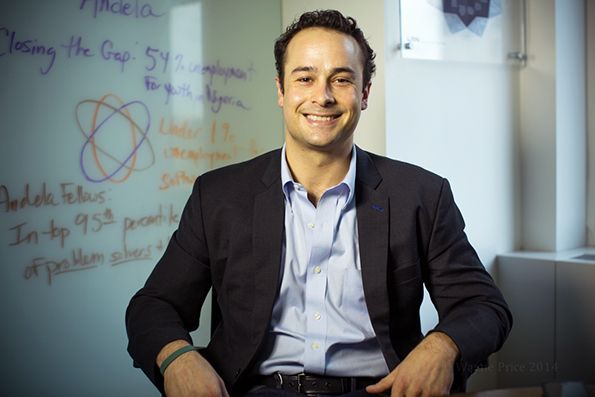 In Nigeria, Johnson says, there's 90 percent underemployment and 50 percent unemployment among youth. At the same time, big companies in the U.S. post thousands of IT jobs that go unfilled. And entrepreneurial companies with limited resources have an even tougher time competing for talent.
"The reality is, there just aren't enough talented developers in the world," Johnson says. His solution: Seek out the smartest, most motivated young people in Africa, which is home to seven of the 10 fastest-growing economies in the world, and train them to be world-class developers. Unlike 2U, Andela's training is done by senior developers in a physical classroom, the first of which is in Lagos.
To recruit students, Andela culls applicants with an online aptitude test, then does phone interviews. Those who make the first cut are invited to participate in a two-week, intensive boot camp. "People who've never written a line of code come out building websites," Johnson says. "A third of them are asked to be full Andela fellows."
Andela, which is funded by Steve Case, Omidyar Network, Founder Collective and others, pays its fellows a stipend equivalent to local living wages while they're in the training program. After 1,000 hours of training, they're hired full time by Andela's customers, and Andela takes a percentage of those wages. "The education funds itself through the work that students are doing," Johnson says. And both sides benefit: Companies are able to access IT talent for approximately half the cost of a U.S.-based developer, and Andela's fellows get full-time jobs and middle-class wages.
Because Andela fellows are paid from day one, Johnson says the program is highly competitive; almost 6,000 applicants competed for the company's first 28 slots. While Johnson won't yet name the companies that Andela fellows are working for, he says they include a combination of large, multinational corporations and smaller, entrepreneurial firms. Johnson plans to expand the program to at least one new country next year.
"We're growing it like we did 2U's programs," Johnson says. "Slowly and steadily."
Multiple Stakeholders
What all these companies—and other successful social ventures—have in common is that they draw in multiple stakeholders. Each business creates an intricate web of common good that's sustained by its interconnectedness and the value that the relationships yield. Not every stakeholder will care deeply about the mission—cement companies certainly care far less about waste management than they do about a reliable source of efficient and cost-effective fuel. Large tech companies need a well-trained source for Web developers and are rightly more focused on their own workforce needs than on putting a dent in the unemployment rate in developing countries.
But it's the insistence on ROI from partners and customers that keep social ventures accountable and give them the staying power they need to solve some of the world's biggest problems. Passion is a given, but it's useless without pragmatism. 
Read more articles on startup businesses.
Photo: Bridge International Academies (3), FEED, Richard Foulser, 31 Squirrel, Mohini Ufeli