With all the noise on the Web today, good branding is more important than ever. Even if your business is not a cutting edge tech startup, the overall identity of your face on the Web, social media and your storefront should be unified, clean and compelling.
There's a lot about doing business on the Web that is inexpensive and turn-key: All you need to fire up a basic website, blog, or social media presence is an e-mail address. But no Web app can substitute for real design vision, and your logo is the linchpin that ties all of your business's aesthetics together.
Whether you're going to hire a pro or put those college art electives to good use, take a moment to heed some advice from the experts about what makes a biz logo "sticky" in the minds of web-savvy consumers.
1. Identity in a World of Infinite Choice
A logo is a first impression. Before a customer knows anything about what you do or sell, they'll view your identity with two choices: Keep reading, or click away. On the web, that choice is made in milliseconds.
Like the clothes you'd wear to a business meeting, your logo has to say, "I'm smart, I'm savvy, and I can compete," at first glance.

"[The] first thing any small business owner should do is realize their business exists in a marketplace driven by multi-national brands," said Von Glitschka, an illustrative designer who works extensively on identity and branding. "Their identity needs to be able to compete visually on the same level to be a success."
The reason the Web has been such a boon for small businesses is that they have reach comparable to big corporations like never before. So come to the table prepared, design-wise.
"A small business can maneuver and adapt to an ever-changing culture far easier than a multi-national brand can," Glitschka added. "But if they don't lay a good foundation for their marketing via a well-designed and appropriate logo and identity, they are handicapping themselves right out of the gate."
So where do you start?
"Research," said Sneh Roy, a graphic, web and logo designer based in Sydney, Australia. "There is nothing worse than bringing to life your vision... if it has all been done before. A small business owner is fighting for a small [piece of] real estate in a highly overcrowded market. Doing thorough research on who his competition is and how they project their brand image is the first and most important thing for a small business owner."
2. What Makes a Company Logo "Sticky?"
If you've done your homework, it's time to think about what kind of visual identities make a strong impression.
"The average consumer is fickle even in his loyalties, purely because of the sheer number of choices available to him," said Roy. "Because a logo must be non-changing and timeless, making it 'sticky' can be a bit 'tricky.' The perfect amalgamation of minimalism, well-thought-of concept, and strength in bold colors and typography -- in my opinion -- is what eventually makes a logo memorable and sticky for the consumer."
"Avoid the predictable trends, forget about what others are doing, and create something that uniquely represents your business," said Glitschka, and remember that "your actual business will be the ultimate draw, not the logo."
"A logo that doesn't preach; a logo that leads and adapts to the changing times; a logo that has heart and the ability to connect with the viewer can and always will cut through all the 'noise.'" Roy added.
To achieve all this, you've got to hire a pro.
3. How to Find a Great Logo Designer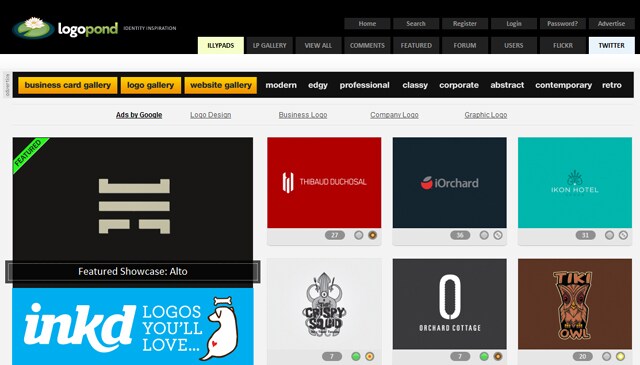 For those starting from scratch, the web makes it easy to browse the portfolios of artists whom you can connect and work with from anywhere in the world. There are a few approaches that may yield results:
Browse or search portfolios on quality websites like Behance, Carbonmade, and LogoPond. Portfolio networks make it easy to cross-reference design styles and get in touch with artists that pique your interest.
Subscribe to design blogs like Smashing Magazine, Designm.ag, and Six Revisions (Disclosure: Six Revisions Founder and Chief Editor Jacob Gube is a contributing author for Mashable). The writers and contributors at these publications are usually designers themselves. If their discussions of branding and identity align with your business vision, look for portfolio and contact links in their bios.
Social media is often a great way to discover design experts with serious skill and clout. If you can't get a referral from one of your Twitter or Facebook pals, use social media search tools like TweepSearch and Google Blog Search to find profiles with "logo design" and "branding." Check out their feeds and websites. Do they appear to be well-respected and write authoritatively about their design expertise? If so, shoot over an e-mail and get a quote.
"Look for a designer who has a good grasp on marketing. Understands brand culture, has a proven methodology with other small business clients and a portfolio to back it up," said Glitschka.
"One of the most important factors to consider when shopping for a pro logo/graphic designer is the style," said Roy. "Each logo is different and the brand it represents may have very specific requirements. Look around to find a designer whose design style fits your needs."
4. Translating Your Logo into a Social Web Presence
You've found a talented designer, and she's produced the perfect logo for your business. What's the best way to (re)introduce it into the social marketplace? A logo alone doesn't make a brand, and the process of building a presence around that identity is no small feat.
"Any logo design should take into consideration from the very start the potential context it will live in," said Glitschka. "If the business is geared for an online existence, then the design should be appropriate for that format. A tall vertical logo for a web-based business would be inappropriate for the context."
And when it comes to the social web, try not to spread your identity too thin.
"Translating a logo design into a larger web/social media presence should be purely decided on need," Roy added. "If your business doesn't need it, don't cheapen it by jumping on all kinds of media online and off the web. Have a good focus of where you want your brand to go and set your logo only along that focused path."
In the end, Glitschka notes, it's still your core business model that will determine "whether the logo will play a part in transforming a business into a larger web presence."
If you've recently gone through the process of redesigning your small business's logo, let us know which tips you'd add to the list in the comments below.