As the world becomes more digital and consumers become more mobile, content increasingly drives the purchasing decisions we all make. We care not just about the products brands are creating, but also about the stories behind these products and the values behind the brand. Those stories and values are told through compelling content—visual, creative, and even dramatic at times.
Great content, though, isn't just reserved for big companies.
Some of the best content on the Web these days is created by the small guys. Good content, it turns out, doesn't necessarily start with a big budget and hundreds of content creators—it begins with a vision, which is harder to come by than money and employees.
Some teams just get it. Here are five small businesses that truly understand the world of media and are producing content worth consuming.
1. Create Editorial Goodness: Frank & Oak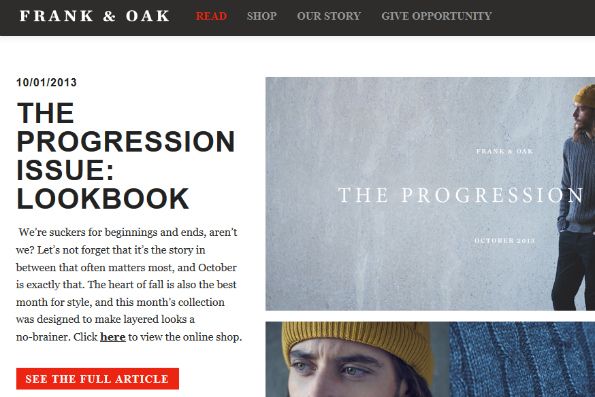 Online men's clothier Frank & Oak prides itself on offering up stylish threads to the more discerning men in our lives, but beyond its excellence in making dashing men even more dashing, the company has an A+ content strategy.
For starters, Frank & Oak's blog, The Hound, is beautifully designed and packed with lifestyle content for every man—from travel guides and standout profiles to expert-curated playlists and style trends.
The online clothing shop, though, doesn't stop with a blog. It also provides custom content through its quarterly lifestyle magazine, The Edit, available exclusively through its iPad app. As of August, the e-commerce site also had debuted a new content-driven user experience called StyleScape, which enables users to receive personalized purchase recommendations based on past purchases, nearby climate considerations, and the consumer's responses to a series of style-focused questions.
While Frank & Oak's primary business is not publishing, it produces quality editorial content, the kind you'd see in a fashion, style, or lifestyle magazine devoted to publishing. It's no wonder its growing user base, currently 700,000 strong, keeps coming back from more—the content Frank & Oak uses to engage and inspire users adds so much value to the experience, it's tough to go anywhere else.
2. List Products with Zest: Grand St.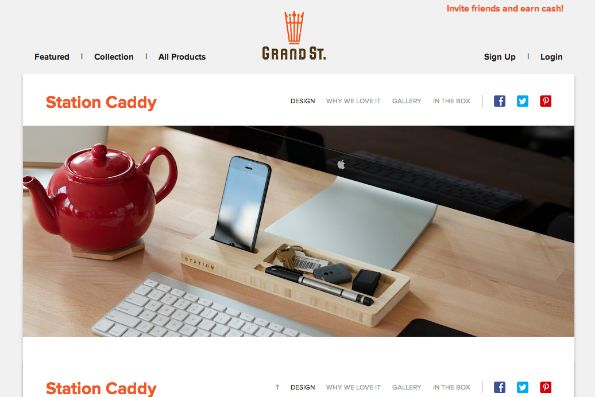 The term "content" doesn't usually conjure up images of product pages and descriptions, but more and more retailers and commerce sites are taking a content approach when building product pages.
Typically, a product page features a few pictures of the product, the item's price, and a paragraph about its use. The more innovative retailers and commerce sites out there, though, know that compelling product stories and imagery separate the weak from the bold and beautiful.
Grand St., a curated marketplace of hardware from independent producers, puts a premium on good content. The Grand St. team helps its network of indie gadget producers get their work out in the marketplace by taking high-res images of each product, testing out each product, and creating a profile that not only has the product specs, but also tells a story about the product's design and the user experience it affords.
The Station Caddy, for example, is listed with a gallery of images that showcase the desk caddy in use. It's clear from the images that the caddy could indeed be "a little zen for your desk," as promised by the copy.
It's important that business owners not only think of content as an extra bonus for users, but that they consider their own bread-and-butter operations as opportunities for creating top-notch content.
3. Share Posts Worth Sharing: Country Outfitter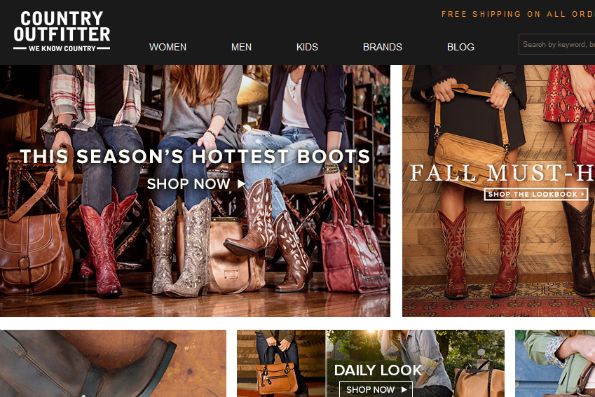 With more than 6 million Likes on Facebook, cowboy boot retailer Country Outfitter has a wrangle on the ins and outs of creating content worth sharing.
Its Facebook posts routinely receive thousands of Likes, and some of the most successful posts receive between 20,000 to 50,000.
The secret? A mix of beautiful photography, a compelling offer, and Facebook ads, I learned on a summer visit to Acumen Brands, owners of Country Outfitter. For the most part, Country Outfitter gives its Facebook followers what they want—free boots. A majority of its posts are boot giveaways, and as a result, they've seen massive interest and engagement.
While contests aren't always an advisable route, as they can come off as gimmicky, Country Outfitter has figured out a formula that keeps it classy while also maximizing shareability. In its recent "Fall Favorites Giveaway," the company gave away five pairs of boots, in order of the crowd's favorites. In just 12 posts on Facebook, the brand garnered more than 300,000 Likes on its posts, averaging around 25,000 Likes per post. The virility was a result of the brand's beautiful images and inclusive language. "Our fans have spoken!" one post read. "You selected the Phillip Harness Tall Boot as your Frye favorite!"
You can't argue with the data—readers are pleased.
4. Break News: Latitude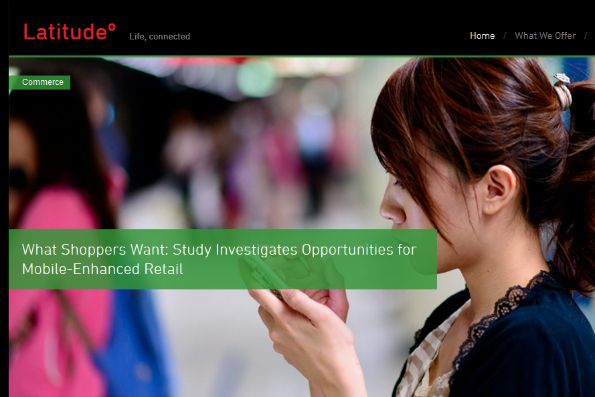 Media research consultancy Latitude works with media companies including Viacom Media Networks, NBCUniversal, and the BBC, to help them come up with better brand, marketing, advertising, product, and programming strategies. Beyond conducting research on behalf of its clients, though, the consultancy publishes its own studies on topics relevant to their core customers, media networks and publishers.
In the past few years, the agency has published seven studies, some of which have addressed the future of storytelling, the new sharing economy, and children's future requests for computers and the Internet.
Director of Content Development Kim Gaskins says the firm's content strategy has helped it reach out to current and potential clients working in the media and technology industries, as well as "caught the eye of the press and generated a truly unexpected amount of buzz" in publications including Fast Company, Forbes, and The New York Times.
Businesses, big and small, can offer a bevy of data and thought leadership to back up their core competencies, whether it be via reports, white papers, infographics, guest articles, or something else. Latitude is a great example of a small business taking advantage of its competitive advantage—research—to better its own content strategy, gain press, and engage current and potential clients.
Which small businesses are rocking their content strategies? Tweet me your thoughts @ericaswallow.
Erica Swallow is a tech and lifestyle writer, technology entrepreneur, and MIT Sloan MBA candidate. Follow her on Twitter @ericaswallow.
Photos from top: Shutterstock, blog.frankandoak.com, grandst.com, www.countryoutfitter.com, latd.com