When it comes to managing job applicants, small businesses have different needs than large corporations. Instead of being coordinated through an HR department, hiring responsibilities at most small businesses rest entirely with a manager or a group of managers. Instead of weeding through and managing thousands of applications for hundreds of positions, small businesses might only have one or two positions open up a year.
Because the hiring process is managed so much differently at small businesses, it doesn't really make sense for them to use the same application management tools as large companies. Simple web applications can help manage job applications without breaking the bank or requiring several hours of instruction to operate. Here are four of our favorites.
1. Dropjobs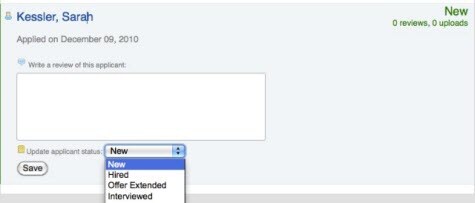 Instead of creating a separate URL for your job board, Dropjobs provides the code for a widget that you can copy and paste into your own webpage. Applicants provide their contact information and upload cover letters and resumes. The employer needs to log into the Dropjobs site to view applications.
The employer's page makes it easy to save comments about specific applicants with their application. If you grant multiple people access to the applications, you can also see their reviews.
While the application makes it easy to review resumes and cover letters in their original layout, it can also be restricting if you want to gather more than just contact information with the documents. There's also no way to contact applicants through the app, which means that your inbox might get a bit chaotic if you're expecting to correspond with a large number of applicants.
Price: $19 per month for the basic plan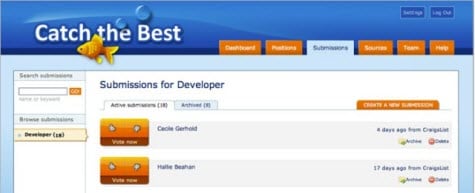 By generating a unique URL to include in entries on each job board you use, Catch the Best can track which sites are referring the most applicants. The app also helps optimize entries for search engines and tags applicants with keywords so that the archive of applicants can be easily searched when a new job opens. Like Dropjobs, Catch the Best offers an option to integrate postings into your own site instead of directing applicants to a separate application site.
Members of the hiring team can easily communicate their reviews on each applicant using thumbs-up or thumbs-down votes, which are stored, along with any comments, below the applications. E-mails sent to the applicant are also stored with the application, which makes it easy for teams to stay organized.
Price: $29 for the basic plan
3. Simplicant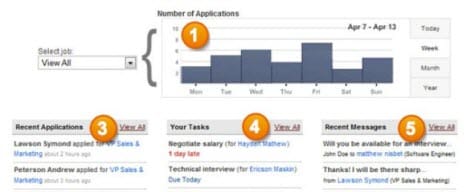 When you sign up for Simplicant, you'll get a public job board URL to which you can direct applicants (there's also a widget option) and an employer URL where you can access the submitted applications from a simple dashboard. As you manage applications, you can set up tasks for yourself, like "set up an interview with Joe Smith," that are displayed in the dashboard. If you're working with a hiring team, this feature can also be used to designate who will do which tasks.
Default tags for managing the hiring flow are typical (New, Screened, Interview, etc.), but they're also customizable if you would like to tweak them to better describe your process. A five-star rating system helps sort new applicants.
One big plus that will prevent your inbox from overflowing is that you can correspond with applicants from within the application.
Price: $49 per month for the basic plan


The Resumator sets itself apart by making applications completely searchable. Employers can search for keywords in resumes and cover letters, by applicant name or even by phone number. It's also a bit different from the other web apps in this post in that it helps share your job post through your company's social network profiles and automatically posts your job to free job boards.
The Resumator also repeats some of the best features of the other applications in this post. It has a unique URL generator for tracking the source of applicants, a task tracker, in-application communication with applicants, a five-star rating system, more than 20 applicant status tags and the option to store reviews alongside the relevant application.
Price: $29 per month for the basic plan
Image courtesy of Flickr,
loreshdw