Even if you've done everything you can to banish paper from your office, those little white sheets can still creep up on you.
You'll want to digitize those crinkly analog fugitives post haste, but you may not be keen on splurging for a scanner—especially when you're only taming the occasional receipt or intake form.
The solution—wait for it—could be in the palm of your hand. Your Android smartphone has all the photographic and processing power you'll need to snap up those docs and get them into the cloud where they belong.
1. CamScanner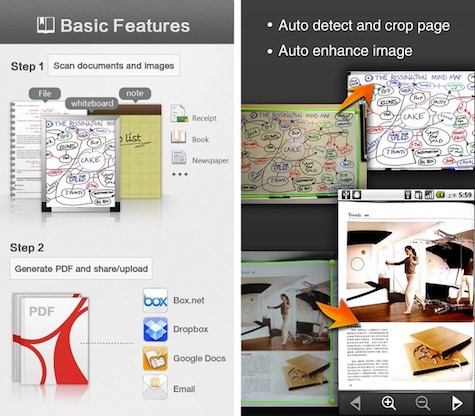 CamScanner is a breeze to use, and you can test out the free version via the Market link above. Snap a photo of your document and pull up the cropping tool. The app will auto-detect the edges of the paper, but the slick drag-and-snap guides will help you fine tune the dimensions.
The processing enhancements are smart, and will compensate for low light and bad focus reasonably well. Though the app generates a cropped and toned image, it will also hang onto the original photo—handy, in case you accidentally cropped your boss' name off the letterhead.
The app has built-in integration with Google Docs, Box.net and Dropbox, but for the less fancy among you, it's easy to pipe scanned docs straight into e-mail.
The main issue we encountered was with PDF creation. The original image is stored as a JPEG, but the option to convert it to a PDF simply opened the phone's default PDF viewer. The file is viewable, but we found no apparent way to save or share.
The paid version promises to make things easier in this department, but you should see how the free version performs on your device before purchasing.
Price: Free / $4.99 for full license and features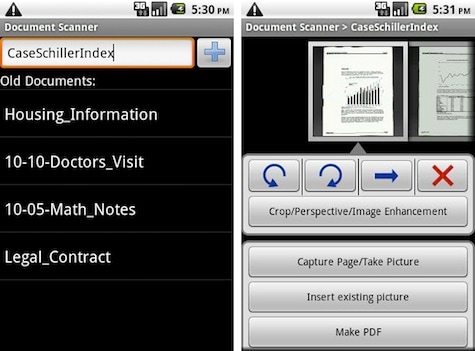 This app scans directly to PDF with ease. The interface couldn't be cleaner, and while the cropping tools aren't as snazzy as CamScanner's, they get the job done.
There are image enhancement features, but in our testing, they weren't as precise as CamScanner's.
Document Scanner also lets you upload directly to Google Docs, DropBox, and Box.net. It even has Evernote integration—a nice touch. Scan multiple pages in succession and e-mail them to your heart's content.
The trial version will only last you seven days, but that should give you the time to decide if you're ready to throw down four bucks on the real deal.
Price: Free / $3.98 for full version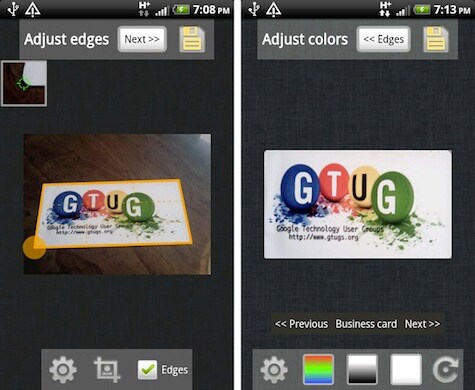 Droid Scan works similarly to the aforementioned apps with one exception—it'll send you out to the system camera to grab the image. No big deal—in reality, the other apps are simply wrapping the native camera with their interface.
Once you're done shooting, Droid Scan picks right back up where you left off and gets down to image processing quickly.
The app has smart edge detection, intuitive (if small) color and contrast controls, and a final menu that lets you select the docs you want to save down as either JPEGs or PDFs (though PDF functionality is only available in the paid version).
Price: Free / $4.99 for PDF functionality
4. Scan to PDF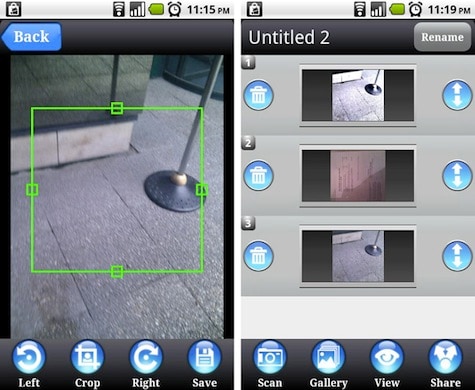 Scan to PDF scores big on interface simplicity. It's easy to start scanning or adjust the settings right from the first screen.
The app jumps over to the system camera by default (though you can adjust this setting), and offers great image processing and enhancement, even in low light.
The cropping function is intuitive but can be awkward—rather than dragging and snapping at the corners, you'll have to pull the edges. Occasionally, your fingers will run out of screen or they'll accidentally drag the entire frame away from the edge. However, This quirk is far from a deal breaker, and the excellent gallery viewer more than makes up for it.
The free version of Scan to PDF does it all, but if you like it and use it regularly, you can show the devs a little love with a $0.99 upgrade.
Price: Free / $.99 optional purchase for a job well done
5. PDF Scanner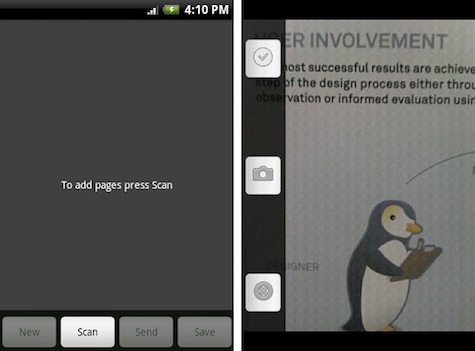 For those looking for the dead-simple option, PDF Scanner is the way to go. This no-frills app cuts right to the quick.
Add pages by hitting scan. The camera viewfinder that appears has no buttons, so you'll have to just tap the screen to focus and snap.
The camera makes use of your phone's flash, which is helpful when scanning in low light. But be sure to frame and focus your image carefully because there's no crop or image enhancement here. Snap away until your document is complete, then e-mail the PDF to its destination.
Regrettably, there's not trial version of this app, but if you're looking for a way to generate PDF scans quickly and easily, have no qualms dropping your coin here.
Price: $1.99