Having a blog is a great way for small business owners to communicate with their customers and to give their business a voice. There are tons of blogging platforms and services out there, but one of the growing favorites is Tumblr. Quite often, Tumblr is considered a micro-blogging service because you can use it to quickly post links, videos, quotes, audio files and pictures. Tumblr also lets users easily re-blog content from other Tumblr sites.
Because it's lightweight, easy to use, and has support for multiple users, many businesses are turning to Tumblr to power their blogs. Because Tumblr is hosted, you don't have to worry about server maintenance or being hacked and you can even configure the URL to match a domain you already own.
There are hundreds of great themes that you can use with Tumblr to give your blog or site its own unique look. Here are five of our favorites for small business owners.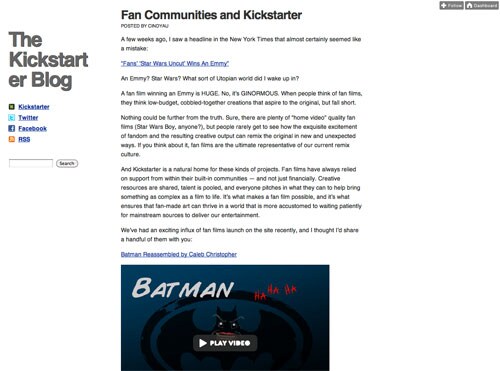 Tumblr's own Peter Vidani has designed nearly twenty themes for the platform and all of them are clean and easy to customize.
With Just Plain Theme, Vidani offers exactly what is advertised, a very simple two column Tumblr theme with support for pages, advanced features and Disqus comments. Check out Kickstarter's customization on its blog to get an idea of what you can do.
With a little bit of custom CSS editing, you could make Just Plain Theme a lot more unique!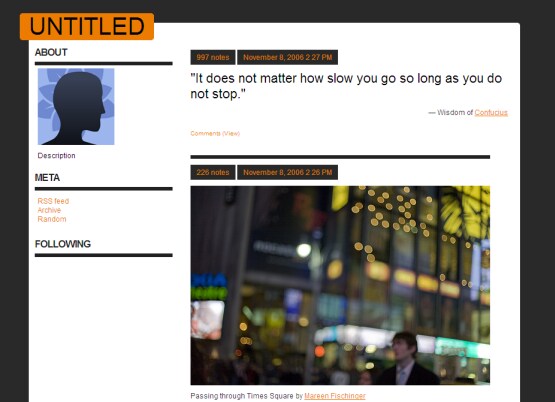 Brand New Day by Roy David Farber and Hunson is a great looking two-column theme. The theme includes support for people that you follow and you can really go nuts customizing the colors.
Check out The Travel Channel's modification. The theme colors match the Travel Channel logo and the sidebar includes links to other social media properties.
3. Scaffold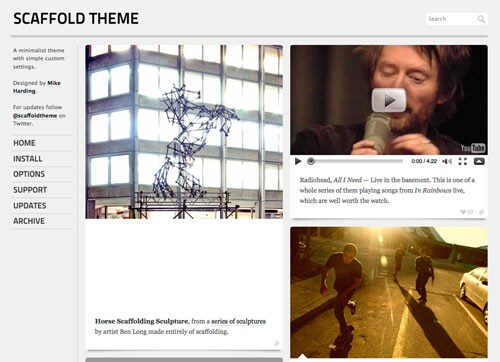 Scaffold is a feature-rich premium Tumblr theme from Mark Harding. It's $9, but packs a huge punch in terms of features, customization options and is frequently updated. We love the vertical navigation sidebar that moves as you scroll down the page, as well as the juxtaposition of how posts are displayed.
Tons of users are doing some amazing things with Scaffold, check out Diedrik Dijkstra's modification. By adding some texture and a new background, the theme takes on a whole new look.
4. Headline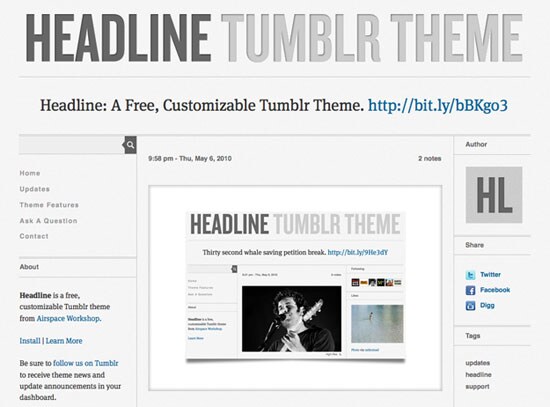 Headline is a great looking magazine theme for Tumblr. It has three columns and some really nice typography, plus support for pages and links to other sites.
As with all Tumblr themes, the real power comes with personal customizations. Check out MashableHQ, the Tumblr that chronicles office life at Mashable, to see what we did with the Headline theme.
5. Rank & File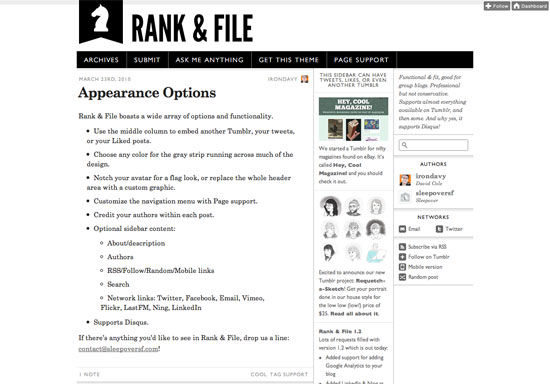 Rank & File is another premium theme and it is also $49. What you get for $49 is a beautifully designed magazine-theme that could easily power an entire website.
The theme supports pages, includes links to your various social media profiles and supports comments via Disqus. You can even customize the header with your own logo or graphic.
Your Picks
Do you use Tumblr for your small business blog or website? What are some of your favorite themes? Let us know in the comments.