I know you're blogging and you've got a rocking email newsletter and, well, of course you have some great content on your social networks. Now it's time to take your content strategy to the next level to include "content networks." Content networks are popular sites, such as YouTube or Slideshare, where anyone with an account can publish, share, curate and, perhaps most important, embed the content easily on any site.
If you're ready to do more with your content, create accounts for each of the following five content networks. Then create and personalize your business profile on each. Doing so will immediately give you a handful of new outposts for sharing your content as well as finding other people's useful content to share with your audience. Ready to get started?
1. YouTube
I'm guessing you've watched YouTube videos but haven't set up your own channel. It's easy to set up a branded channel for your content efforts, and then start uploading any relevant video content you've created. (Make sure you include any videos other departments, like your marketing department, have made.) 
You can also find and add content created by your customers, competitors and other industry related videos that might be in line with your blogging efforts, or to highlight in your newsletter or on your Facebook page.
2. Slideshare
Slideshare is the network of choice for PowerPoint presentations. It might make great sense for you to upload decks from product demonstrations, online seminars or other educational workshops you've either created or plan to create. 
You can embed your presentations in your blog posts and of course you can find and embed other people's presentations as well.
3. List.ly
List.ly is a service that makes it easy for people to compile and share lists of things. Lists can be a list of websites, tools, tips or ideas. People seem to really like lists so it's great to get in the habit of compiling a few and finding great lists that have already been compiled and curated by others.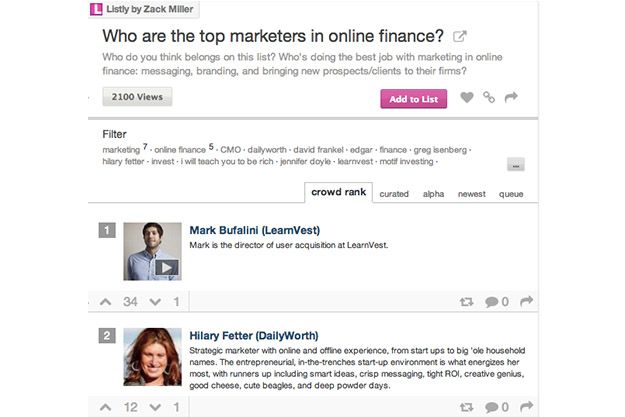 4. Visual.ly
Visual.ly is your option for finding infographics—images created using data. Infographics are very popular, and quite often you can create simple ones from research findings that your organization may share or by searching for relevant visualizations on the site. You can easily embed the infographics and also find designers to work with on the site, as the tool makes it very easy to connect with designers of popular images.
5. Embed.ly
Embed.ly makes it really easy to embed any video, PDF, audio or even article abstract into a blog post. The hard work is done for you. All you do is find the content and let the tool create a professional looking embed. There's even a WordPress plugin.
For more tips on how to help build and optimize your business connections, access our exclusive video series with MSNBC: Networking: Making Connections to Build a Better Business.
Read more articles on social media.
John Jantsch is a marketing consultant, speaker and author of Duct Tape Marketing, The Commitment Engine and The Referral Engine and the founder of the Duct Tape Marketing Consultant Network.
 Photo: Thinkstock