Web startups comprise one of the most exciting segments of small business culture.
They're young, they're sexy, they're rolling in glamorous-sounding amounts of "free money" from venture capitalists, and they get to make products that people around the world end up knowing about and using.
Although not all small businesses will have the same characteristics of a tech startup, there are some lessons you can learn and some values you can appropriate into your own company, no matter what your business is about.
Here are five ways to grow your business from observing and emulating web startup culture. If you've learned a lesson or two from an admirable startup that you didn't find on the list, please let us know about it in the comments.
1. Your Company Culture Can Be Fun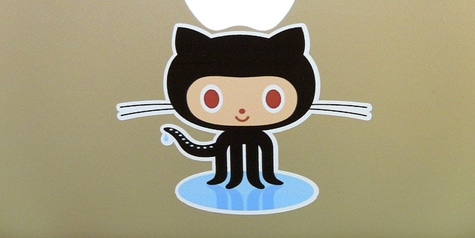 Why is GitHub's logo the "OctoCat"? Why not? Ask the founders sometime at one of this startup's famous drinkups.
One of the most common attributes of the web startup is an almost universal dedication to having a good time. Work hard, play hard is the mantra in this sphere; you'll see engineers pulling all-nighters to ship a product, but you'll also see them goofing off together during downtime, pulling shenanigans on their coworkers, or investing in "office equipment" such as ping pong tables and discreet, under-the-kitchen-counter kegs.
While not every small business will have the, um, stamina for Friday night Rock Band competitions, you can make your company culture fun and your workplace a fun place to be. Do you offer employees a place to relax? Is it taboo in your company culture to pull mild pranks or socialize during work hours? Do you ever have spontaneous outings, lunches, or games?
Perhaps one of the best reasons to foster a sense of enjoyment and camaraderie in your office or workplace is that it helps counteract clock-watching; if your staff can "whistle while they work," so to speak, they might find that work is easier and more enjoyable, leading them to become more productive.
2. Work Can Be Done Anytime, Anywhere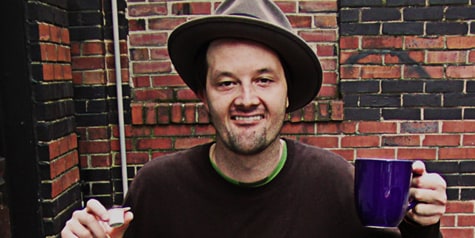 CitySourced cofounder Kurt Daradics proved that entrepreneurship can happen anywhere -- even on a cross-country road trip.
Many web startups are composed of distributed teams. Many more have very loose definitions of "office hours." Employees might roll in at one in the afternoon; they might stay and work the night away until the wee hours of the morning, too. And a lot of the time, they get to work from home.
Many Gen X and Millennial employees see the ability to work from home as a huge benefit -- for some folks we've talked to, it counts as much as a pay raise. If you trust that your employees can handle themselves and get their work done on time, consider letting them work from home or adopt more flexible work hours. Your night owls will appreciate the opportunity to work with all pistons firing, and your early birds will love getting home to their loved ones before rush hour traffic starts. And everyone, from CEOs to secretaries, appreciates getting to work in their PJs every now and then.
3. You Don't Have to Spend a Lot of Money to Have a Good Time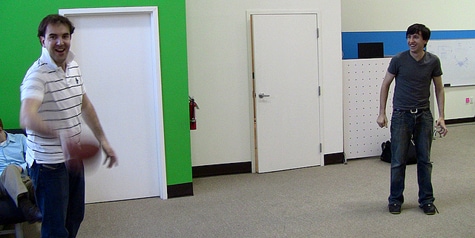 The guys at isocket don't need your fancy amusements to keep spirits high. All they need are a couple plastic or rubber projectiles and a dog or two to hang around the office.
"The lean startup" is a phrase that gets thrown around a lot. What does it really mean?
In the post-dotcom era, "lean" means no chair massages and sushi lunches on the company dime. It means fewer and less lavish company parties or event sponsorships. Extravagance, in the current era, is out. Frugality and long runways are in.
As a small business owner, you're always focused on your bottom line; so what can you learn from the "lean startup" mentality? Well, even when you're pinching the last of your pennies, remember to take care of your employees as much as you can -- from salaries to benefits to culture (see #1). But also, be aware that being penny-wise doesn't mean you're not pound-foolish. Many startup CEOs make less than their employees. And startups also avoid the pitfall of the legacy employee who contributes little but places large demands on company resources.
4. It's OK to Change Your Mind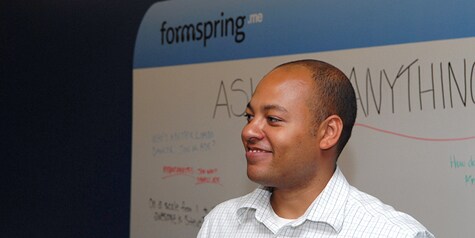 Formspring didn't start as a Q&A app, but this spin-off of the original product has gone viral and a half and is now the company's core focus.
Startups often run into a brick wall when developing a product. They find out too late that the market is too competitive, that they don't have the funding or partnerships they need, or that technology in its current state simply won't allow them to innovate in the way they'd like.
 
Do they shutter and go home? Sometimes. But more frequently, a startup will "pivot" -- that is, it will turn on its heel and make a shift in it its product strategy, target market, business model, or whatever the missing piece of the puzzle might be. If something is broken beyond repair, simply scrap it and start over.
As entrepreneurs, you're often married to your own ideas. You can allow them to become too precious, and you can lose sight of more practical matters: Is it an idea other people like? Is it making money? Is it sustainable? If the answer to any of these questions is "no," don't be afraid to change your business just enough to get it back on track. Pivoting is OK for startups, and it can be OK for you, too.
5. A Small Risk Can Return a Great Reward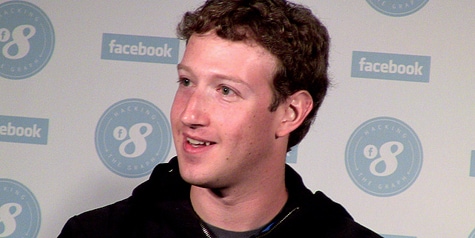 Founding a social network while MySpace still ruled the web took a lot of cojones. But the risk has paid off in spades for Facebook's Mark Zuckerberg and his employees.
Last but most important of all, web startups assume more risk than almost any other kind of small business. Their founders risk their credit, relationships, and years of their lives on something as erratic as the Internet. They do it out of passion, and for some of them, that passion pays off rather quickly. For others, it takes a lot longer.
You may not want or need to take the same kinds of risks a web entrepreneur would, but you should also keep in mind that simply maintaining a less risk-averse outlook can lead to huge benefits for you and your company's growth and success. Certainly, there are times when you'll need security, stability, or a tried-and-true solution. But other times, you might suffer by not taking that small gamble -- for example, implementing an unorthodox suggestion from an employee or choosing an unconventional marketing strategy.
Not every risk will pay off, but ultimately, a long-term, pervasive and absolute aversion to risk can keep your business small and your profits minimal. Keep an open mind, and be on the lookout for serendipity and opportunity.