Even in 2010, managing and maintaining a website can be a daunting and complicated process. Blogging platforms like Tumblr and Posterous are great, but they aren't always the right solutions for small businesses that might need a product page, contact forms and other landing pages associated with a business.
Similarly, popular content management system (CMS) solutions like WordPress, Drupal and ExpressionEngine can sometimes be overkill for businesses that just want the ability to build out a few pages and have an easy way to modify and update those pages.
Fortunately, there is a solution. More and more developers are catering to the "lightweight CMS" market. These alternatives might not have as many options and features as a traditional CMS, but they are built with an emphasis on making webpages easy to create and update. Here are five of our favorite lightweight CMS alternatives for small business users.
1. MojoMotor - $49.95 per site, self-hosted

MojoMotor is the latest product from Ellis Labs, the company behind CodeIgniter and ExpressionEngine. MojoMotor bills itself as "the publishing engine that does less," which makes it perfect for smaller projects. Featuring options like drag-n-drop pages and friendly front-end editing via a WYSIWYG HTML interface, MojoMotor is designed to be easy and fast. WYSIWYG stands for "what you see is what you get," and implies a user interface that allows the user to edit a webpage in a view that is very close to its final form when published. This eliminates the need for users to memorize coding commands.
We really like the front-end friendly design that is accessible for end users (who will be inputting most of the content), but also flexible enough to support rapid customization via HTML and CSS. If your needs outgrow MojoMotor, you can easily import your content into ExpressionEngine, a much heftier publishing platform.
2. CushyCMS - Free, Pro plan is $28 per month, hosted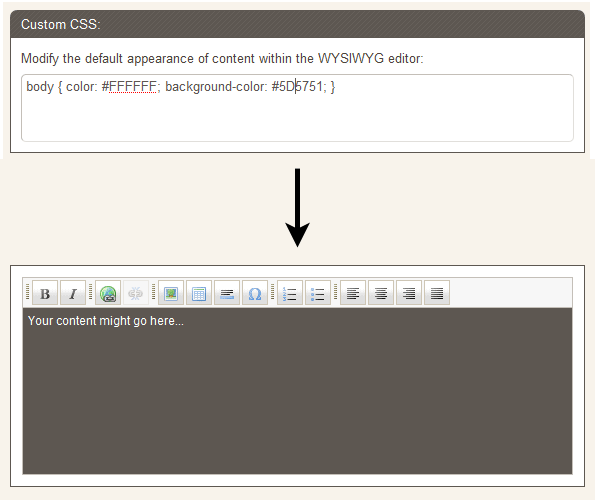 CushyCMS is a hosted CMS, meaning that the content and settings are stored on the CushyCMS servers. Users just tell Cushy CMS their site URL and FTP information, and all the editing and customization takes place on the Cushy servers.
The free account is good for unlimited sites and pages, but the Pro account includes WYSIWYG editing and the ability to brand the CMS any way you want.
3. GetSimple CMS - Free, self-hosted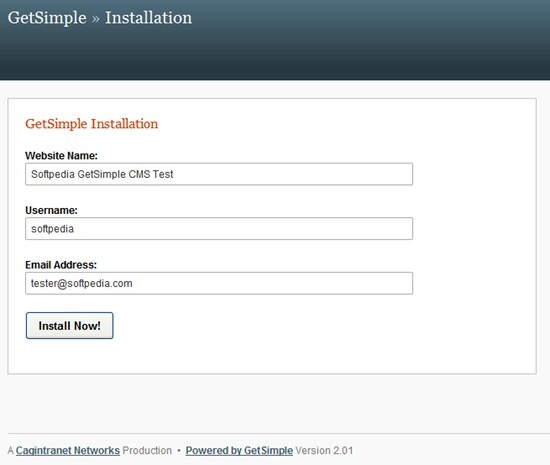 GetSimple CMS is a PHP-based CMS that doesn't need a MySQL database to function. It was designed with the small site market in mind and has an intuitive user interface that makes editing content blocks and adding pages very simple.
GetSimple also supports features like sitemap generation and keyword and tagging suggestions.
4. Simple CMS - Free for one site, $15 per month for each additional site, hosted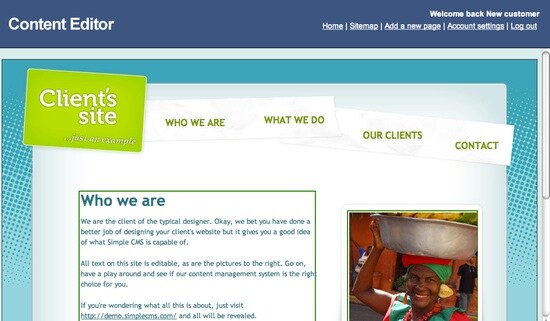 Simple CMS is a really great option for web designers who want to create a site that is easy for their small business clients to update and edit. The designer can designate what portions of the site are editable, making it easy for the owner to make changes or additions.
Like CushyCMS, the backend is hosted on the Simple CMS servers and no downloading or web installation is necessary.
5. Perch - £35 (~$55 USD) per site, self-hosted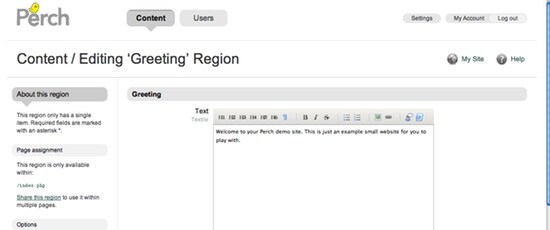 Perch almost feels like a full CMS but it has a much more streamlined user interface, especially for content editors. It's a great choice for designers who want a site that is easy for end users to modify but that doesn't overwhelm users with options.
Perch includes some really great features like image resizing and microformats.
These are five of our favorite lightweight CMS alternatives for small business users. Do you have a favorite that we didn't mention? What do you use to power your small business website? Let us know in the comments below.
Image courtesy of
iStockphoto
,
ricardoinfante