Who doesn't wish they received less email? It's a common problem that lacked an easy, automated solution ... until now.  The problem with many "solutions" out there is that they often take more discipline than any of us have time to implement. Label or categorize your email? Deal with everything once so you can achieve "
Inbox Zero
" nirvana? Most of us can't even remember to fill up gas in our cars until that little empty light comes up.
If you have ever longed for an automatic and low-effort solution to make your daily email experience better and faster, though, the good news is you finally have plenty of great options. In fact, there may even be too many. Over the past month, I've tested dozens of email tools and below are my picks for the top five (all free to try) that can help reinvent your relationship with email instantly. Before you get too excited though, there is one catch: Not every tool works with every email platform, unless you're on Gmail. If you use another platform, check the tool to make sure yours is supported.
Considering that little disclaimer, here are my picks for the five tools you
need
to try right now to optimize your email experience.
1. Sanebox: Instantly separates your urgent and non-urgent emails.
If you want a site that makes an instant impact on your inbox without you needing to do anything, Sanebox has one of the best solutions available. In addition to working across a wide range of email platforms, installing Sanebox is super simple—and it starts to train your email immediately to park your less urgent emails separately from the more important emails that remain in the inbox. Over time the system gets smarter and will probably become your favorite email plugin very quickly.
2. YesWare: The ultimate email app for anyone who uses email for sales.
There's no mistaking what YesWare is built to do—everything about it is optimized for anyone who uses email frequently for sales. If you're a small services-based or B2B business using email primarily to discuss opportunities with leads and trying to close business, this is hands down the best email tool you can use to not only manage that process, but also integrate with your existing CRM platform if you have one.
3. PhilterIt: Visualize your email by brand logos of senders.
This Google Chrome-based sidebar tool adds a visual filter to your emails to let you quickly browse by brand across your inbox. For anyone who has been stuck wasting time looking for that one discount code email from Banana Republic or that flight confirmation from Delta , this is for you. You'll instantly see why adding brand logos as a method of search and organization makes sense and saves a lot of time.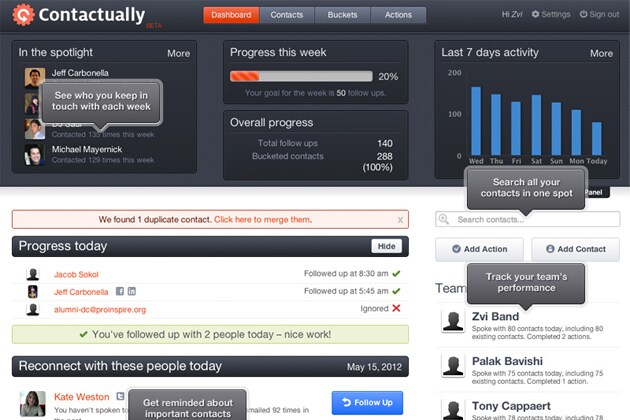 4. Contactually: The most complete email management plugin tool.
Of all the tools featured in this post, Contactually may offer the most complete solution to help anyone manage the people they connect with much better. You can integrate your connections' social platforms, categorize contacts and get reminders to follow up with key people. The site even has a "Bucket Game" to help make it easier and more fun to put your contacts into the relevant bucket.
5. Mailbox: One of the most innovative and most sought after new email apps.
This may be the oddest choice to add to this list of must-have tools for email, because I haven't even had the chance to personally try it yet. This up-and-coming app has generated a ton of buzz over the past month and already has a waiting list of more than 1 million users. You won't be able to use it right now, but if you have an iPhone, download the app and reserve your place in line right now. From all the buzz and the teaser video, it will be worth the wait.
If you've already mastered the mental discipline of clearing your inbox every day, many of these tools might seem like overkill. But for the vast majority of us who fight (and only occasionally win!) our daily battles with email, these five tools might just give you the edge you need to take back control of your email.
Rohit Bhargava
is one of the world's leading voices on creating more human companies and author of the recent best selling book Likeonomics.  After spending the past 10 years leading marketing strategy for some of the largest brands in the world, he recently founded the
Influential Marketing Group
 and has reached "Inbox Zero" exactly three times in the last year (but hopes to at least double that achievement in 2013!).