There are a lot of times and reasons why you might be stuck trying to spitball an exchange rate. Perhaps your small business is expanding into a new international market (congrats!), you're on a business vacation in a new country (fancy!), you're receiving supplies overseas or any other reason.
Currency exchange is a necessity of international business, and it's important to stay in the know when you're on the go. Here are five Web and mobile apps to help you get your exchange on and even a bonus app to get you through some tight spots.
Read on and let us know in the comments your top tips or favorite tools.
1. XE Currency
XE is one of the obvious choices for currency conversion. The finance company has managed to package their website's suite of tools into a cute little mobile package. The app is available on iOS devices, Android, BlackBerry and Windows Phone 7 for free. The simple interface lets users convert through all major currencies or pull from more than 30,000 currency charts for historic rates. The app keeps track of world currencies and precious metals and even works offline by storing the most recent exchange rates.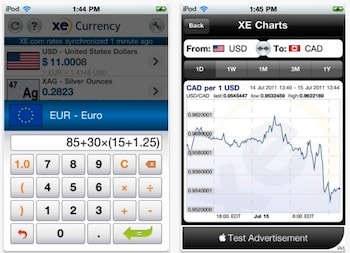 2. Currency
For someone looking for an equally powerful but more streamlined app experience, Currency is a good bet. The app can calculate more than 100 world currencies and works in 17 different languages. Currency is available on iOS, Android and webOS for free and is great if you need to figure out a rate in a pinch.
More of the artsy type? Try Currency Banknotes for iOS which, for $.99, will calculate more than 150 currencies as well as give you visual representations of that cash. While this might seem like a frivolous addition, knowing what money is supposed to look like can help you from getting ripped off. It's also a nice feature for people who wonder what $5 looks like in Taiwan. Currency Banknotes also has pictures of rare and hard-to-find banknotes if you're curious while on the go.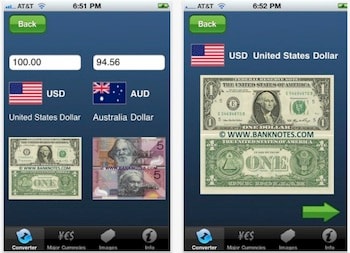 4. Oanda
Oanda, much like XE, is a full-fledged finance company perfect for high-powered users. The app, available for free on iOS, Android, BlackBerry, Windows Phone 7, Playbook and on the Web, will convert more than 180 currencies and four metals. The app also displays buy and sell rates for currencies, and even lets you use an Interbank rate or choose percentage add-on to figure out how much your bank or credit card company is actually charging you.
Lest that sound like too much, the app also stores your previous searches so you can quickly access frequently-used currencies. You can also search through obsolete currencies for when you're curious or stuck during a pub quiz.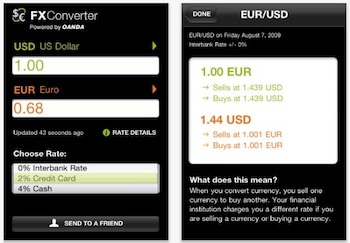 5. Google
Yes, Google can still be your simplest option. Simply searching for "currency converter" will land you on Google's in-house tool. It's not the prettiest or most fully functional app on this list, but it gets the job done when you need some info fast and can't find your phone.

Bonus: Tipping Tips
Figuring out the exchange rate is only half the battle. You also have to figure out how much to tip the people around you. This is especially important when you are traveling on business and don't want to look silly in front of potential clients or partners. How much do you tip a concierge in the UK? The cleaning staff in the Caribbean? A waitress in Japan? Just ask Tipping Tips, available for $0.99 for iOS devices. The app works in six different languages and provides detailed, searchable tips for 108 regions across the globe. The built-in calculator lets you divide bills into separate parts or even determine tips based on a star rating system of how good you thought your service was.