As a business owner, you're expected to keep up with trends and effectively run your business. But sometimes, it seems like there just aren't enough hours in the day.
I recently opened my Google Reader to find that I had more than 1,000 unread posts from the blogs and sites that I had subscribed to. We're all bombarded by online content from of millions of blogs, online news sites, Twitter, Facebook and other social networks.
In the early days, information was exchanged at the water cooler or through the telephone. Ever since the Internet went mainstream, we've been discovering content by searching for it or having it delivered by e-mail. Sometimes friends would send out a mass e-mail to share an interesting article—it clogged your inbox and sometimes spread viruses. Even though we have a multitude of tools like RSS readers, social bookmarking and link recommendations on social networks, it is still difficult to filter the useful content from the cacophony of content being produced all day long.
To solve the problem of overwhelming amounts of information, we need content curation. Content can be curated by tools that choose the most suitable articles for you. These tools can tell you news of interest to you, but they can also tell you what your friends are reading. Here is a list of tools that can help you cut through the clutter and curate content that's valuable to you.
1. Google News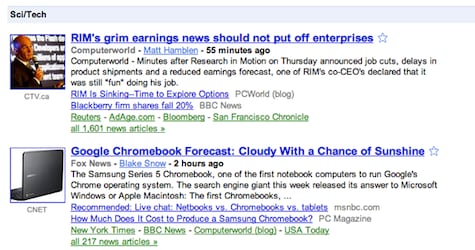 This is a great tool to get news that interests you. Some ways to use Google News:
You can go to google.com/news and click on the "Add a Section" link on the top right to choose keywords you are interested in. For example, I added "Social Media and Small Business" to my Google News profile.
If you want to get news from a particular author or journalist enter [Author:"authors name here"] into the search box. I tried author:"lauren drell" to find all articles written by Lauren.
2. Summify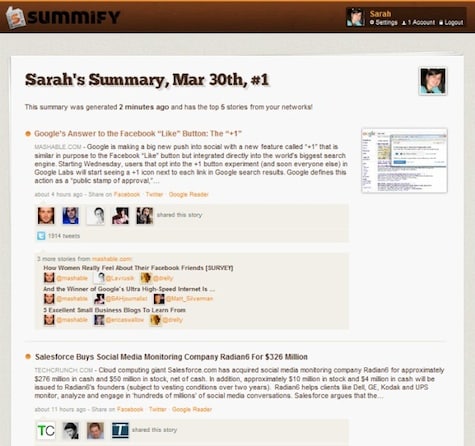 When you signup for an account with Summify, you have the option of adding your Twitter, Facebook and Google Reader accounts to receive a e-mail digest of the top five stories that have been shared in your social network. The e-mail also gives you information on network sharing, comments and engagement.
3. Paper.li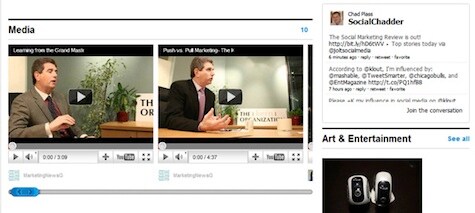 Paper.li lets you use the links shared by people on Twitter and Facebook to publish your own "daily newspaper." You can add the content from any of five sources:
Links from your Twitter feed or your followers
Links from a single Twitter follower
Links from your Twitter lists or lists created by other users
4. News.me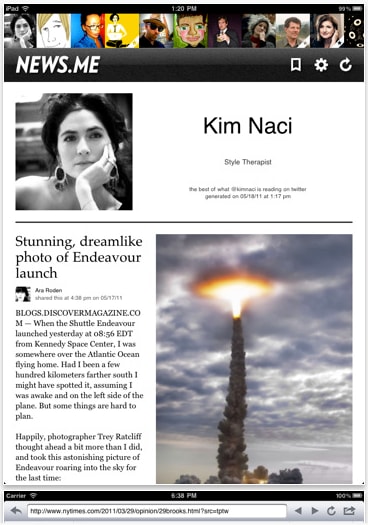 News.me is available as a paid iPad app or as a free daily e-mail and it uses your Twitter account to determine which news articles and which people you are most likely to find interesting. I have chosen to get a daily e-mail—the email's subject line includes the names of the authors. Another nifty feature is the ability to import your Twitter favorite links into your daily e-mail. If you do not want your network to know what you are reading, you can check the box next to "Don't share any of the news stories I read within News.me with my friends."
5. XYDO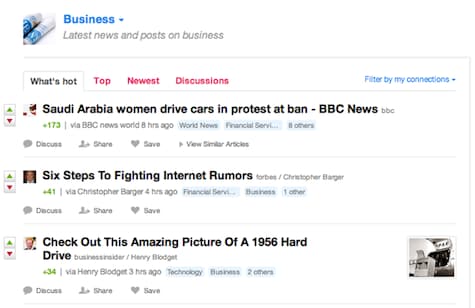 XYDO distributes socially endorsed news from your network via e-mail once a day. You can also log in to your dashboard at XYDO and see the news that your networks have found interesting.
Conclusion
Other tools like Instapaper provide a way to save pages to read later -- currently, there's an iPad app and a daily email. I use all five of the tools I listed above, and I pay attention more attention to Google News than the others.
Image credit: urbancow