Many small business owners have considered offering a group deal, but only 10 percent have run one, according to recent research from MerchantCircle. And while the results have been promising for these early adopters—77 percent say they would run another one—group deals don't work for everyone. Among the people who said they wouldn't offer another deal, 42 percent said it was not effective in customer acquisition, and 24 percent said they lost money.
It is critical that entrepreneurs do their homework before embarking on a group deal to make sure they're positioned for success. Here are five tips to help you get the best results:
1. Shop around
Groupon and LivingSocial may be the most well-known services, but there are now a wide range to choose from. Yelp, Facebook and Google have all tossed their hat in the ring, as have a number of daily newspapers and newsletter services.
While all can get your business in front of consumers who've expressed an interest in daily deals, these services "can vary widely when it comes to terms and conditions," says Brent Harrison of marketing consulting firm SmokeJumper Strategy, who has tested out more than a half dozen group deals services for his Mountain View, CA, wine bar and shop Savvy Cellar.
Harrison notes that "with Groupon you'll get the biggest volume, but also the least attractive economics and control. Groupon typically wants a higher share of the deal price, and they also spread out payments to the merchant over a period of months."
Another issue related to volume is audience targeting. "With a high-volume provider, you're essentially deep-sea fishing with a driftnet: You want the valuable salmon, but you're going to get all sorts of less attractive life forms while you're at it," adds Harrison. While high-volume services may be a good fit for larger, more established businesses, he suggests that new or niche businesses test out a few smaller, more targeted services to see which one brings in the right clientele.
The good news is that there are many vertical and niche deals sites to choose from. There's Daily Gourmet for foodies. There's Yuupon and TripAlertz for travel. There's even a deal site for dog owners: Doggyloot. There are also business-to-business deal sites, like RapidBuyr.
2. Put time constraints on your deal to manage demand
With most group deal services, you won't have much control over the timing of when your deal hits—this can make it difficult to service the increased demand and could lead to bad reviews from new and existing customers.
"People who redeem your offer are likely to follow your usual traffic patterns and come in when you're already at peak capacity," notes Harrison. "At Savvy Cellar, I'm typically looking to fill in the downtime such as Tuesday evening, but without constraints on my deal, I know that most people will come in Friday or Saturday night, which could put a strain on my operations."
Harrison recommends putting time constraints on your deal when possible. "Think about making your offer valid Monday through Thursday, or running a special event on a specific day with a limited number of spaces available," he suggests. You can also set up your deal so that the value of the discount is greater on your slowest days or during off-peak times. If your business has significant seasonality, try running deals during your slowest months.
Some group deals services are beginning to give merchants more flexibility and control over when volume comes in, so it's something to ask about when choosing a vendor. Groupon recently launched Groupon Now, which lets you put out more modest deals around a certain item or timeframe.
3. Understand the costs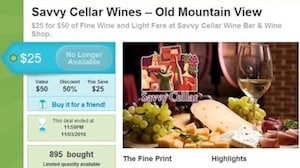 In many cases, group deals don't result in an immediate profit and may even result in a net cost to the business. Make sure you've done the math ahead of time to minimize costly surprises.
Here's the basic formula: Your group deal needs to be offered at a steep discount to the regular price—let's say somewhere around 50 percent. You then need to share revenue from the deal with your service provider, at rates as high as 50 percent or more.
So if your spa is offering a $200 service for $100, and you have to pay $50 of that to your service provider, you'll end up with $50 for your $200 service. If it costs you more than $50 to provide the service, you'll lose money on the deal. The better the deal does, the more it will cost you.
But there are other ways to benefit from a group deal besides an immediate profit. A successful group deal brings new customers in the door and gives them a taste of your business. There are up-sell opportunities once they're in your shop. Plus, your company's name gets in front of thousands of local consumers through the service providers' marketing.
4. Make the most of the first customer visit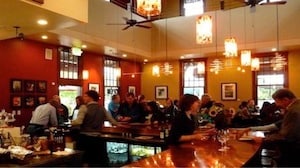 According to recent Rice University study, less than 20 percent of users return again to make a full-price purchase. In order to improve these odds, it is essential to make the most of each new customer visit.
This means that in addition to making sure you have enough capacity to serve both new and existing patrons, you should also think about developing special up-sells for people who redeem your coupon. A dentist could offer new customers $5 off a Sonicare toothbrush at the end of their appointment, or a yoga studio could offer a discount for new patrons who book a series of sessions before leaving the studio.
Make sure to capture people's information when they redeem their coupon so you can continue to stay in touch with them. Have a sign-up sheet at the check-out counter for people to register for your e-mail newsletter, encourage people to "check in" at your establishment on Facebook Places or Foursquare, and let them know how to follow you on Facebook or Twitter.
5. Measure ROI
If you don't make an immediate profit on your deal, how can you determine if it was a success and thus worth doing again? David Rangel, former head of Merchant Services at Groupon and founder of gourmet food e-commerce and deal site Daily Gourmet, recommends that you build these basic considerations into your ROI calculation:
How many buyers are new customers? While it may be easier for some businesses, like dentists or spas, to identify new customers than others, try to figure out which people redeeming your coupon are visiting you for the first time—it may be as simple as asking this question each time the coupon is presented.
How many new customers came back, and how much did they spend? Rangel recommends capturing information on each new customer in a database if possible and tracking their ongoing patronage and spending over time.
How much money was spent above the voucher amount? Rice University found that 36 percent of deals customers spend more than the voucher value when visiting a merchant. Rangel suggests that you structure your deals to encourage this additional spend—a restaurant whose average bill is $50 could issue vouchers with a value of $35 to $40.
How many coupons or vouchers were not redeemed? Not everyone who pays for your deal will end up redeeming it—the Rice study found that average coupon "breakage" is about 22 percent. Depending on the laws of the state and how your service provider structures the deal, you may be able to keep this money without ever delivering goods or services.
Have you offered a group deal? What was your experience? Share your thoughts in the comments below.