Women small-business owners today have a big opportunity to help grow their business: winning federal government contracts. The Small Business Administration announced in March 2016 that, for the first time, in fiscal year 2015 the federal government met the 5 percent government-wide prime contracting goal for federal contracts with women-owned small businesses (WOSBs), defined as those that are at least 51 percent controlled by women.
So what does this mean for WOSBs?
According to government website USASpending.gov, the government purchased more than $430 billion in goods and services from the private sector in 2015—so the opportunities for WOSBs to grow within the federal government sector are huge right now. If you're a woman small-business owner who's interested in doing business with the government, here are five tips to help you capture some of these contracts.
1. Make sure your business is fully registered.
All federal government vendors must register in SAM (System for Award Management) in order to do business with the federal government. There is a second portion to this registration called the SBA Profile Page, or the Dynamic Small Business Search (DSBS). This section is at the end of your SAM registration and is highly overlooked by many small businesses. It's important for you to complete your DSBS profile, because this is the database utilized by federal procurement buyers when they are seeking small businesses and WOSBs. A complete and thorough profile will get you the exposure you need to stand out of the crowd.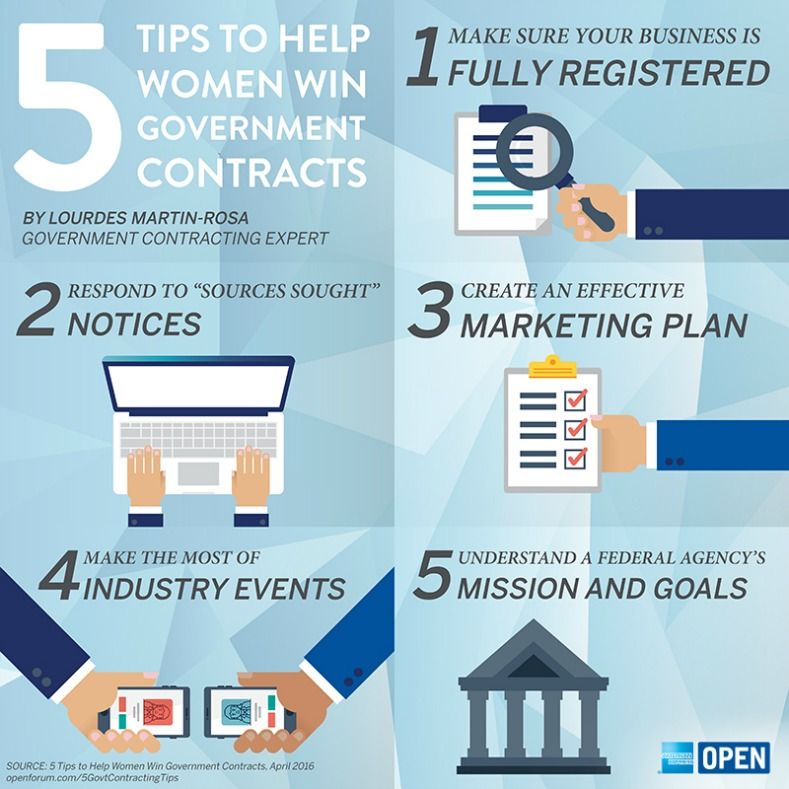 Make sure you complete your SBA General Log-in self certification and ensure all of your supporting documents are uploaded within this system. (The WOSB program is a self-certification program, therefore the SBA created a repository to collect WOSBs' profiles.) If you respond to a WOSB or an Economically Disadvantaged Woman-Owned Small Business (EDWOSB) set-aside contract (contracts specifically designated for WOSBs/EDWOSBs) you must allow access to the federal contracting officer, within the SBA General Login System, to view your profile. This is the only small business set-aside program that has to go through this extra step. Many WOSBs have forgotten this extra step, and after weeks of completing a proposal they find they are disqualified because of it.
2. Respond to "sources sought" notices.
Register to receive automatic bid notifications from FBO.gov, the government's Federal Business Opportunities public information website where small-business events and all government contracts over $25,000 are posted. Once you register within FBO, it picks up your DSBS profile and automatically populates the information into this system. Create a user name and password and request to receive email notifications of activity and upcoming contract opportunities within your NAICs (North American Industry Classification codes, product and service codes which all businesses registered to do business with the federal government are classified by.) This will help you find not only contract opportunities but "sources sought" notices. These notices are the first stage of a proposed contract, where a federal agency is performing market research to determine if there are qualified small businesses to perform the requirements they are seeking. It's important to respond to these sources sought notices because if two or more qualified WOSBs respond, the federal agent may set it aside as a WOSB solicitation.
3. Create an effective marketing plan based on a procurement forecast.
Every federal agency has a procurement forecast posted on their website. This is a proposed wish list of purchases pertaining to the agencies' contractual needs and/or requirements. The procurement forecast allows you to search for upcoming federal government buys, which can help you prepare prior to the proposal stage of the contract. Once the contract is posted in FBO as a solicitation, the federal official can no longer speak about it without acknowledging to the public any comments or questions that have been shared with other possible vendors. The procurement forecast allows you to speak with the procurement officials about the contract, because it isn't posted yet.
It's easy to develop a marketing plan if you know what they want to buy, how they want to buy it, who's going to buy it and when it may be purchased. There are over 60 federal agencies, so narrow down your search to no more than five and create an effective marketing plan.
4. Make the most of industry events.
Government contracting events can be a great place to network and make connections for doing business with the federal government. Since 2008, Women Impacting Public Policy (WIPP) and American Express OPEN have provided resources and connections to help women-owned small businesses work with the government.
American Express OPEN hosts government contracting events that provide a wealth of knowledge, tools and resources to small businesses wanting to explore growth opportunities with our federal government. 
ChallengeHER, for example, a joint effort of the SBA, Women Impacting Public Policy (WIPP) and American Express OPEN, offers education to women looking to win federal contracts through workshops, mentoring and offering direct access to government buyers. Now entering its fourth year, ChallengeHER has educated more than 5,400 women entrepreneurs at 39 workshops across the country and facilitated more than 1,900 meetings between women small-business owners and government officials. 
5. Understand a federal agency's missions and goals.
This will help you develop a stronger strategic approach to winning a contract. Too many times, I've witnessed a small business that is so eager to get that appointment, they forget to review and study the agency's missions. This should also be considered when writing proposals and responding to sources sought notices.
I've been a federal contractor for over 15 years and I've also had the privilege of speaking with thousands of small businesses across the U.S. as a government contracting expert. One of the biggest mistakes small businesses make is not having the confidence and persistence to win federal government work. While it's not easy, it is possible. Information is key and the federal government contracting sector provides many tools and resources for you to succeed, but it's up to you to capture it.
For more information on government contracting, visit openforum.com/governmentcontracts.
Photo: Amanda Friedman