Many small-business owners feel stretched by growth—and if they don't, they'd like to be. At a recent American Express OPEN panel in New York City, business owners learned how to handle growth-related challenges and opportunities—and how to get to the next level of success. The panel, which focused on moments in entrepreneurs' lives when things went disastrously wrong or amazingly right, was moderated by MSNBC's Your Business host JJ Ramberg and took place at STORY, owned by entrepreneur Rachel Shechtman.
In her introduction to the panel discussion with the three business owners, American Express OPEN president Denise Pickett said that a higher percentage of entrepreneurs are planning for growth than ever before, and these entrepreneurs have two big questions in mind: "Where do I get ideas?" and "How do I fund growth?" In these five tips shared by panelists, you'll find answers that can help you face the sometimes overwhelming challenges that come along with growing your business.
1. Forecast Your Numbers
When Hella Bitters, which specializes in making small-batch cocktail bitters—flavor infusions created from a concentrate of herbs and spices with spirits—signed up for a major New York food show in 2013, the company was prepared for orders of about 15,000 units, said co-founder Jomaree Pinkard. When demand ended up being closer to 50,000 units, they quickly had to triple production, and Pinkard's previous experience analyzing financial statements as a business consultant was crucial during that growth moment. "I could see the story by forecasting the numbers," he said, citing his early research of bulk price ranges for glass bottles, spices and other supplies. "While we didn't exactly plan for 50,000 orders, we hoped it would happen. Now we're doing the same thing for hundreds of thousands of orders."
2. Hire as Early as You Can
When Shareablee, a social media analytics startup that provides marketing data to companies and publications, took off faster than expected after its 2012 founding, it became clear to CEO and founder Tania Yuki that she had to invest in staff well ahead of the growth she was seeing. To ensure that the company was on its game, she needed to spend money to hire and train people before she desperately needed them. "Hire people with solid experience as soon as you can, probably earlier than you think you can afford to," she said. "It's scary, because you might pay them more than you pay yourself, but it's a transformational decision and 100 percent worth it."
Watch more about the event to learn additional tips from the panel's experts.
3. Say No When You Need To
Honor the "power of no," said Leo Kremer, whose first Dos Toros Taqueria location more than doubled its volume overnight in 2009 after a positive restaurant review ran in The New York Times. "With our guests, we always say yes. If they want their burrito heated up and crispy, or they want extra cheese, it's yes. But with our company, we default to no. We're often approached by tech companies offering new ordering platforms, but unless it's related to the core of what we're about—great simple food for our guests—we try to say no."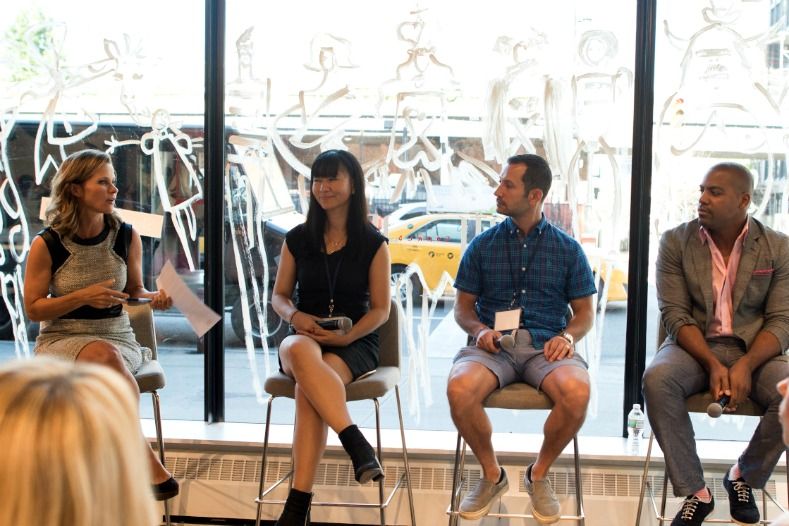 Host JJ Ramberg with panelists Tania Yuki, Leo Kremer and Jomaree Pinkard
Yuki cited the challenge of saying no, especially when new opportunities could mean new revenue. She finds the right direction by asking, "'Is this going to stretch us in a way that's scalable? If we do this for one client, can I offer it to all my clients, or is this a one-off thing?' You have to be super disciplined, or before you know it, you're providing too many custom services that can smother your business. We're way more likely to die of indigestion than starvation."
4. Let Your Employees Do Their Jobs
Develop buy-in from employees or interns by letting them figure out their own story at the company, said Pinkard. "We let everyone do a bit of everything. 'Do you want to manufacture? Ship boxes of bitters? Call a customer to follow up on order? Then do it,'" he tells new hires, and then urges them toward particular strengths.
Yuki agreed, warning against being a controlling bottleneck that can hold the business back. "You have to let little bad things happen," she said. "It hurts to let that happen, but you have to go through it. Your business can't rely on your personal ability to make things work. Knowing what to keep touching and what to let go of is a constant push-pull."
5. Explore a Range of Paths to Funding
Dos Toros self-funded its first taqueria by bootstrapping, and for its next two locations, the company brought on a small group of investors. From there, they funded growth with an SBA [Small Business Administration] loan facilitated by a local bank. "There are more lenders out there than you realize," said Kremer. "While a big bank might automatically say no, there could be a small bank that knows your community, and maybe even your business, and wants to fund it." With plenty of paperwork that took more nine months to complete, getting the SBA loan with 10-year terms at a low rate wasn't easy, he added, but the financial discipline it forced was ultimately good for the business. 
To create her minimum viable product, Yuki put Shareablee's startup expenses on credit cards. Beyond that, she designated milestones the company had to reach for its next stages of funding. "For our first venture capital round, I wanted 20 paying customers in different verticals, because that would mean we were onto something and retaining customers," she said. With that round of investment, she was able to hire a sales team that continues to grow the company across those verticals.
Hella Bitters' early growth was funded through "lines of credit and lines of credit," said Pinkard. "It's an amazing way not to part with equity." Though now more reliant on cash flow, he remembers feelings of risk and motivation in taking on personal debt in addition to company debt. "It's all about uncertainty," he said, "so you better know who you are as a person. A lot of your experiences in life train you for these moments. Do you see uncertainty as a positive opportunity? That's how I see the world, and I think we all do to some extent."
Find more stories and resources on helping your business grow.
Photos: Tim Gibson