For most consumer products companies, landing a coveted space on store shelves is the ultimate. MAGICDATES founder Diana Jarrar had quite a bit of luck early on. Just months after launching her line of date-based snacks in 2017, she was selling in juice bars, yoga studios, coffee shops, specialty markets, and eventually national supermarket chains—thanks to a grassroots push, mostly knocking on proverbial doors. In those first couple of years, about 80 percent of sales were coming in-person, with just 20 percent online.
While Jarrar was thrilled with the early response to MAGICDATES, she began to rethink that split. For starters, brick-and-mortar retail takes a lot of time, resources, and money. "We always say in the industry, it's hard getting on the shelves and even harder staying on the shelves," she says. Jarrar, who was raised in Damascus, Syria, and eventually immigrated to Los Angeles, also realized that you can only say so much on the side of a package. Developing a robust online presence allows you to tell your brand's story in 360 fashion.
You want to make sure you have your voice and values on point, because you're competing with so many more voices online.
—Diana Jarrar, founder, MAGICDATES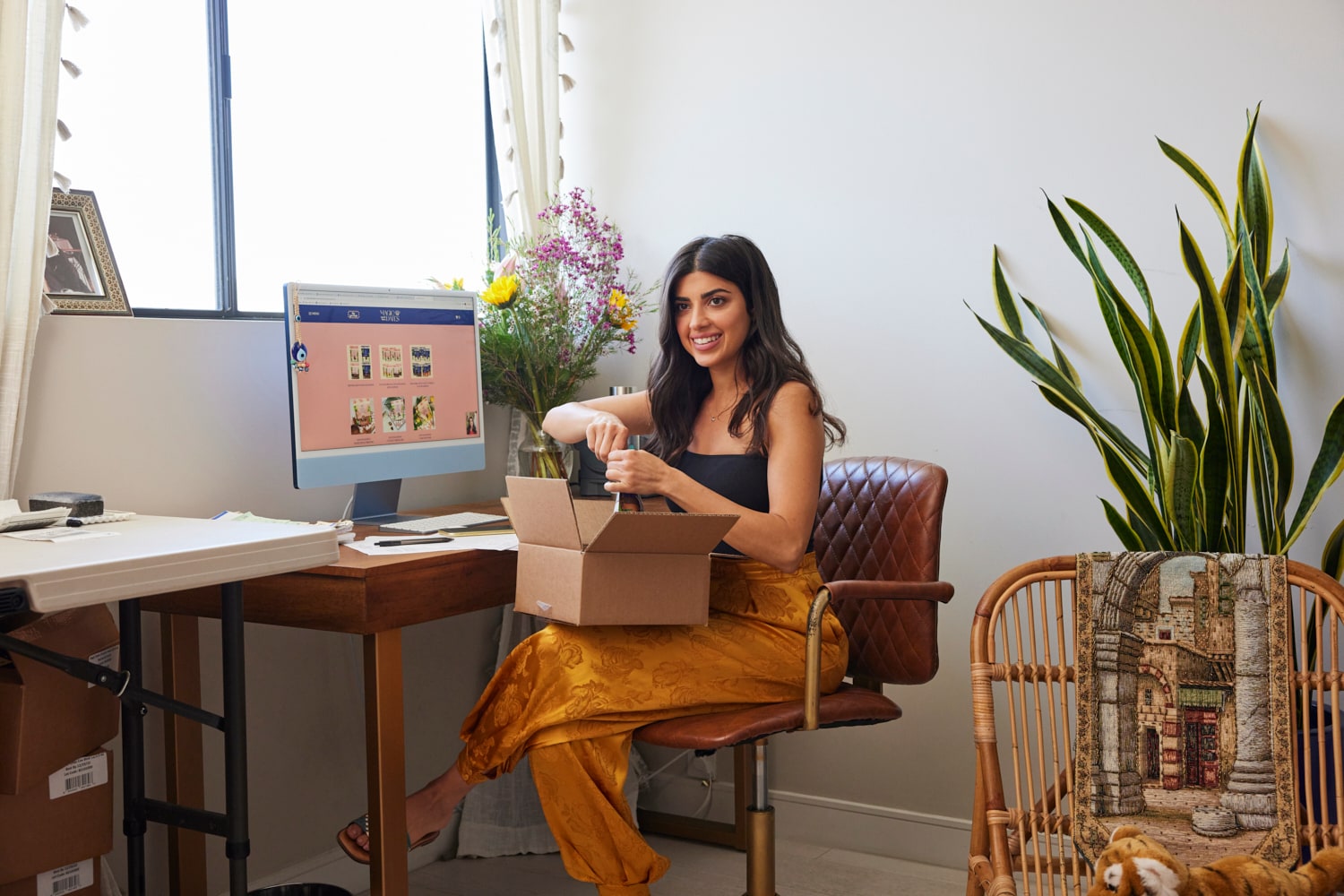 Diana Jarrar, founder of MAGICDATES
Jarrar may have been leaning toward the digital direction already, but the pandemic turned her hand. In January 2020, MAGICDATES launched its new chocolate offering with another national retailer, in a big way—240 stores in 40 states. "We all know what happened next," Jarrar laments.
With physical stores shut down and consumers doubling down on online shopping, MAGICDATES' push became "urgent." So Jarrar began learning what she didn't know about e-commerce and the results have paid off: Today, about 60 percent of the company's sales are online, with 40 percent in-store.
With more and more businesses looking to boost their own online sales—regardless of industry—I asked Jarrar for her top tips to driving clicks.
1. Know your story.
"We decided to rebrand before making our online push. Our original branding didn't communicate our origin story, which is rooted in my background, growing up eating dates. You want to make sure you have your voice and values on point, because you're competing with so many more voices online."
2. Understand the digital space.
"Most people just think, 'Oh, buy some social media ads.' But there's so much more to it. Even if you hire someone, you want to learn the fundamentals yourself. I took the time to teach myself the social media machine—I actually took a course for a few months—and I realized it was something I didn't want to manage myself. I wanted a professional who had been doing this for years. But now I can have an educated conversation with them about what's working and not. If you're not informed, it's easy to burn through a lot of money."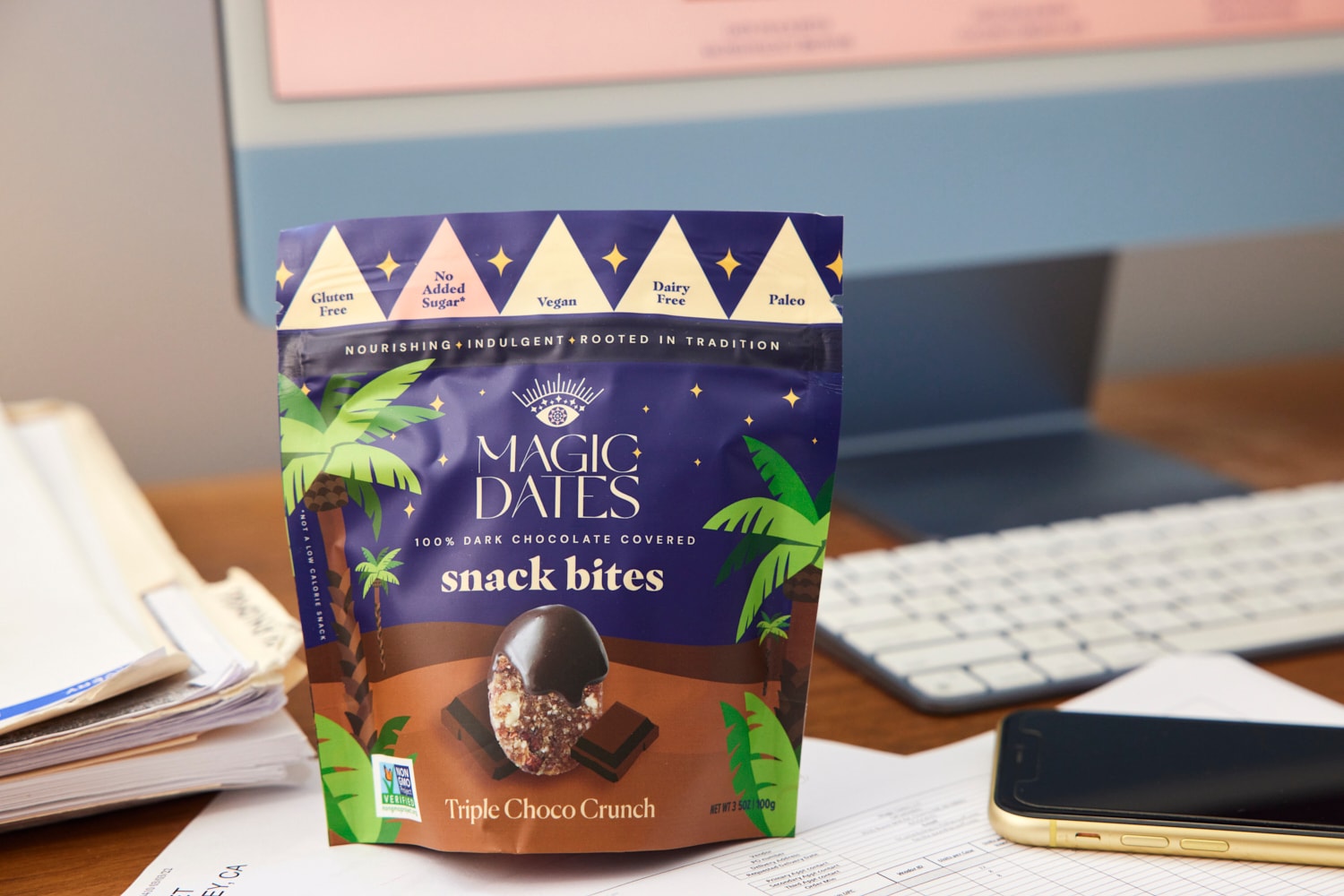 Taking a multidimensional approach to marketing helps Jarrar understand what MAGICDATES customers want.
3. Take a holistic approach.
"There's not one tool or website that's going to get you where you want to go. You want to take a multidimensional approach. That includes Facebook, Amazon, TikTok, email marketing, and beyond. And it doesn't necessarily mean you just throw a bunch of money at these platforms, but they play into one another. There are multiple touchpoints that a customer has with your brand. When someone is first exposed to MAGICDATES, they may see an ad on Instagram and then look it up on Amazon. They may not go to your website. They may go to another retailer because of the validation they bring. And once they get into your ecosystem, you need to nurture them there. That's where something like email marketing can come in."
4. Find out what works and keep it fresh.
"You want to be analytical about the creative that you're using. That's ultimately what's driving the traffic. What are you using? What's working? What's not? Social media platforms have all these metrics that tell you if ads are working or not—customer acquisition cost, etc. And just because you're trying to be creative, doesn't mean you need to overdo it. You don't need to overspend on the creative, you just need to see what's working and create different variations. For us, showing how MAGICDATES can be used in recipes has worked great. So we've created multiple versions of that."
5. Know who your audience is—and where they're at.
"People are on different platforms, obviously. You want to know who your customer is and where they're spending their time. It's important to also test other audiences. With MAGICDATES, even if we know the profile of our audience, I'm curious about whether we'd also appeal to younger Gen Z audiences, so we might experiment with TikTok. That's where testing comes in, iterating, creating variations. It all comes down to who you're advertising to and where. Because ad principles don't change. You can read a classic advertising book from the '50s and the principles still apply. Because advertising is all about human psychology and behavior. That hasn't changed—just the tools have."
Diana's story is part of a series called An American Experience. Read more about her story or how she pivoted her marketing approach to meet her customers' expectations.
Photo: Amanda Friedman