You don't have to be tied to your desktop to check up on your website's vital statistics -- there are a wealth of great iPhone apps that will help you do it on the go.
Whether you could be called on at any time for an update, are a one-man-band wanting an at-a-glance stat attack, or need a portable way to present the latest figures to partners, customers or clients, these apps should assist you.
Have a read below for five solutions to keep you in the loop away from your office.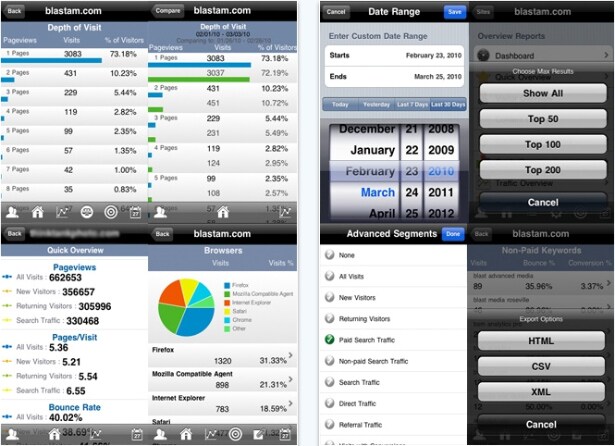 BAM Analytics Pro from Blast Advanced Media (a Google Analytics Authorized Consultant) is a quick, easy and affordable solution for anyone who wants to view their Google Analytics information on their iPhone. Using the app, you can create up to 65 different reports that can be exported via CSV, XML and e-mail with options to receive 50, 100, 200 or "all" results. This is notable as rival apps only offer the top 100.
Comparison functionality is also strong with the ability to compare advanced segments and date ranges on the go and gain insight from those stats.
Cost: $1.99
2. Ego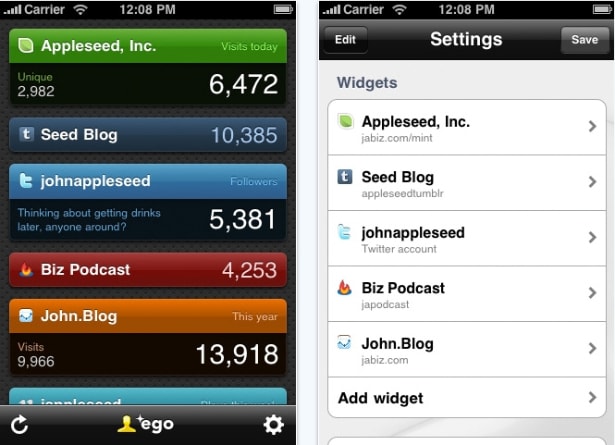 Perfectly suited for smaller businesses that are interested in a wider range of less in-depth stats, Ego is a one-stop shop for all your vital figures from Ember, Feedburner, Google Analytics, Mint, Squarespace, Tumblr, Twitter and Vimeo. If you're looking for a quick and easy way to view your company's Twitter followers count, feed subscription totals or visits to a certain site, then Ego offers a good-looking way to do so on the go.
Cost: $1.99
Want more tips on apps? Check these stories out:
3. SimpleSense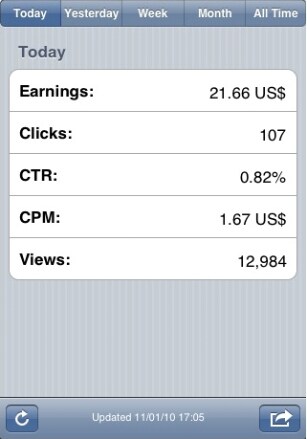 If you're signed up to Google's AdSense for Content program, then this free app is a must-have. The app connects to your Google AdSense account and shows you all the major stats wherever you might be. With this free app, you can view your AdSense for Content earnings from yesterday, the past seven days, the past month, and the current payment quickly and easily.
Cost: Free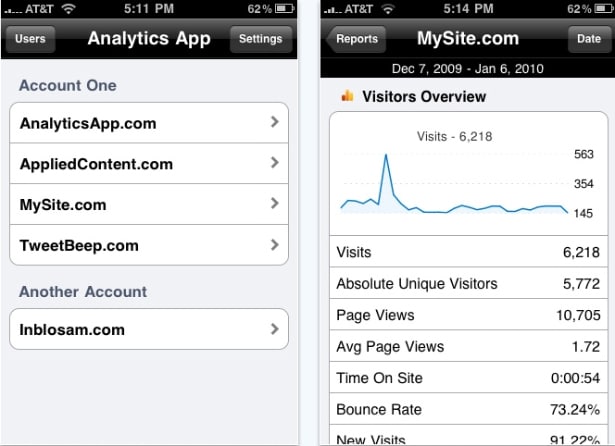 Here's another app that brings Google Analytics info to the palm of your hand. The Analytics App claims to offer a better experience than checking on your computer, with handy overview reports giving you the info you need at one glance and a today report to keep you up to date. Delving in deeper, you can generate up to 55 reports with custom time ranges and view integrated charts for many metrics -- all on a clean and tidy interface.
Cost: $1.99
5. ABuzz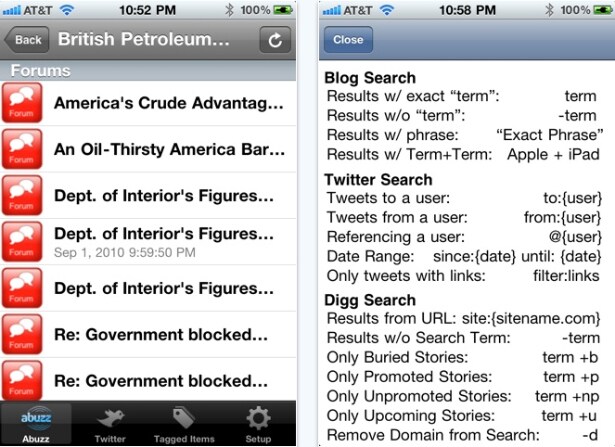 Although hits, clicks and conversions are popular ways of measuring a website's success, they are certainly not the only ones. The other, less measurable (although in some ways just as important) method is through reputation.
Are you tuned into just exactly what's being said about your brand online? While you may have alerts and searches bookmarked on your main computer, accessing that info while out and about might not be so easy. The ABuzz iPhone app will search Digg, Twitter, Buzz, public parts of Facebook, blogs and forums for mentions of multiple keywords and phrases of your choosing to help you monitor and manage your company's public image when away from the office.
Cost: $4.99
Which features do you look for in analytics apps for business?
Let us know in the comments which iPhone apps you've previously used to track your website's success story.