Small-business owners remain focused on growth, with as much as 79 percent saying it's a top priority, according to a recent American Express OPEN® Small Business Growth Pulse survey of 1,001 small-business owners of companies with annual revenues of more than $250,000.
How are they planning to grow? Here are a few key examples.
1. They are investing personal capital.
Marketing veteran Adam Greenbaum founded Denver-based Greenbaum Digital, a digital marketing firm, in July 2015 and has seen tremendous growth. (Greenbaum, along with the other business owners interviewed for this article, did not participate in the survey.) He employs five freelancers and is bringing in one or two new clients per month. And even though his company is service-based, it took sizable upfront investment to get off the ground.
"The company has been funded by me so far," he says. "I didn't take a salary for the first few months and lived on my savings. I probably invested $7,500 to $10,000 of my own money."
Greenbaum isn't alone. More than two-thirds (68 percent) of small-business owners surveyed have invested personal savings to help grow their businesses—72 percent of men and 62 percent of women.
Candice Galek falls into the latter category, having launched Bikini Luxe, an online swimwear retailer, in 2014 with her own money. She says the business took most of her savings to get started and she paid herself very little to keep it afloat in the early days. "Even now," she says, "it pains me to remove money from the company when I know it could be growing faster."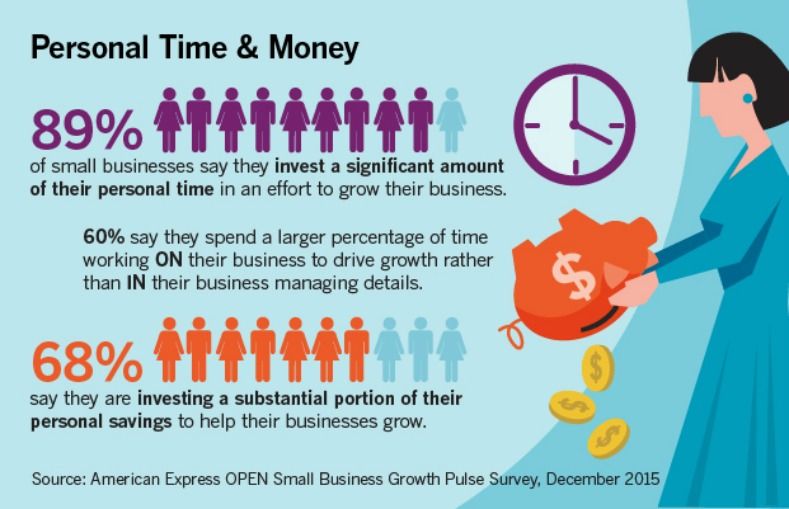 2. They're spending their time on high-level duties.
About 60 percent of entrepreneurs surveyed reported spending their time "on" their businesses rather than "in" their businesses on day-to-day tasks. In Milwaukee, Jon Kline can relate to this statistic. He is the owner of MKE Production Rental, a video equipment rental company in the city's Historic Third Ward.
"I try to be a high-level guy who thinks about things like marketing, revenues, payroll, hiring and business development," he says. "My employees handle more than 90 percent of customer interactions without me getting involved."
3. They're planning to hire in the next six months.
MKE Production Rental started off in 2013 as what Kline likes to call a "side hustle" to his day job as a cinematographer. "I thought I'd be working five, maybe 10 hours per week and getting a few calls every now and then," he says. "But it turned out to be a few calls a day, even in our first month, and I soon had to hire an employee."
Kline now employs two full-timers and a few contractors, but plans to bring on another full-time employee in the next few months. His plan is in line with the 59 percent of respondents to the American Express OPEN survey who said they also wanted to add staff in the near term.
Even so, hiring isn't for the faint of heart, says Kline. "It is really nerve-wracking. If I went into a big business and said we are going to hire 25 percent more people, that would be a huge deal, but that is what I'm planning to do with just one person," he says. "I want someone who wants to work at my company, not just someone who wants to work."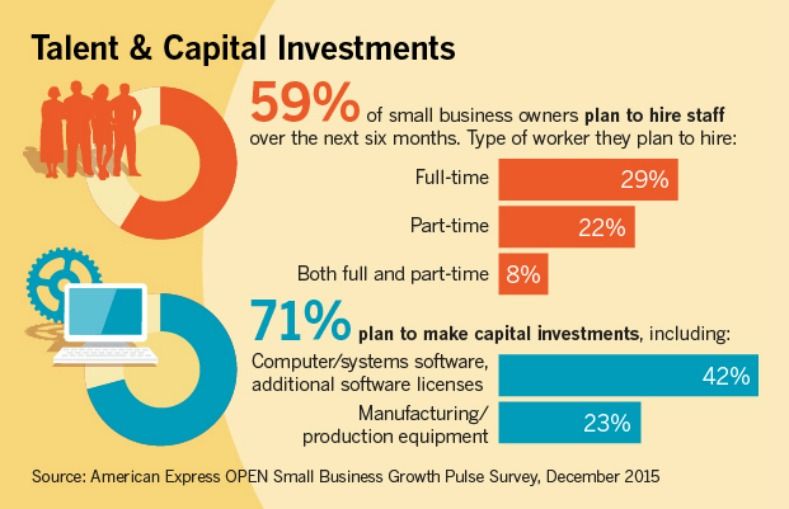 4. They are making capital investments.
According to the survey, 71 percent of small-business owners will make capital investments to help their businesses grow this year. Bikini Luxe's Galek recently did just that. She runs her business out of a warehouse in Miami and just finished investing in lighting and camera equipment for an in-house photo studio. "It helps keep us up to date with shoots of different products," she says.
5. They worry about economic uncertainty.
Galek says she worries about the economy almost daily. This concern is on par with survey respondents who said it was their single greatest challenge—24 percent say uncertain economic conditions present the biggest challenge they face in growing their businesses. Economic uncertainty was seen as the biggest challenge to growth by 17 percent when asked in August 2015.
For Galek, sales one day could be through the roof and the next day only a few orders might come in. "There isn't a lot of rhyme or reason to the highs and lows," she says. "Sometimes it is because some of our vendors are having a big sale and you just have to keep up with it."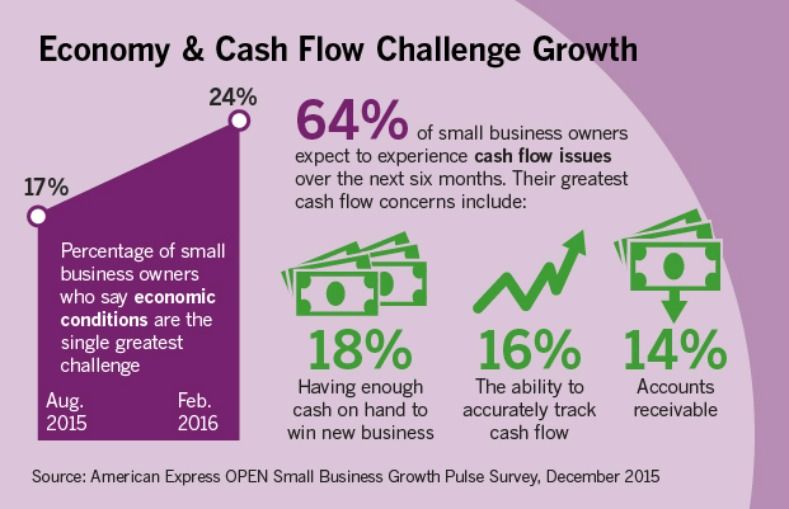 Kline of MKE Production Rental says his confidence in the economy is thin. Things with his business are going well at the moment, but "I have a broad fear that I will be the guy left holding hundreds of thousands of dollars' worth of inventory that doesn't go out anymore," he says. "But I'm trying to be positive. I don't think we are on the edge of a bubble."
Graphics: LaVidaCo Communications
Survey Methodology
The American Express OPEN Small Business Growth Pulse is based on an online sample of 1,001 U.S. small business owners/managers of companies with $250,000 or more in revenues and fewer than 100 employees. The anonymous survey was conducted via the Internet by Ebiquity December 9-18, 2015. The poll has a margin of error of +/- 3.1% at the 95% level of confidence.