It's where most business owners got stuck during their website design.
It's the one thing we want to change when we think our brand needs a refresh.
Yep. It's the home page of our website.
Done properly, it's a welcome mat for the best target audience your business could ever hope to attract. It shares your personality, your purpose and the power that awaits your audience when they get hold of what you have to offer. It's also effective for getting the people who'll never love you or what you do moving on to the next thing (and fast).
Since I consult with brands of all shapes, sizes and scope on their home page designs, I thought it might be useful to share some of my favorite home pages and why they crush first impressions. These are the sites I share with clients as we begin their brand journey. Reviewing these sites together helps us figure out what they like and don't like, and build what they do like into a brand presence that captivates instead of holding unwilling visitors captive.
Your website should be your company's hardest-working employee. The following five brands get that and leave nothing on the table.
Mark Manson
You might have seen Mark Manson's blog posts floating around the social mediasphere. They might have even prompted you to click through to Manson's site and see just who this guy was that everyone was raving about. And then you land here—on one of the smartest, most minimalist home page designs ever.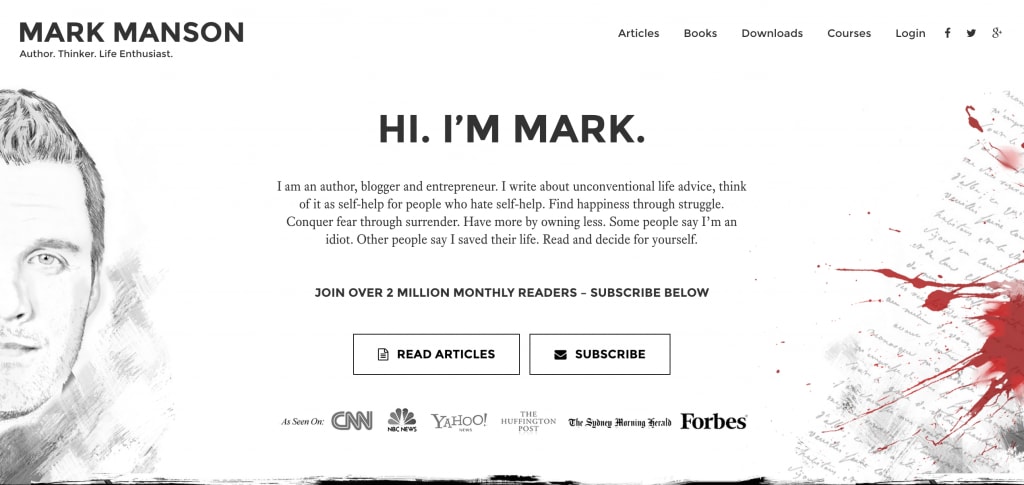 Why it crushes: Because in 15 seconds or less, you can see who Manson is and what he does, get a sense of his personality, catch his street cred (news outlets where he's been featured), and do the two most important things he wants visitors to do: read and subscribe. The rest of the site is just as minimalist, but it's no less effective.
How you can crush like this, too: Don't be afraid to share your personality. Be brave, and tell visitors the most important things you want them to do (not all of the things you'd like them to do). For brands that are powered by one person who's less willing to put themselves out front, Manson's design shows how it's possible to be personal and have a personality without making it all about me, me, me for brands where that's not a good fit.
Blu Homes
It's been referred to the "Apple of Homes." One eyeball on this company's home page, and there's no wonder why: This home builder knows the reason people visit—for a living experience like no other.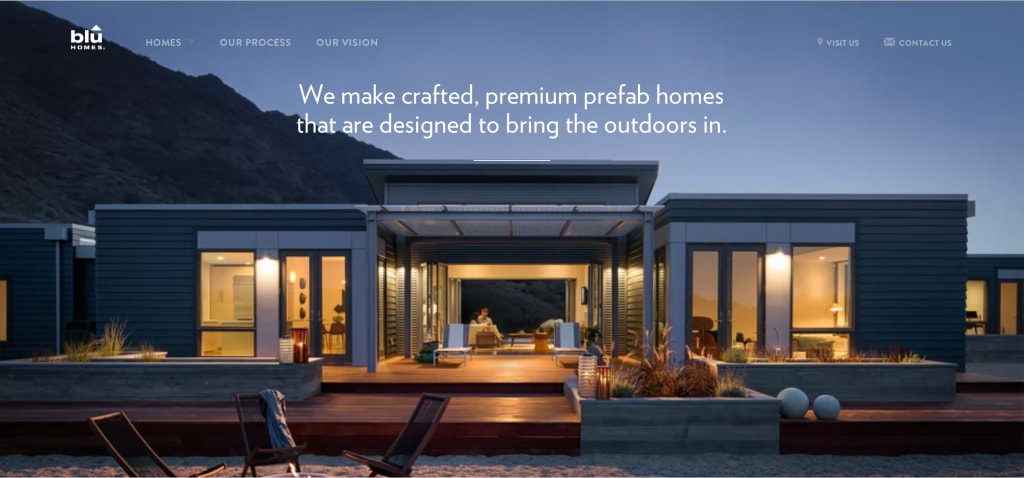 Why it crushes: This company isn't selling homes. It's selling experience and lifestyle, and its dynamic home page image brings that customer experience to life. Add to that a blunt, no-bones-about-it mission statement ("We make crafted, premium, prefab homes that are designed to bring the outdoors in"), and the right kind of customer knows they're in the right place. The pared down, bare bones navigation keeps visitors from being overwhelmed so they can focus on the process of exploring what it's like to live in a Blu Home dwelling.
How you can crush like this, too: If you're in the business of purveying a visually stunning product that's more experience than anything else, consider making your product the focus of the home page experience. And if you think a simple website experience will be boring to your audience, Blu Homes proves you entirely wrong. As you scroll through this simple and elegant home page concept, you can see how a brand story could be gradually revealed, instead of dumping it on an audience all at once through conventional navigation with pages like "About" and "Build With Us" as seen on many other homebuilder websites. You can also see what it looks like to move a detailed navigation to the footer section of your website, freeing up the main real estate for more wham-pow.
Prezi
If you're not familiar with this interactive tool for building presentations that won't put your audience to sleep, maybe it's time to head over to Prezi's website.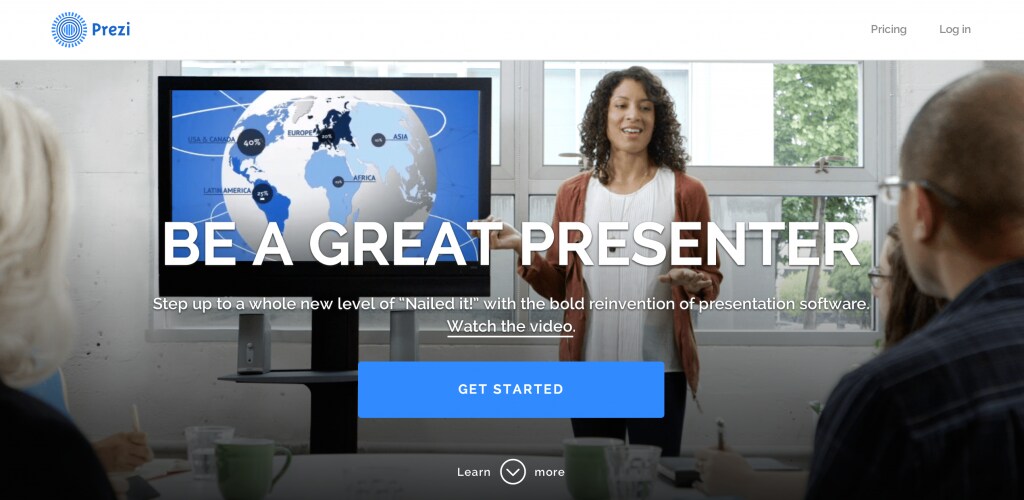 Why it crushes: The one message that every speaker wants to hear is dead center on Prezi's site: Do you want to be a great presenter? Yeah, you do. And Prezi is where you need to be to get that done. The messaging is clear and concise, asking you to watch a video or get started. Two choices. That's it. Or you can keep scrolling and navigate your own way around the site. Prezi doesn't apologize for telling you what to do (watch or get started). Instead, it asks, "Hey, do you want this? We do that! Let's go." No time wasted here. Through its simple design, the home page also demonstrates how easy the Prezi software is to use. There's nothing like a foretaste of the feast to come.
How you can crush like this, too: Prezi is a perfect example of how minimal text can lead to maximum interaction. Visitors spend less time reading and more time doing. Give your site a once-over for text overload, and see where you can create on-brand graphics to replace some of those clunky explainer sections. And hey, you might be able to make your "About" page more fun by taking a graphic approach.
Scripted
OK, here it is: the simplest home page design in this entire article.
Why it crushes: Because all you need to do on Scripted's site is decide whether you want to explore or get working. Sure, you can scroll for more details, but the snazzy animated type on the home page tells me one thing: This company knows its brand and its audience, and what it needs (and when). Boldly designed calls to action have zero chance of getting lost in complex background images. And the site is instantly mobile-friendly. Not too shabby thinking for a brand whose customers might be on the go, time-pressed and in need of content yesterday.
How you can crush like this, too:  Even more than any of the other sites described above, Scripted demonstrates how a clear message benefits from clear calls to action. Take an inventory of your current home page, and make sure the actions you most need a potential customer to take are prominently featured. Then, check out a site like Crazy Egg or Hoverowl to view a heat map of how visitors use your site. If you use Chrome, you can also activate the Page Analytics by Google extension so you can view your website complete with graphics that show where people click and how often.
Smith & Cult
Holy wow! When a colleague of mine sent me a link to this website, I was floored from the get-go. The screenshot of Smith & Cult doesn't do it justice. Click through to feel the pure visual impact of this home page.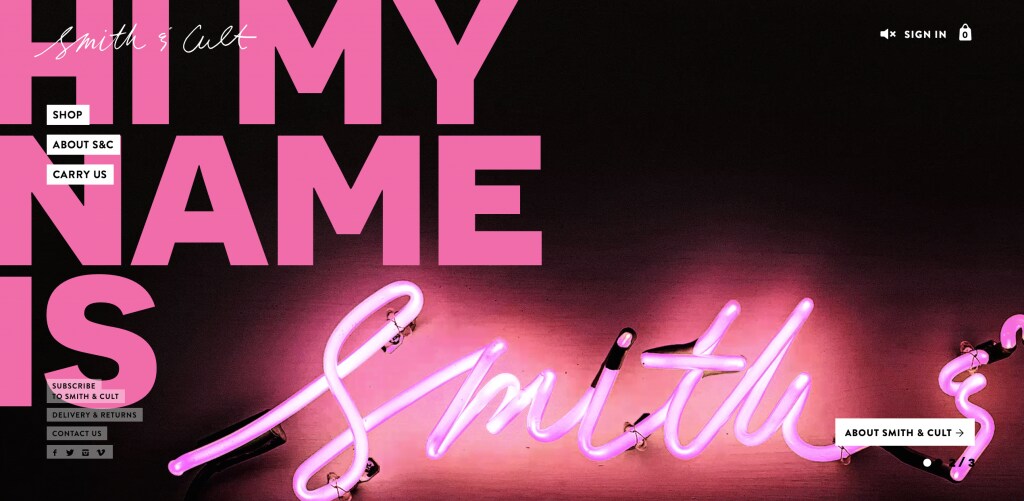 Why it crushes: There's no mistaking this brand's personality and energy. None. No chance at all. And whether it's your cup of tea or not, it gets the job done. In a series of images, this company has brought you inside and let you know, "Hey, here we are. If you like this, just wait till you see what's coming." All too often, cosmetic brands are about the "pretty" factor. Smith & Cult is looking for the customer who wants to get dirty when it comes to getting pretty. It's got grit, and this home page splashes it all over the place.
How you can crush like this, too: First, there's no sound. If you have autoplay sound on your site, stop reading, and go turn that off. The short video experience on the home page brings what this business does (nail polish) to life. There's nothing demure—colors explode. How can your business use video and other visual elements to tell your brand story without words? There are very few words on the entire Smith & Cult website, and it doesn't need any more. Additionally, take note of its unconventional yet simplified navigation on the left-hand side. How can you jazz up (with purpose) your own home page experience while not cluttering up the place?
There you go. Five wildly different brands that take the art of the home page to an entirely new level. Here are a few takeaways for those taking notes:
More isn't more. Each of these brands shows what needs showing and nothing more. More is just clutter.
A bit of hand-holding is necessary. Never assume your visitors know what to do—they're not mind readers. Bold, unapologetic calls to action will get your customers where they need to go every time. If you don't know whether they're clicking, there are tools to help you figure that out.
Personality is key. It rules. Period. And it doesn't matter if you're using a custom Web design or a $49 Wordpress template: If your personality doesn't shine through, it's because you're not allowing that to happen. And there's no excuses for that.
Read more articles on website design.
Photo: iStockphoto