Consumers follow their favorite businesses on Twitter to get an inside look at the business, to find out about new products, earn discounts and be a part of a community. Businesses have the potential to turn these fans into brand ambassadors by making their followers feel special and appreciated. Here are six ways to reward your Twitter followers.
1. Offer them a freebie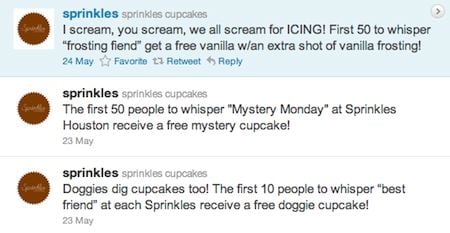 The best price in the world is free, and many businesses have taken to Twitter to offer some goodies to those who follow them. Every day, Sprinkles Cupcakes has a secret phrase that must be whispered at a location in order to redeem a free cupcake. The phrase relates either to a holiday or to broaden awareness of a new Sprinkles location, like the one in New York. And Sprinkles doesn't skimp on the freebies—it offers 25 to 200 free cupcakes a day for each phrase, sometimes at every location.
2. Give them control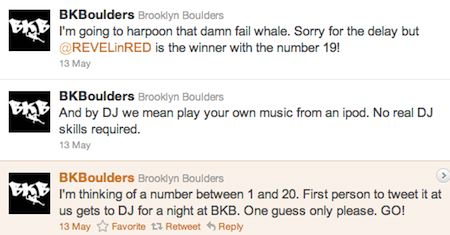 Brooklyn Boulders, a rock-climbing facility in Brooklyn, New York, routinely does Twitter contests for free day passes and climbing lessons. But they've also realized that relinquishing control to fans is also highly coveted—they do a Twitter raffle to give someone control over the facility's music when they climb.
This is something that food trucks have also taken to—they let the fans determine where they'll park. Convenience is king and time is money, so customers are thrilled if they merely have to step outside the office to be treated to their favorite meal on wheels.
3. Give them a shoutout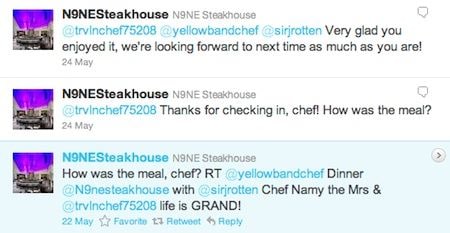 Everyone loves some attention and being thanked—Twitter provides an environment in which that can be done (for free). Following someone back scores huge points with consumers (it's like you're giving them a stamp of approval), and retweeting them or thanking them for a nice tweet goes even further—it's a public display of appreciation, and people like knowing they're appreciated.
N9NE Steakhouse in Chicago is great at responding to fans—the account tweets at patrons to ask how their meal was and to thank them for coming by. One might not expect this friendly tone and humble outreach from a high-end steakhouse, but the strategy is successful and welcoming to fans.
4. Teach them something


Maybe we have Watson to thank, but people love trivia and fun facts. Trivia is especially valuable in the Twittersphere, because people only follow people and brands that they find interesting. People are looking to get value out of time spent on Twitter, so you can add value by enlightening them.
But what you teach your followers could also be more substantive and meaty. Wellness website Well and Good posts a lot of content about yoga, healthy lifestyles, holistic beauty and a smattering of DIY projects like, "How to turn your pickup truck into a garden."
David Barton Gym is also good about educating—several times a week, the account tweets a fitness "truth" or "tip," so you can get fit and be healthier even when you're not at the gym. It almost functions as a personal trainer, and you can access these tips 24/7.
5. Let them in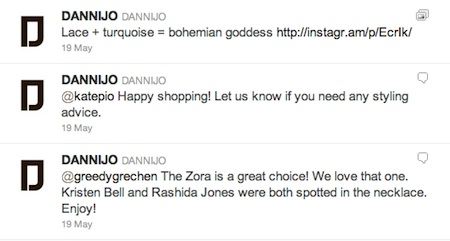 Twitter has the ability to humanize brands, and passionate fans will appreciate getting to peek behind the curtains. Posting pictures and videos, sharing inside jokes, keeping them up to date with behind-the-scenes happenings and letting fans get to know the real you all help fans feel like they're in your inner circle.
Jewelry line Dannijo has a great Twitter feed that is chock full of Instagrams with funky filters. It's an artsy way for sisters, and founders, Danielle and Jodie Snyder to show what they're wearing, what they're doing, who they're with and where they are. By providing a multi-dimensional view of who they are as sisters, designers, businesswomen and New York city denizens, you feel a personal connection to them.
6. Make them laugh
Doug Quint of The Big Gay Ice Cream Truck in New York is very good at making people laugh, whether he's cracking jokes about himself, his colleagues or his customers. And since people often steal a glimpse at Twitter when they're stressed at work or on the go, it's nice to know that a stranger can give you a chuckle. That boost of endorphins will keep your followers coming back and will increase engagement as you build your brand. And that can have a huge effect on your bottom line.