Google recently launched its Chrome Webstore for dedicated applications and extensions. Although the store is still in its early stages, there is already a wealth of choice for any small business owner.
This post highlights six noteworthy apps and extensions ranging from note-taking to project management. For small businesses with limited budgets, these resources can aid in productivity and time-management and let you concentrate on the more important aspects of your business.
Let us know in the comments below about any additional Chrome apps or extensions you would recommend.
This extension brings all the Google services to your browser in a space-saving pop-up next to your address bar. Reach services like Gmail, Google Reader, Google Maps, Google Calendar and many more in just two clicks from your browser. The extension includes more than 140 Google services and websites. Once installed, just open the settings to customize and personalize the extension.
The level of customization is extensive, including sorting and rearranging the order of the buttons, selecting from six different icon sizes (16, 24, 32, 42, 48, and 64 pixels), adding your own custom URL button, integrating the Goo.gl URL shortener and changing the URL and names of services.
The support for Google Apps is what makes this really stand out from the crowd of Google-related extensions. Just scroll to the last section named Custom Domain for Google Apps and type your Google Apps domain name in the place provided. Now select the services of the domain you wish to add as a shortcut.
This is the official port of the well-known Firefox extension called 'Google Shortcuts.'
2. Scribble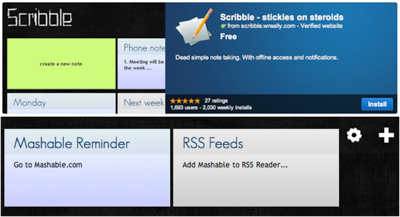 Scribble employs an approach that combines the simplicity and flexibility of text files with the order and control of GTD applications. If you have a habit of saving .txt files to your desktop as reminders, notes, thoughts and random ideas, Scribble is for you. You can now manage all those notes in one place, clutter free. It also works offline, which is invaluable, meaning your notes are stored locally. It has an attractive, simple UI, as well.
Perhaps the neatest feature is the letter-by-letter auto-save -- there is no save key -- because your note gets saved with every keystroke. Other features include the ability to attach reminders to specific notes; drag, drop and arrange the notes however you want; and store to-do lists, grocery items, phone numbers and e-mail templates.
Scribble can become a lifesaver if you have a habit of opening Notepad or TextEdit to jot down notes and reminders; it even gives a desktop pop-up reminder when something is due.
The developer has sync-to-cloud features and keyboard shortcuts planned for future releases.
3. Vyew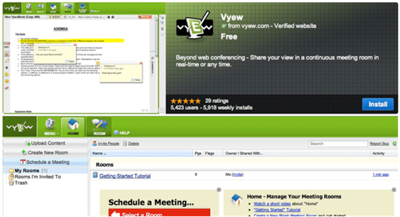 Vyew is a tool that allows you to meet and share information both in real-time and continuously. Upload images, files, videos and more, and Vyew will store the information in one "Room" that anyone can access and contribute to at any time. You can work independently over periods of time or in groups in real-time. All meeting content is auto-saved in real-time with no worry of losing work, even if a connection is lost.
There are several real-world applications for Vyew, including hosting presentations, reviewing documents, drawing and annotating, tutoring and training, desktop sharing and the ability to publish (read-only) versions of your meetings to a website, blog or through e-mail.
The AppApp also includes a free conference call service, which means you can quickly and easily bring all your collaborators and participants together via telephone for live conferences. You can also use VoIP (up to two users) and webcams (up to five users).
4. Todo.ly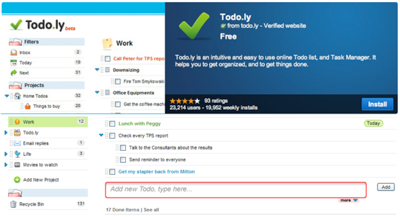 Todo.ly is an intuitive and easy-to-use to-do list and task manager to help you stay organized and get things done. Todo.ly was designed to be as simple to use as possible and fit in with your workflow.
It lets you divide your work into projects, which may have sub-projects. A task can also have sub-tasks. Managing "Tasks" and projects is straightforward; using the intuitive drag-and-drop interface, you can simply move your task from one project to another. Tasks will also pop into your "Today" list as due dates approach.
Due dates and filters (Inbox, Today, Next) are supported. The filters are easy to use and have been designed according to the Getting Things Done method. You can right-click tasks to edit them or add new tasks before or after it. The interface has been kept simple and functional and you'll be up and running quickly. For example, if you want a simple unordered to-do list, you can simply start entering tasks.
While Todo.ly isn't team-oriented at the moment, it has enough power under the hood and selection of features to be an excellent aid in personal productivity.
Want more App advice? Check out these stories:
5. Write Space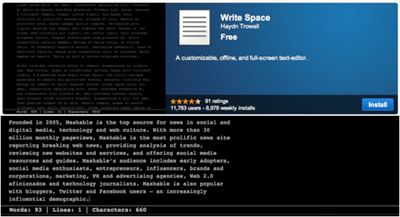 Write Space is a customizable full-screen text editor for Chrome that is designed for distraction-free writing. It works offline, saves data locally and persistently backs up your work as each document is automatically saved with every key-press, so there is no worry of losing work. It allows customization to the font, background, width of the editor window and more. The live document statistics mean there's no need to dig around menus to find the word count.
The standout feature is the ability to make Chrome go full-screen for a truly distraction-free environment. You can also set it to open in full-screen mode automatically by right-clicking on the application icon and selecting 'Open full screen.' You can import plain-text files, though if you already have data saved in Write Space, make sure you back it up before importing.
As Google Chrome does not yet support the HTML5 File Writer API, Write Space does not currently have an automated export function. However, you can export your work manually by copying the text in the browser window to another file or location.
Write Space is open source software, so you are free and encouraged to edit the application as you see fit.
Pivotal Tracker is a simple, story-based project management tool that allows teams to collaborate and react to feedback in real time. It's based on agile software methods, but can be employed on a wide range of projects. It can be used on anything that you or your team works on that delivers some value, and that is large enough to benefit from being broken down into small, concrete pieces. It's commonly used for organizing marketing campaigns or for general productivity management.
Everyone shares the same, up-to-the-minute view of what's going on with the project and what needs to be done next. It lets project owners know exactly where things are without having to ask, and lets the rest of the team spend time on work, rather than on reporting the work.
You can create a Twitter account for your project, and let followers (team members) see project updates as they occur, as well as being kept up-to-date via Campfire, e-mail or web callbacks.
Iterate also provides a way to access Pivotal Tracker from your iPhone, with the same simple, well-designed UI as Pivotal.
Bonus Round
Here is a selection of quick links to six apps and extensions that are also worthy of making it into your Chrome setup:
What other noteworthy Google Chrome Apps or extensions have you discovered? Be sure to share your picks in the comments below.